Discover Different Types of Blu-ray Discs [Full Information]
In this blog, we will discover the different types of Blu-ray discs. Also, you will learn some guides on how to select a suitable Blu-ray disc. This way, you'll have an idea about your materials. Aside from that, in the latter part of the post, we will give you a detailed tutorial about creating a Blu-ray. Check the post about the different Blu-ray types to learn everything.

Part 1. Different Types of Blu-ray Discs
As we know, there are only two types of Blu-ray discs. These are written and rewritable discs. When we talk about writable media, it is BD-R. It is like DVD+R and DVD-R. Then, BD-RE is a rewritable media like DVD-RW. Also, there are various capacities the Blu-ray disc has. These are BD-5, BD-9, BD-25, BD-50, and BD-XL. To have a better understanding, let's discuss the various types below. This way, you can get an idea about the different types of Blu-ray.
BD-R
One of the most popular Blu-ray discs you can find is the BD-R. It has two types, which are BD-R 25GB and BD-R 50GB. It is usually sold in bundles of various pieces. BD-R or Blu-ray Recordable means a blank Blu-ray disc can be written once. Also, BD-R 25GB and BD-R 50GB have different layer types. In BD-R 25 GB, it is also called BD-R Single Layer. Then, the BD-R 50GB is called BD-R Dual Layer. For additional information, "Dual Layer" means the disc consists of a double layer. It can provide twice the Blu-ray 25 gigabytes of disc storage or BD-R 25GB. With this kind of advantage, movie publishers can insert more behind-the-scenes videos. It includes unique movie clips, interactive media, and high-resolution audio choices. BD-R 50GB is the minimum capacity standard for 4K Blu-ray movies.
BD-RE
If a Blu-ray disc can be rewritten, then it is BD-RE. It means Blu-ray Rewritable. This kind of Blu-ray disc is similar to BD-R. It has various capacities, such as BD-RE 25GB, BD-RE 50GB, BD-RE 100GB, and more. In terms of price, BD-RE is more costly compared to BD-R. The price of BD-RE 25GB is double the price of BD-R 25GB. This way, you can tell that BD-RE is the greater disc than BD-R. Also, the BD-RE disc can support up to 1080p resolution and various audio formats. Then, since it is rewritable, you can write or add over the content on a disc. It would be ideal for backing up video collections and music.
BD-5 and BD-9
When we talk about BD-5 and BD-9 are the lower-capacity variants of the Blu-ray disc. It contains compatible audio and video streams on a conventional DVD optical disc. The disc offers advanced compression technologies while musing lower-cost legacy media. The BD-5 uses a standard 4489MB DVD5 single disc. BD-9 uses a standard 8152 MB DVD Dual Layer disc. After knowing, it is clear that BD-5 and BD-9 are Blu-ray disc types that use DVDs as the medium and store videos in a Blu-ray structure. Also, the characteristics of BD-5 and BD-9 discs make it simple for users to burn high-quality videos at a lower cost.
Part 2. How to Select A Suitable Blu-ray Disc
After knowing various types of Blu-ray discs, you will have an idea about their differences. In this section, you will be given an idea of selecting a suitable Blu-ray disc. So, read the information below to get your best guides.
Know the Size of the File
Before selecting or buying a Blu-ray disc, there are many things you need to consider. One of these is your files. You need to know first the file size of your movies or audio. This way, you will know what kind of disc you will need. It is important since Blu-ray discs have their capacities. For example, you want to put your movie with a file size 30GB. Then, you purchase a BD25. As a result, it is impossible to insert or add the movie to the disc due to size incompatibility. In that case, you must purchase a disc with a higher gigabytes capacity, like BD-50.
Capacity Standard
If you have a 4K UHD Blu-ray movie and you want it to be put in your disc, you can do so. But you also need to consider the capacity of the Blu-ray disc. For additional information, BD-50 is the minimum capacity for 4k UHD movies. So, you can't watch it if you only have a BD-25. Therefore, consider the capacity standard to get a suitable Blu-ray Disc.
Compatibility to Players
Another thing you must consider to select a suitable Blu-ray disc is the player. As we all know, some players don't support Blu-ray discs. There are many reasons for it. There are circumstances when the Blu-ray disc type is incompatible with the player. Another reason is that your player doesn't accept Blu-ray discs. So, it is helpful for users to consider everything to get a perfect and suitable Blu-ray disc.
Part 3. Best Tool to Create Blu-ray
If you want the best tool to burn Blu-ray, use Tipard Blu-ray Creator. It is a downloadable program available to Windows operating systems. With the help of this tool, you can create Blu-ray with any video you have. It includes AVCHD video, recorded video, 4K videos, and more. Plus, you can burn video to BD-2 and BD-50 based on your preference. Also, the offline program offers an easy-to-understand interface, making it perfect for all users. Besides, it only takes a few clicks to make a Blu-ray. With this, you don't have to consume more time. Aside from that, there are more things you can do while creating Blu-ray. You can edit the video by cropping, adjusting video color, adding watermarks, and more. This way, you can have an amazing video after the creation procedure. If you want to know more about the tool, see more information below. Then, you will also learn the best way to burn Blu-ray.
Key Features
• It is simple to create a Blu-ray folder and burn Blu-ray discs.
• The tool allows users to adjust output effects.
• It is capable of adding subtitles to the video.
• Customizing the Blu-ray menu is available on this tool.
Step 1Download the Tipard Blu-ray Creator on your computer. Then, after the installation process, run the program. You can also press the Download button below to access the program instantly.
Step 2After you launch the program, click the Add Files option. Then, the file folder will appear on the screen. Browse the video you want and click the Open button.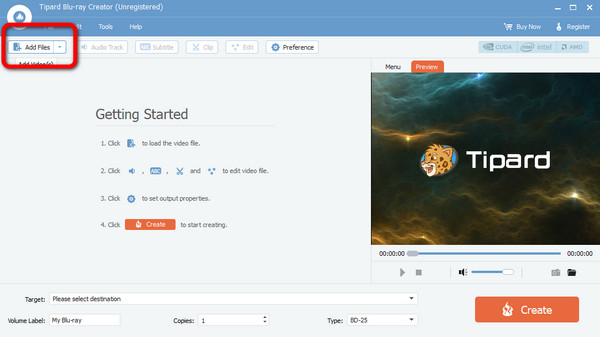 Step 3After that, you can also improve the video using the Edit option. Click the option from the upper part of the interface. This way, you can add effects, crop, and add watermarks to the video.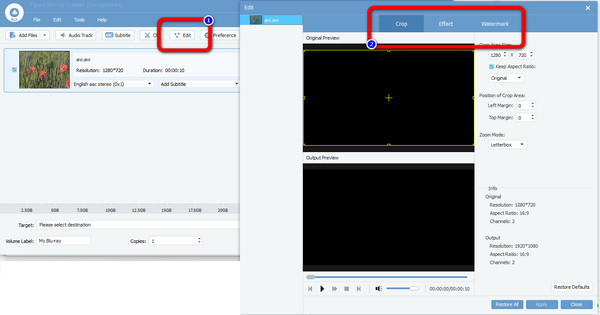 Step 4For the final step, click the Create button to begin the creation process. After that, you can already have your Blu-ray, thanks to the program's help.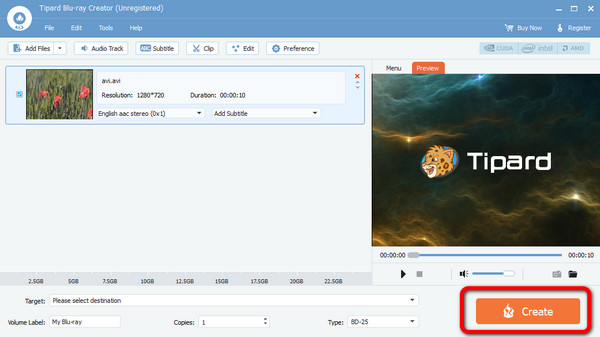 Part 4. FAQs about Blu-ray Disc Types
1. What is the difference between the BD-ROM and BD-R?
BD-ROM can only read audio and video information. On the other hand, BD-R has two types of layers. It has a Single Layer and a Dual Layer. BD-R is a type of Blu-ray disc that can be written once.
2. What does BD-ROM mean in a Blu-ray player?
The BD-ROM means Blu-ray Disc Read Only Memory. It is a high-definition optical disc storage format of the Blu-ray family. It consists of pre-recorded information. Also, BD-ROM can only read video and audio data.
3. What does BD mean in a Blu-ray player?
BD means Blu–ray disc. It is created to enable rewriting, recording, playback of HD video, and storing data.
Conclusion
The post taught you about various Blu-ray disc types you can use for watching movies, backing up files, and more. So, we are hoping that the post is helpful for you. Also, if you plan to make a Blu-ray offline, use Tipard Blu-ray Creator. It is an easy-to-download tool with various functions to achieve an outstanding Blu-ray.