Broken Android Data Recovery: Fix a Bricked Samsung Phone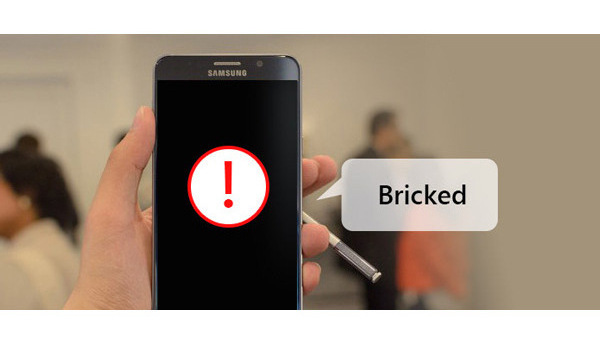 For most Android users, they would like to flash new ROMs/kernels or install a mod or tweak a system file for getting more features. But things may go wrong. You may find that your Android phone won't boot as usual. Let's get something straight. You Android device may get bricked. But most people use the term "bricked" improperly. What factor is bricking the Android device? Will your Android data get lost? What is the best solution to fix a bricked Android phone? This article is prepared you that explains everything about Android brick and provides the best solution to solve the Android bricking issue, especially for Samsung smartphones.
Part 1. What is bricking your Android phone
What is brick for Android? Can you tell the device gets a real brick or not? How does it look like when your Android phone get bricked? Other than a paper, a real bricked Android phone seems the oblong of plastic and metal scrap, "an expensive brick". Actually, brick can be divided into "Soft brick" as well as "hard brick". This part is going to in detail show you the signs of a bricked Android phone.
Hard brick: No signs of life of your Android phone would show. You'll never reboot the phone at all. It would be like an expensive brick. Installing a malicious firmware is may key for many circumstances.
Soft brick: Different with hark brick, soft brick could be recoverable. Usually soft brick takes place when your Android phone fails to boot correctly, and the screen will be stuck on the booting animation, vendor logo or power on and off endlessly. Some of the major reasons for soft bricking are invalid or corrupt firmware installation, flashing bad scripts, trying to root the device, or flashing a custom recovery image to a device with a locked bootloader.
Signs of Android device getting soft-bricked
◆ Disabled to shut off your Android phone or stuck at the vendor logo.
◆ The device reboots again and again.
◆ You Android device gets a white screen of death or black screen of death.
◆ Stuck on the boot loop.
◆ Any other situation when your phone won't turn on in any way, shape or form.
Part 2. Fix a soft-brick Android phone
Soft brick can be fixed. You are in the right place. Here in this part, we will show several situations when your Android phone get soft-bricked and provides you with the best solution to fix a soft-bricked Android phone.
1. Flash a new ROM
Flashing a new ROM is usually the main reason for Android soft brick. When you do so, the device will get stuck on the boot loop while flashing procedure.
2. Rooting error
Wrong performance of rooting Android smartphone would let the device get soft bricked. And rooting may change or delete some codes and lead to booting failure, so you must read and follow the instructions carefully of rooting.
3. Adopt apps that needs root access
Some applications say that they need root permission, and you just ignore the significance and just simple grant it. Then the device may turn to be a brick after you power on your phone.
4. Factory reset
Soft brick will sometimes take place after you factory reset your Android device.
5. Android's firmware update failure
Android firmware update might lead to soft brick. If you update the firmware when the device is not enough charged or because of the network connection failure. When updating Android firmware, you'd better make sure at 80 percent battery life.
6. Muti-tasking
Much performance on Android phone and the device turns to be a brick? Multi-tasking sometimes lead to Android soft brick, as you open multiple applications that takes up too much memory.
As it referred above, soft brick of Android can be recoverable. When it comes to fixing a soft-bricked Android phone, especially for Samsung phone, we would like to recommend Broken Android Data Recovery, the supreme Android system recovery tool you should deserve when you encounter soft brick on Android device. Also, this program lets you recover contacts, photos, messages, videos and so on when your Android phone screen get black or broken. Broken Android Data Recovery works perfectly with Samsung Galaxy devices.
Main features of Tipard Broken Android Data Recovery:
➤ Fix frozen, crashed, black-screen, virus-attack, screen-locked phone to normal.
➤ Recover files from a broken or locked Android device.
➤ Support almost all Samsung phones like Samsung Galaxy S, Samsung Galaxy Note, Samsung Galaxy Tab, etc.
Samsung Series
Models
Samsung Galaxy Note
Note 3, Note 4, Note 5
Samsung Galaxy S
S4, S5, S6
Samsung Galaxy Tab
Tab Pro 10.1
Supported Files
Contacts, Messages, Message Attachments, Call Logs, WhatsApp, WhatsApp Attachments, Gallery, Picture Library, Video, Audios, Documents
Step 1
Install and launch program
Download, install and launch Tipard Broken Android Data Recovery and choose the mode of "Broken Android Phone Data Extraction" mode from the left side. As for your bricked Android phone, we choose "Fix Device" button.
Notes: Click the "Start" button when you forget the entrance password, the phone screen gets broken, or when the screen turns black or non-responsive.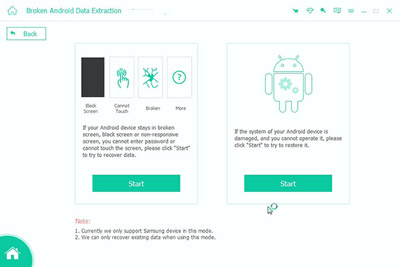 Step 2
Choose Android issue to fix
Choose the main issue you are facing with, in case Android phone is stuck in the startup screen/download mode/FoneGo interface/black screen or others. Then click "Next" button.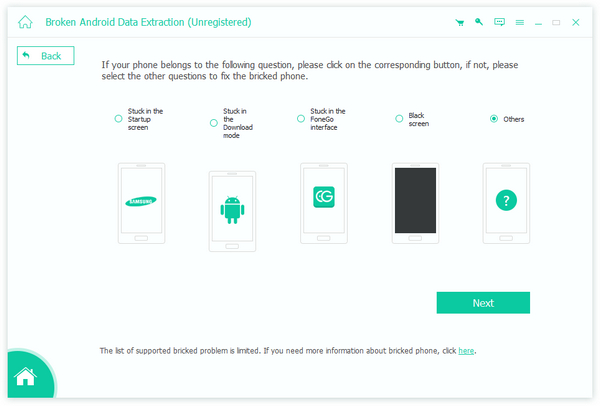 Step 3
Enter your Android device information
For better fixing your bricked Android phone, you need to enter the device name and model. Currently, the program works greatly with Samsung devices of Galaxy S, Galaxy Note and Galaxy Tab series. Click the "Confirm" button then.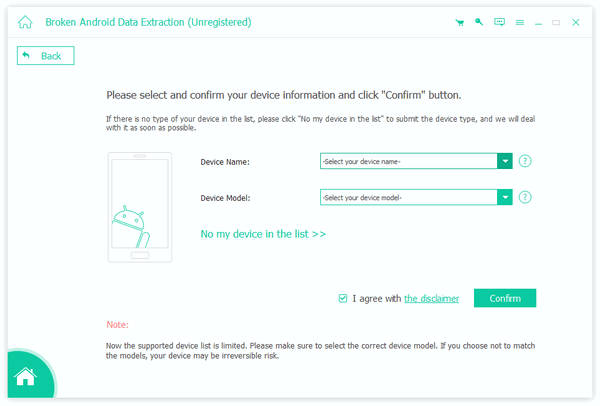 Step 4
Enter download mode
Follow the simple guide to let your Android phone enter Download Mode. Power off the phone > press and hold three keys: "Volume Down", "Home" and "Power" > press the "Volume Up" button to enter the "Download mode".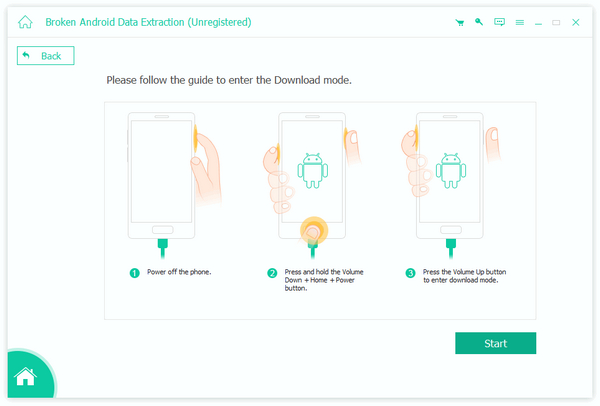 Step 5
Fix Samsung device
Then Broken Android Data will quickly download the recovery package and then reapair the broken Android system. When it is done, you can use "Android Data Recovery" feature to recover available Android files.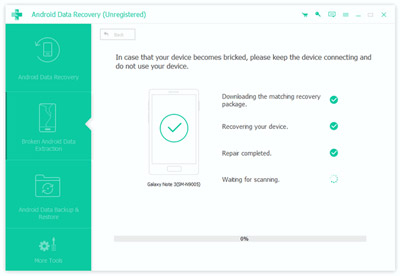 Part 3. Leave feedback of your bricked Android phone
No type of your Android phone in the list? Don't worry. You are able to leave your mobile information (device brand, device name and device model) and the main issue you are facing, we will solve your problem as soon as possible. Any problem? Please feel free to contact our support team. Our customer service staff will give you a response within one (1) working day.

Click here to join the discussion and share your comments