Top 5 SWF Players to Play Adobe Flash SWF Files
Get an error message asking you to download programs while watching video or playing online game? You need to install these programs or plug-ins to open the video or game normally. In most cases, you are facing the SWF files. You should know that, there is no built-in SWF player on your browser or computer.
SWF is a flash file format which created by Adobe. It is mainly used for multimedia, vector graphics and ActionScript. A SWF filecan carry animations or applets with different degrees of interactivity and function. The question is, how to play SWF files?

Whether you want to play a downloaded SWF file, or just open a flash video in SWF format online, you need a SWF file player. Here is a list of 5 best SWF players for Mac, Windows and online browser. All these flash video players can help you play SWF contents like games, movies or animations.
Part 1. Official SWF Player - Adobe Flash Player
Adobe Flash Player is the official SWF files playing tool. As it mentioned above, SWF files are created by Adobe. So this flash video player can be your first option when you want to play a SWF video. It offers a browser extension and a standalone application for you to play SWF files with vector or 3D graphics, embedded video and audio.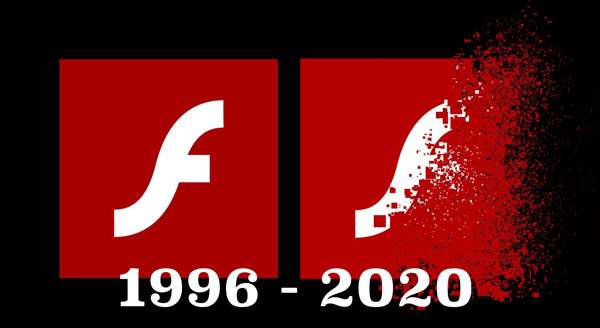 Adobe Flash Player is compatible with Mac, Windows, Linux, smart phones, tablets, and browsers like Chrome, Firefox, and more. However, Adobe no longer supported Flash Player since December 31, 2020, and blocked Flash content from running in Flash Player beginning January 12, 2021. You are recommended to uninstall Flash Player immediately.
Part 2. Best Flash SWF File Player - Blu-ray Player
Blu-ray Player is an all-featured video and audio player which allows you to play any SWF files smoothly. It highly supports SWF, FLV, MP4, MOV, WebM, WMV, AVI, TS, MTS, M2TS, MXF, and other formats. As a SWF file player, it carries all playback features you need. It allows you to play SWF files with different screen modes and high definition.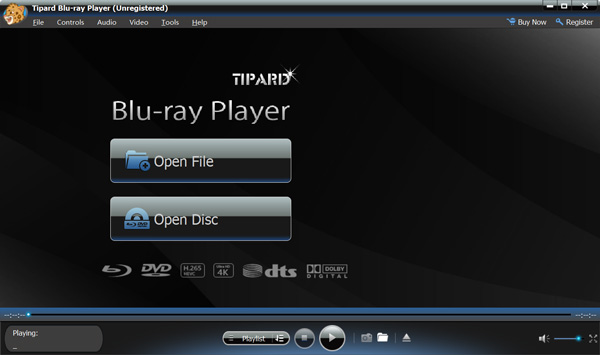 This SWF player enables you to play different types of SWF files like SWF movies and SWF games. While the SWF playing, you can freely capture any desire moment as a screenshot. Besides SWF files, it also supports Blu-ray disc, Blu-ray folder, ISO image files and DVDs. It can play 4K UHD and 1080p/720p HD videos on your Windows 10/8/7 PC and Mac.
How to play SWF files
Step 1Whether you want to play SWF files on Mac or a Windows PC, you should install this SWF file player first. You can double click on the download button above to free download, install and run it on your computer.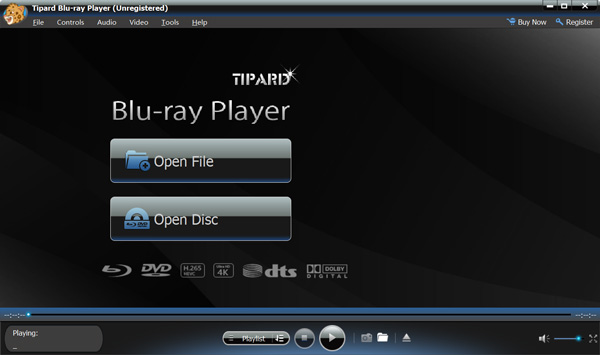 Step 2When you enter this SWF player, you can click Open File to select and load your SWF file to it. After that, your SWF file will be automatically played with high quality.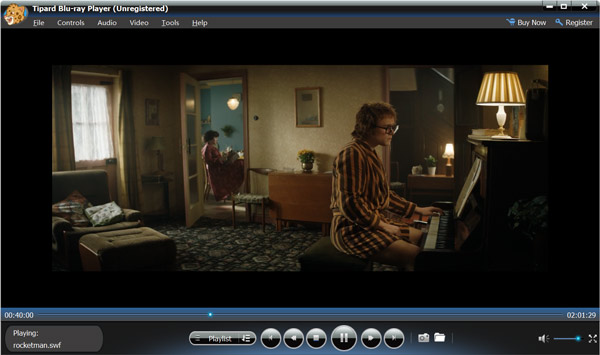 You are offered the full control of the SWF video playing. You can handily pause, start, screenshot, fast forward, rewind, or do other operations.
Part 3. Popular SWF Player - SWF File Player
SWF File Player is a free player for SWF, Shockwave Flash files. It has the capability to quickly open SWF files and read metadata tags from its file header. It is specially designed for play SWF files. It can automatically custom the program playing window to fit your SWF content.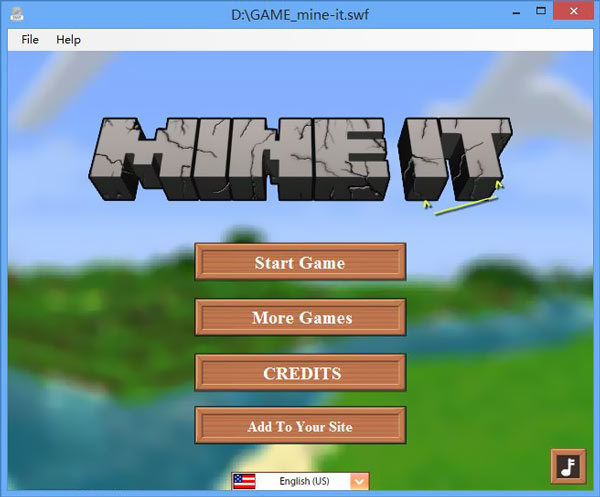 SWF File Player allows you to adjust the SWF playing quality and change various settings of the camera, mic, volume and background colors. You can easily click File, Open and then select your SWF to start the playback. This SWF player supports uncompressed SWF and compressed SWF files. It also allows you to open a flash game with ease. Moreover, you can simply press F11 hotkey to toggle full screen mode.
Part 4. Open Source SWF Player - VLC Media Player
VLC media player is a free and open source video and audio playing tool which can help you play SWF files on Mac, Windows PC, and portable iOS and Android devices. As an open source SWF file player, VLC carries multiple advanced features and settings to ensure you have a great SWF playing.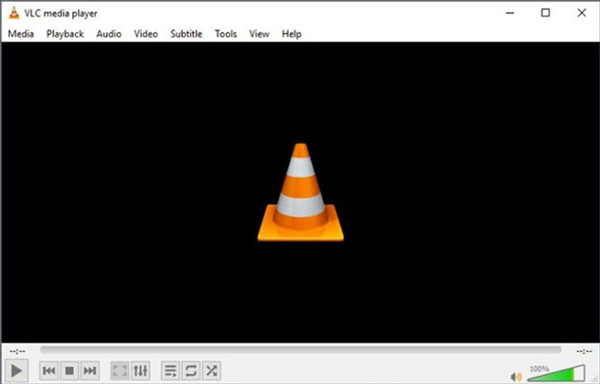 VLC media player offers a convenient way for you to watch online SWF filesfrom YouTube, Facebook and other streaming sites. Besides the basic SWF playback feature, VLC also allows you to convert SWF to a suitable format you need.
Part 5. Free SWF File Player - PotPlayer
PotPlayer is an easy-to-use media files playing tool which can work as a great SWF file player. It is compatible with different video codecs and formats including SWF, MP4, AVI, FLV, MOV, TS, MTS, and more. It also has the capability to play audio files in MP3, AAC, M4A, FLAC and other formats. Whether you want to play SWF or other files, it can give you a smooth video playing experience, even for 4K UHD video playback.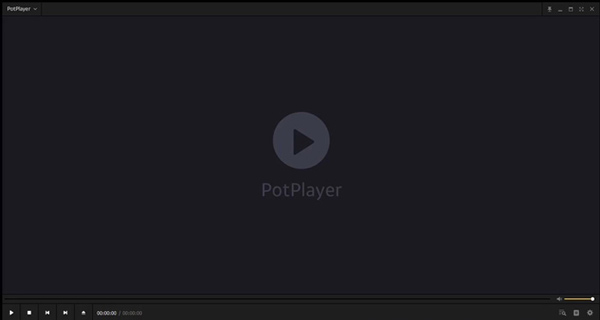 This SWF file player is designed with the advanced GPU hardware decoding powered by DXVA, Nvidia CUDA and Intel QuickSync. What's more, it carries some frequently-used editing features. One thing you should know is that, this SWF file player is only compatible with Windows system.
Part 6. FAQs of SWF Player
How do I play SWF files in Chrome?
When you want to play a SWF video in Chrome, you can directly drag SWF file to Chrome for the playback. Also, you can right click on the SWF file and then choose Open With option. Then you can use Chrome to open your SWF with ease.
How to free convert SWF to MP4?
There are many online SWF file converters offered on the market that can help you make the video conversion from SWF to MP4. You can rely on free online MP4 converters to convert SWF to MP4, MOV, FLV and more.
What is SWF Player?
SWF Player is one kind of video playing tool which allows users to play flash videos. It is compatible with SWF format and can help you play SWF files even when your device is offline.
Conclusion
How to play SWF files? After reading this post, you can find 5 best SWF file players to play SWF on your Mac, Windows 10 PC or online. If you still have any questions about the SWF playing, you can leave us a message.