Adobe Flash Player is No Longer Supported: Reasons and Solutions Given
If you were trying to access Adobe Flash content, then you have surely learned that an error saying Adobe Flash Player is no longer supported has been built up. This player was actually deprecated way back in 2017 and got its official shutdown last 2020. While this shutdown happened, there are still workarounds to still play Flash videos. Because even though this error happened due to the stoppage of Adobe Flash, some previous browsers and players supported it and such files. Yes, alternative players are still viable to use. Thus, allow this article to explain to you the reasons behind this error.
Part 1. What is Adobe Flash Player For?
Before we learn what happened to Adobe Flash, let us first learn about it. Adobe Flash Player, developed by Adobe Systems, was a multimedia platform that was designed for playing multimedia files on web applications and websites. It facilitated ample media playback, such as videos, animations, and interactive applications, helping the websites be more exciting. Additionally, the Adobe Flash Player interactively supports online games and multimedia presentations with the help of ActionScript, its scripting language. Furthermore, it was popular for its capabilities in vector graphics, which allowed scalable graphics without losing the quality, which is ideal for graphics and animations.
So, what is Adobe Flash Player for? It was a capable streaming video with cross-platform development and cross-browser compatibility, ensuring a consistent experience on different operating systems and devices.
Part 2. Why Was Adobe Flash Shut Down
Due to security vulnerabilities, technical obsolescence, and the fast transitions to the open standards for online multimedia, Adobe officially announced the shutdown of Adobe Flash last December 31, 2020. Aside from the security issues that made the software prone to malware and hacker attacks, various reasons have made Adobe Flash come to an end. Such additional reasons are:
• Resource intensive, causing it to crash.
• Compatibility issue, where opening Flash contents with other devices frequently failed.
• Legal pressure from the government, industry, and regulators.
• Web standard evolution, where HTML5, JavaScript, CSS3, and others provided more standardized capabilities to produce rich and interactive content.
• Lack of mobile device support. This is another reason why Adobe Flash shut down. It was not supported by mobile devices like iOS.
What Does This Mean?
Since the Flash Player is no longer available, Adobe will have no security patches or updates, you are now recommended to uninstall it if you have it on your computer device for security reasons. On the other hand, if you do not have one but are planning to acquire one, then unfortunately, downloading an unauthorized Flash Player was also bugged down to viruses or malware.
Part 3. How to Play Flash Videos Without the Adobe Flash Player
Solution 1. Download a Flash Player Projector
Suppose you have existing Flash videos such as FLV and SWF files on your PC and would like to open them. In that case, you may try to download the Flash Player projector content debugger. But please take note that Adobe will direct you to its EOL page for its original debugger, then get to the Wayback machine and take advantage to get its download link. Here's how to install Adobe Flash Player.
Step 1Get to the Wayback machine and download the Flash Player from there.
Step 2Choose the download button for the OS you are using. Double-click the Flash Player content debugger projector exe file and proceed to install it.
Step 3You can now open the Flash video by hitting the File tab and then the Open button.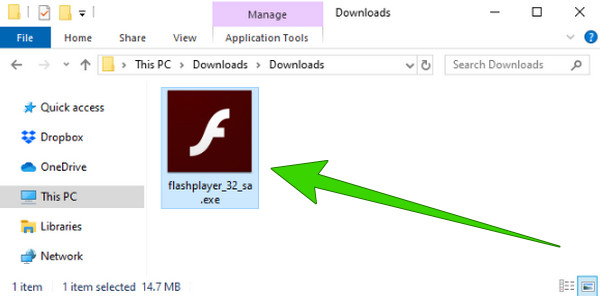 Solution 2. Convert the Flash Videos to Universal Formats
Converting the flash videos to the most commonly supported formats is also a good solution to open them with your regular media players. To do so, you will need the Tipard Video Converter Ultimate to do the job well. This is an amazing video-converting software that can convert your Flash videos swiftly, even when converting in batches. It is because of its GPU acceleration technology, which caters to providing you with 60x faster speed. Aside from that, it gives you more than 500 format choices to choose from. Quick steps are presented below.
Step 1Launch the video converter on your computer. Upload the Flash videos by clicking the Plus button at the interface's center.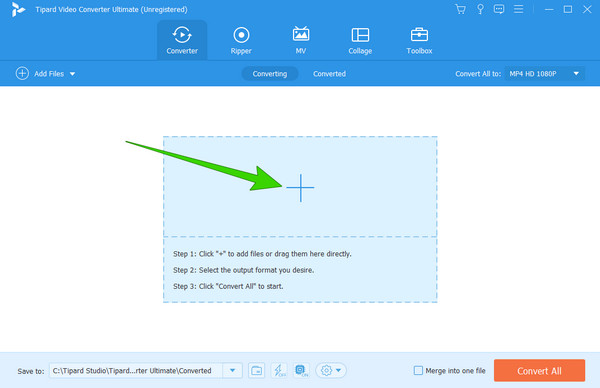 Step 2Then, go to the Convert All To to see the video format choices.
Step 3After choosing the format, click the Convert All button to begin the process.
Part 4. Solution to Fix Adobe Flash Player No Longer Supported Error in Chrome
If you are also having issues with your Flash Adobe extension in Chrome, then running an alternative extension is what we can recommend. For that reason, you can try this Flash Player emulator called Ruffle. It is basically a tool that will convert Flash videos into a format that your browser won't block. To acquire this browser extension, you can rely upon the steps below.
Step 1Go to the Google Chrome and search for Ruffle.
Step 2Then, click the link and go to the Download option when you open the website. Once you download the extension, it will be in a zipped file. Now, you will need to extract it from its folder.
Step 3On your browser, click the ellipsis and go to the Extensions selection after reaching the More Tools button. After that, you must turn on the Developer Mode and then toggle on the Ruffle.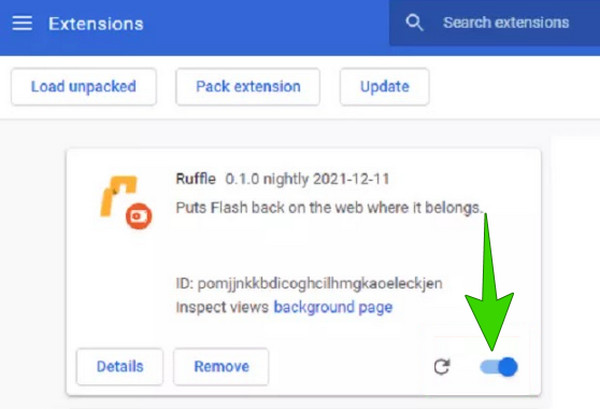 Part 5. FAQs About Adobe Flash Player
Can I still install Adobe Flash Player?
Ever since Adobe Flash Player stopped, downloading it is no longer possible. The old version has also been stopped from being used since then.
Do I really need to update Adobe Flash Player?
No. The Adobe Flash Player can no longer be updated since it officially stopped.
How do I reinstall Flash?
Reinstalling the Flash is strongly recommendable due to security matters.
Can I play Flash games without the Adobe Flash Player?
Flash games are challenging to play without the Flash Player. Hence, you can use a third-party browser that supports Flash files to play them.
How do I run Flash Player on Chrome?
To run the Flash Player on your Chrome, you must click the ellipsis, followed by the Advanced button. Then, go to the Content Settings and hit the Flash to toggle the switch on.
Conclusion
The deprecation of Adobe Flash Player for Chrome and on PC is something to be sad about. But thanks to the effective solutions that satisfy our cravings for still playing the Flash videos. If you find this article helpful, feel free to circulate it to help others as well. Trust the Tipard Video Converter Ultimate for your video conversion task, and expect a lossless conversion for your Flash videos.