MDB File – Things You Should Know About MDB
A MDB file is a Microsoft Access Database file. MDB file sounds a little unfamiliar to most ordinary people. However, if you are working in a data rich environment, you may have heard of MDB. It is a kind of database that produced by Microsoft Access. Microsoft Office is the most popular office suite around the world. And Microsoft Access is a member of Microsoft Office. MDB is the special file format of Access, which is based on the Access Jet Database Engine. As technology developing, we already live in big data era. Understanding the most commonly used database format will make our work and daily life more convenient.
Part 1. What is an MDB file
A MDB file is a database file created by Microsoft Access. Microsoft Access is a desktop relational database application belongs to Microsoft Office suite. A Microsoft Access Database file contains all the basic database structure and entries, like tables, fields, rows and data. Besides data, the file may also save the information related to queries, reports, database security settings, data entry forms and stored procedures. With the visual tools of Microsoft Access, we can create and populate quickly.
Part 2. How to open an MDB file
A MDB file is created by Microsoft Access; but there are many other programs that could import and read Microsoft Access Database file.
1. Microsoft Excel
Many people prefer to use Excel to store and visualize data. And Excel also supports to import the files. Although the process is different with opening an XLSX file, the procedure of importing a MDB file within Excel is not complicated.
Step 1
After open Microsoft Excel, located to top ribbon and open DATA menu.
Step 2
Press From Access in Get External Data section.
Step 3
Choose and Open the file you'd like to import in Excel.
Step 4
If you want to import multiple tables from your MDB file, you can check the option of Enable Selection of multiple tables in Select Table.
Step 5
And select multiple tables in the selection area; then press OK to continue.
Step 6
Choose PivotTable Report in Import Data window and tap on OK to complete importing process. Then the Microsoft file will display in a PivotTable within Excel.
Note: If your MDB files are created with password, then here you need to input your password to unlock it. Forgot password, just learn from this post to recover and remove Excel password.
2. MDB Viewer for Mac OS
If you want to view a MDB file on your Mac computer, you can use the dedicated MDB Viewer. MDB Viewer permits users to import a file and convert the file to other format. But you cannot edit the Microsoft Access Data file within MDB Viewer.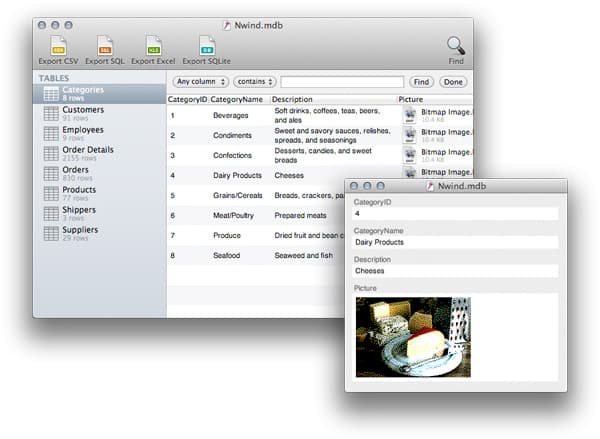 Step 1
After install MDB Viewer on your Mac computer; then you can view the file in MDB Viewer.
Step 2
Double click a table title in TABLES panel, the details of this table will show up on the right.
Step 3
If the table contains many contents, like message and images, you can double click any row to open its contents in a pop-up box.
Step 4
If you want to convert it to other formats, you can press the options on the top ribbon.
Unfortunately, MDB Viewer is a paid application.
3. MDBopener.com
Sometimes, online services are a good choice to read MDB format as well. You do not need to worry about the problem of compatibility and install any program on your computer. MDBopener is such an online MDB viewer.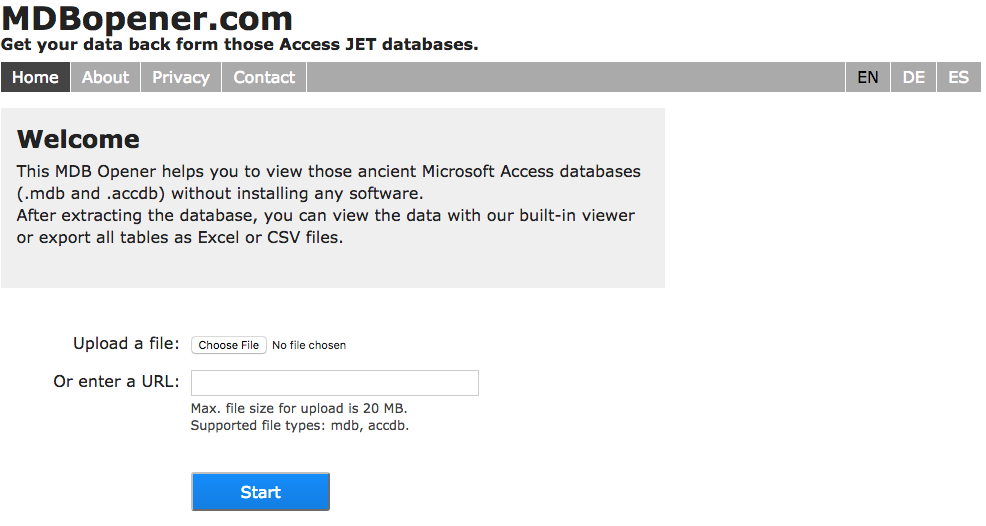 Step 1
Visit MDBopener.com in your browser on any computer.
Step 2
MDBopener supports to upload and an file from your computer or a URL. If you want to view the MDB file on your computer, you can press Choose File button and select the file. The URL box allows you to enter a link contains it.
Step 3
Once click on Start button, MDBopener will upload and show the it online.
Step 4
This online MDB viewer also has the ability to transform the file to Excel or CSV formats.
MDBopener is a free service with 20 MB file size limit.
Part 3. Why use MDB file
You may be wondering why we recommend MDB file over other database formats, so we list the benefits of using the Microsoft Access Database file.
1. Compatibility
MDB file is a compatible database format. There are multiple programs in Microsoft Office. The file and its content could import and export between these programs smoothly. Word, for example, could import text and images from the format. Excel could read a whole file, including structure and contents. Then you can visualize the file within Excel by various graphs. If you need to send emails to the addresses that stored in a Microsoft Access Database file, Outlook could read the names and addresses from the file directly.
2. Flexibility
MDB file is the basic database format as well. To beginners, the file is easy to create and edit. Microsoft Access is a handy tool to create and edit it. The visual tools of Access could help beginners to design the file format quickly. And users could import data from various sources.
To advanced users, MDB is also attractive. Because they can use programming code to turn Microsoft Access Database to some automate processes, like custom buttons related to calculate or other actions.
3. Supports
MDB file has been existed for more than two decades. If you have any question about the file format, you can get various answers from support communities and Microsoft experts. There are even some teams dedicated to develop VBA programming language for the Microsoft format. MDB and VBA are so widely-known among programmers. You can get many free sources and helps online.
4. Microsoft Access
Microsoft Access is the principal program to create, view and edit files. And after Microsoft released Access in 1994, Access is always included as a part of Microsoft Office. It seems that Access will not disappear any time soon. So you can enjoy this stable MDB creator and editor. Not to mention Microsoft will update Access frequently. And Access 2013 has integrated with web that permits users to access the file format through a browser. So MDB and Microsoft Access seem to be a great choice when you need to create a database file.
Conclusion
This article has introduced MDB file and its benefits. Generally speaking, the file is the output of Microsoft Access, which is a program of Microsoft Office. So MDB is a sort of database format. Many people prefer to use MDB format, because it is more convenient and quicker than other database files. As a database format, the file format could import and export data with other Office programs, like Word, Outlook, Excel and more. And the flexibility of MDB files makes it appealing to both beginners and advanced users. If you want to understand the files, this article is an appropriate beginning.