Download ImgBurn and Its Alternatives on Windows and Mac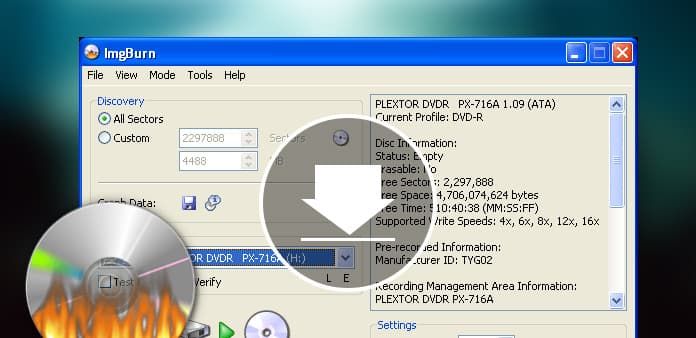 ImgBurn is the lightweight CD/DVD/HD DVD/Blu-raying burning software on Windows computer. With clean interface and good engines, using ImgBurn to convert DVD disc is easy and fast. Before burning discs on PC, ImgBurn download version will scan your Windows quickly, to prevent slowdown in PC. Therefore, there is no need to worry whether your Windows will stop working during DVD burning. If you are not so satisfied with ImgBurn, and want to seek other video converter for discs, the following ImgBurn alternatives will give you similar experiences.
Part 1. Some Features about ImgBurn and Where to Download ImgBurn
There are 5 modes in ImgBurn, with which users can read, built, write, verify and discover a disc from songs to cover. Well, let me explain each part of ImgBurn Windows's version. First of all, ImgBurn supports various video and audio formats, so converting DVD and CD to media formats are an easy job to finish. So whether you want to burn Audio CD or build DVD videos discs, ImgBurn will verify the readable degree, and then to check the quality of burning discs. In addition, the image queue system enables users to read a disc to an image file, or to build/ write an image file online to a disk. Furthermore, the automatic write speed and layer break selection are able to improve the whole ImgBurn image burner download.
The most important thing is that, ImgBurn is the 100% freeware. No built-in purchase items and additional charges, everyone has the allowance to use ImgBurn portable media burner on PC. To get ImgBurn download free full version, you can turn to official website to free download lightweight DVD burner. Or there are many free and safe ImgBurn download sites, like Softonic, Tom's guide, CENT download and more. Moreover, ImgBurn supports all Microsoft Windows operating systems, including all the 64-bit versions.
Part 2. Tipard DVD Creator – Burn DVD with Online Downloaded Videos
Have you ever burn YouTube videos to DVD? Well, Tipard DVD Creator supports users to create DVD with videos from YouTube, Vevo, Vimeo and other video sharing sites. Just paste URL in the video download application on Windows, and choose video resolutions to analyze DVD files. As for DVD burning, Tipard DVD Creator accepts numerous audio and video formats, for users to change media styles, just like ImgBurn alternative does. Furthermore, you can burn video files from iPhone, iPad and other devices as well.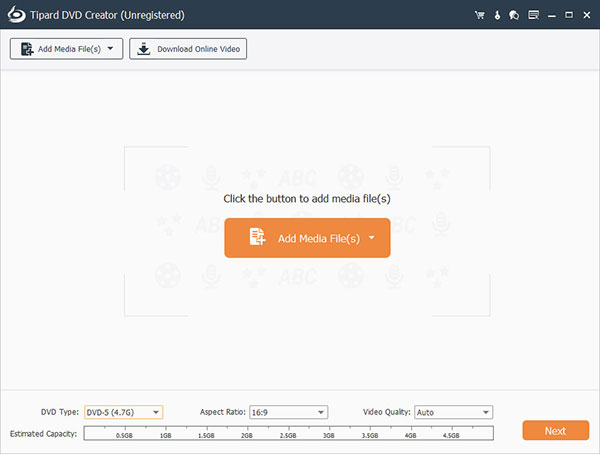 There are DVD menu customize template and editors to customize DVD video files to specialize them. For instance, basic video editing tools of trimming, cropping adding watermark and others are all available here. As for DVD design, you can rely on well-designed templates of DVD settings. In addition, the DIY menu provides more fun to add picture as background randomly. Do not worry about whether the ImgBurn Windows DVD Burner alternative is difficult to operate, because of comprehensive filters contains. Actually, you can get answers from user-friendly interface and simple operating steps. Last but not the least thing is that, Tipard DVD Creator offers preview service, to check DVD effect before creating DVD.
Part 3. Which ImgBurn Alternative Application to Use on Windows and Mac
Of course, there is also other good ImgBurn alternative software, to burn DVD and CD in high quality. Not all of them are Mac version of ImgBurn, but also Windows alternative application to run. If you are ready to get new disc burners, just follow me.
1. CDBurnerXP
CDBurnerXP is able to burn CDs, DVDs, HD DVDs and Blu-ray with Multilanguage interface as standard ImgBurn alternative does. In another word, you can burn all kinds of discs without limitations. The unique feature of CDBurnerXP is ISO burning and creation, it is the part ImgBurn cannot offer. And everybody and companies can run CDBurnerXP for free. Finally, make sure your OS is Windows, if it is, then there is no other requirements towards ImgBurn download alternative installation and further operation.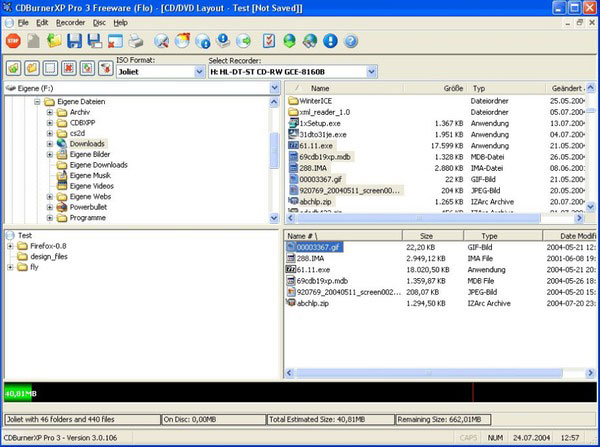 2. Brasero
Brasero is the free disc burner, for users to burn, edit, erase and copy CD and DVD files by GStreamer multimedia framework support. Compares with ImgBurn freeware, Brasero offers more filters. For instance, Brasero allows automatic unwanted files removing, like broken and recursive audio files. Moreover, users can copy the CD/ DVD on the fly, not mention to song, image and video burning. The online disadvantage of this ImgBurn alternative is the fail of Blu-ray conversion.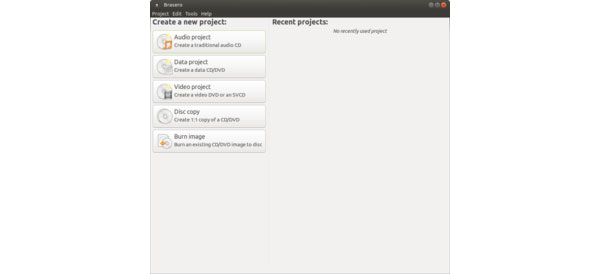 3. iSkysoft DVD Creator
For people who are looking for ImgBurn alternative for Mac, iSkysoft DVD Creator may be a good choice. With common DVD/ CD burn services, iSkysoft DVD Creator support users to edit videos and apply menu template for burning. What's more, you can burn online videos, HD videos and home videos to DVD as well, to create a new disc on Mac computer directly. To be more specific, you can choose to burn media file to DVD disc, DVD folder, .dvdmedia or ISO file. With more filters than ImgBurn CD/ DVD burner, iSkysoft DVD Creator is not as free as ImgBurn can be.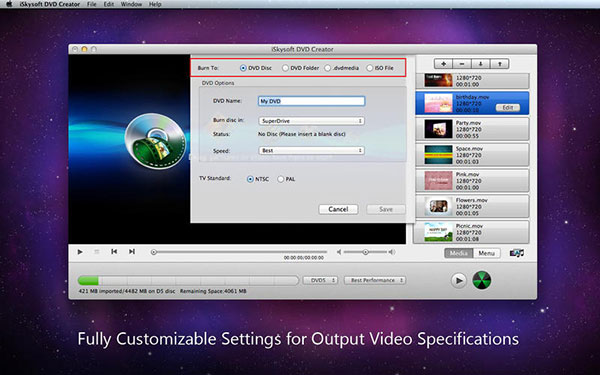 Conclusion
Burning DVD/ CD is the task with numerous qualified converters, in free or paid methods. In most cases, free DVD burner can offer fewer services than purchased ones, just like ImgBurn download Windows freeware. But if you have no other media editing need, using ImgBurn and free ImgBurn alternatives is enough. Or you can try video editors online after DVD burning, though it seems kind of trouble to operate. As a result, you can choose from above DVD converters, to burn DVD or edit videos in optional choice.

Click here to join the discussion and share your comments
Download ImgBurn and Its Alternatives on Windows and Mac