Top 10 VR Players for Android and iPhone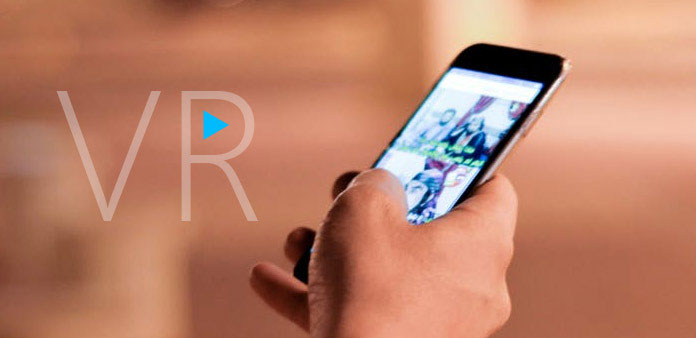 Virtual Reality, referred to as VR, is the most prevalent news headlines. Many experts said that now is the time of VR, partly because major technology companies released new VR headsets, like Google Daydream View. At present, early adopters are eager to enjoy more VR content with their hardware. To catch up such demands, developers put a lot of efforts on VR player tools for Android and iOS. In this article, we are going to show you the best VR players on markets available to iOS or Android. If you want to learn how to enjoy VR content, you will find our guides are helpful.
Part 1. VR Player Software for Windows and Mac
VR videos has become increasingly popular on YouTube and other platforms. Tipard Blu-ray Player is a remarkably comprehensive media player software for desktop computers. It supports a variety of formats, including 4K UHD, 1080p HD, SD videos like MP4, MKV, AVI, WMV, MOV, etc. You can watch all types of VR videos with the original quality and the best entertainment experience. It is an excellent choice for VR video lovers.
1. Play 4K and 1080p HD MP4, MKV, AVI, WMV, MOV, M4V, etc.
2. Play Blu-ray/DVD disc, folder and ISO image files with the high quality.
3. You can take a quick snapshot while watching the VR video.
4. Control audio tracks, subtitles, screen size and video playback.
How to watch VR videos on Windows/Mac
Step 1
Download Tipard Blu-ray Player from its official website and then install it on your computer.
Step 2
Run this media player and select Open File after entering the main interface. Choose the video file you want to play then Open. Or you can drag the file directly to the window to play it. After that, you can enjoy watching your VR videos with the best quality.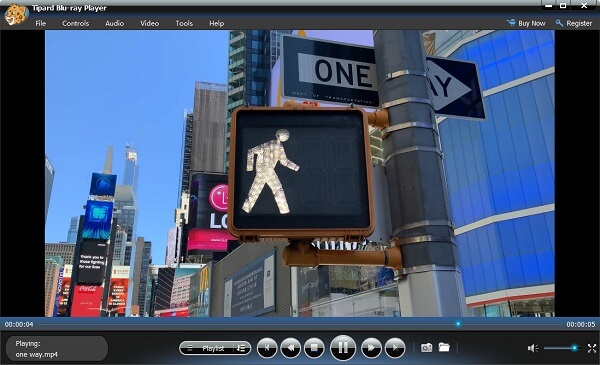 Part 2. Top 5 VR Players for Android Device
1. VR Gesture Player
VR Gesture Player is a special VR player app. The biggest advantage is to control video playback with gesture, which is especially important for immersive experiences. You do not need to take off your VR headset and set up the videos every time. What is more important is that VR Gesture Player could achieve such feature without extra hardware.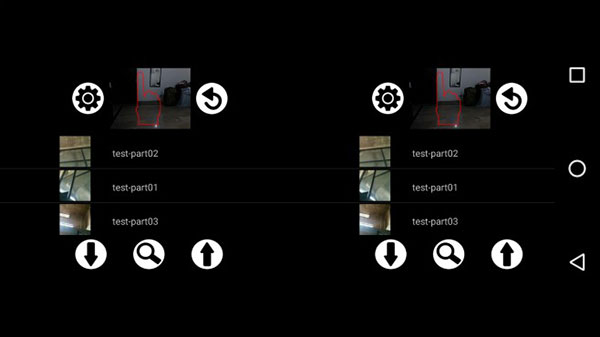 How to play VR videos on Android
Step 1: Download VR Gesture Player from Play Store and install it on your Android phone.
Step 2: Launch VR Gesture Player and open a VR video or 360 degree video.
Step 3: Put your Android phone in the VR headset and start watching it.
Step 4: If you want to go forward or backward, you can make left or right swipe gesture in front of your headset. VR Gesture Player captures your gestures using smartphone camera.
Other control gestures include clockwise and anticlockwise circle to turn volume up and down, left and right tilt to zoom in and out the images, or control the virtual cursor with your real finger.
2. VRTV Player Free
VRTV Player Free is simple tool for playing VR video on Android devices. Its key features include:
1. Watch VR videos with friends through sync feature.
2. Experience immersive virtual environment.
3. Configure multiple custom options.
4. Control video playback using Bluetooth keyboard.
Pros
1. It supports a wide array of VR headsets.
2. The VR experiences are smooth.
Cons
Some features need pay for upgrade.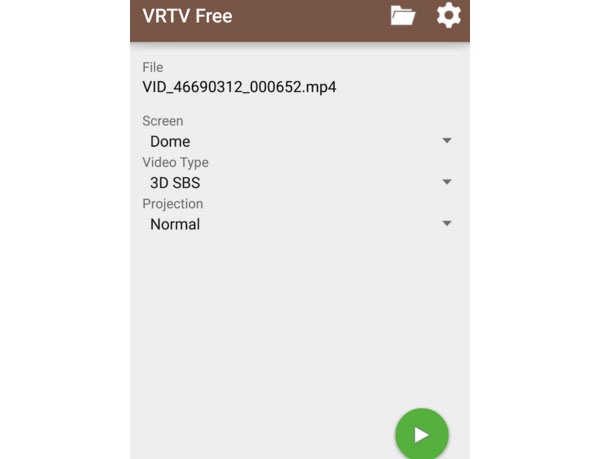 3. AAA VR Cinema App
AAA VR Cinema App could turn your smartphone to home theater in a few seconds. Its main features include:
1. Support VR playback, 360 degree videos, and other video formats.
2. Optimize playback according to video formats, sizes and other parameters.
3. Play the new videos in VR mode without taking headset out.
4. Customize screen size as you wish.
Pros
It works for Google Cardboard and high end VR headsets.
Cons
The custom options make beginners frustrated without guides.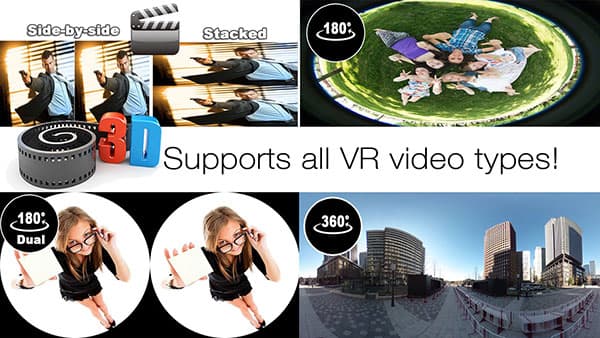 4. Homido 360 VR player
Homido 360 VR player is a simple VR playing app for Android users. Its principal features include:
1. Support 2D videos, 360 degree videos and panoramas.
2. Enjoy VR content in immersive virtual world.
3. Use head tracking system to control VR video playback.
Pros
1. It is compatible with both Android and iOS.
2. The configuration is easy with on-screen instruction.
Cons
It only works well for Homido Headset.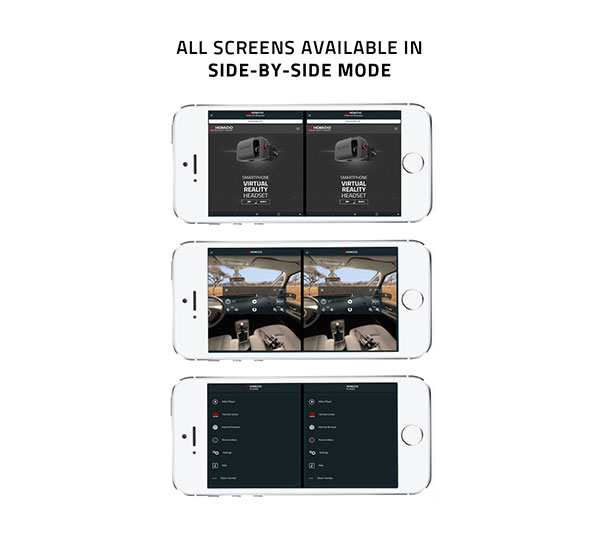 5. VR Player Pro
VR Player Pro is a dedicated VR player for Android devices. Its basic features include:
1. View 2D and 3D videos in immersive environment.
2. Supports to play online VR content.
3. Control video playback with game pad or Bluetooth keyboard.
4. Preset configurations automatically.
Pros
The preset feature makes it easier than other VR players.
Cons
You may need an extra VR adapter for Android phone.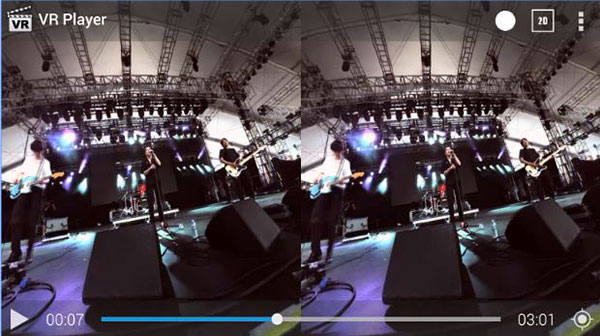 Part 3. 5 Best VR Player Apps on iPhone/iPad/iPod
1. Mobile VR Station
Although there are not many VR headsets support iPhone, if you have iPhone 6s or iPhone 7, you can experience VR content with VR One Plus or View-Master, which are two VR headsets support latest iPhone models. When it comes to software, Mobile VR Station for iOS is a powerful VR player for iPhone.
How to watch VR content on iPhone
Step 1: Install Mobile VR Station from App Store to your iPhone.
Step 2: Configure this VR player according to your VR headset. You can select your headset from the list, then it will preset automatically.
Step 3: Play the VR content you want to watch and put the iPhone into your VR headset. Then you can enjoy it immediately.
Mobile VR Station supports to control by MFI Controller or Bluetooth keyboard. But the free version only plays first five minutes of each VR video.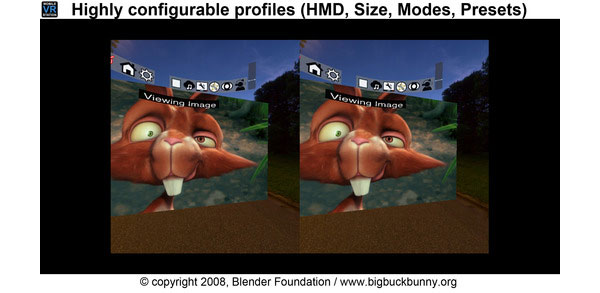 2. Zeiss VR One Cinema
Zeiss VR One Cinema is a good choice for home entertainment using iPhone. Its main features include:
1. Open VR videos from Camera Roll.
2. Control playback with head tracking system.
3. Optimize VR experiences by re-center viewpoint.
Pros
1. It is easy to set up.
2. This VR player supports a wider variety of formats.
Cons
It will downscale the video.
3. Go VR Player
Go VR Player is a free VR playing tool for iOS devices, which is developed by Baofeng Mojing. Its basic features include:
1. Support 360 degree videos, HD MP4 and other video formats.
2. Use head tracking system to control playback.
3. View HTML5 videos from VR+.
Pros
1. It is compatible with most major VR headsets.
2. The video quality is good.
Cons
There are too many options to set up.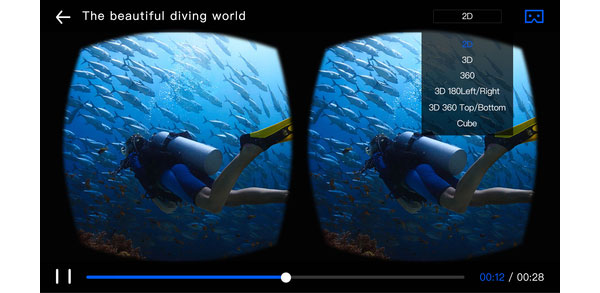 4. VRPlayer Pro
VRPlayer Pro is a paid VR playback app for iPhone and iPad users. Its features include:
1. Watch VR videos from camera roll or cloud services.
2. Supports both 2D and 3D video content.
3. Playback is controlled by Bluetooth keyboard.
Pros
1. It works with various VR video sources.
2. This app is easy to use.
Cons
The video quality and experience need improving.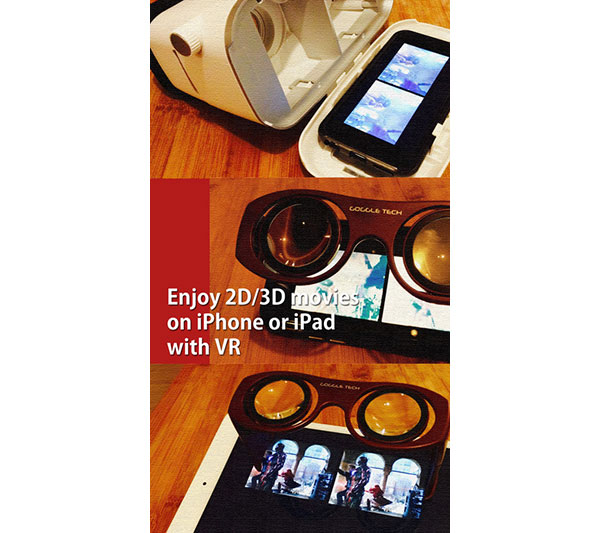 5. VR Tube
VR Tube lets you play VR content easily. Its features include:
1. Discover content in YouTube VR channel.
2. Watch VR videos on iPhone.
3. Create playlist for view multiple videos at once.
Pros
It is a free-to-use VR player.
Cons
Ads are annoying.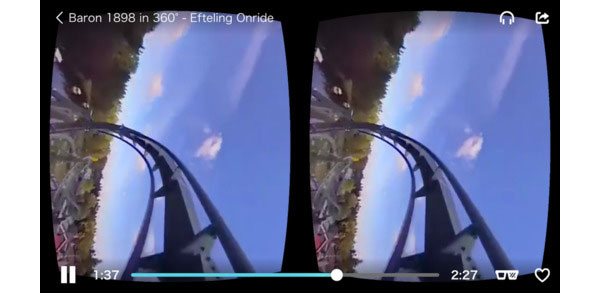 Conclusion
Now, virtual reality is transforming into customer market. To meet the entertainment demands, there are already several VR players available to iOS and Android. In this article, we identified and shared top 10 VR players on market. If you just buy a mobile VR headset, you can browse our review and choose an appropriate VR content playing tool for your smartphone. Some apps support head tracking or gesture to control playback, like VR Gesture Player and Homido 360 VR player. Others use Bluetooth keyboard, such as VRPlayer Pro. You can prepare hardware according to your favorite VR player app.