Top 5 One Click Root Tools and How to Use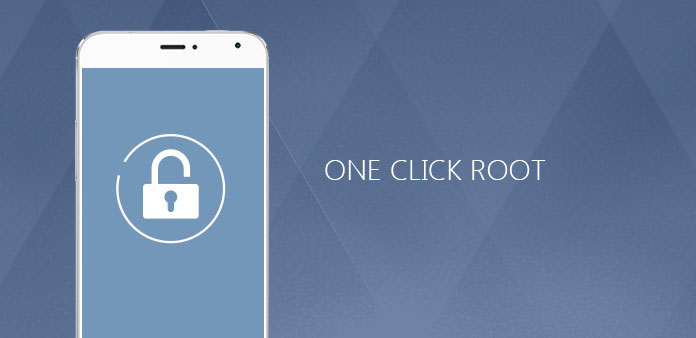 When you bought a new Android phone, you would discover that there were many pre-install apps useless. But you cannot uninstall them, because manufacturers deprive such rights. The only solution is to root your Android phone; then you can get whole controls. Moreover, rooting Android could bring more benefits and advantages, such as install latest Android operating system and features. For average people, rooting Android sounds a complicated task. Thankfully, there are several one click root tools could help you to root your Android device simply. And in this tutorial, we are going to introduce this one click root APPs and their guides in details. You can choose any one you like and follow our guide to root your Android phone right now.
Top 1. One Click Root - Best Root tool and most users like it
As its name said, One Click Root is paid software that supports to root Android devices in one-click. It is a desktop application and offers safer, easier and faster Android rooting experiences. When it comes to the details about how to achieve one click root, you can follow the guide below.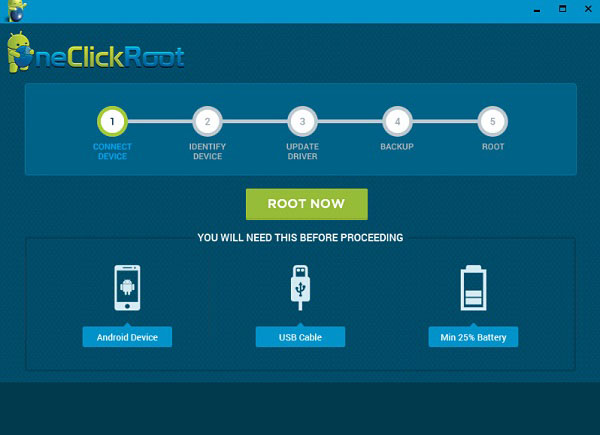 How to root Android in one click
Step 1: Install One Click Root on your PC and launch it. Click on the CHECK ROOT AVAILABLE button to see whether your device is supported, including brand, Android version, device mode and build number.
Step 2: Plug your handset to the computer, go to Settings app and turn on the USB Debugging mode under Developer options.
Step 3: Once click on the ROOT NOW button, the login window will pop up. Here you have to register and purchase the software to continue.
Step 4: After login your account, One Click Root will root and reboot your Android devices within a few minutes. Then you can use your phone as you wish.
Top 2. Root Genius – Portable software for one click root
Many people do not like to install software on their computer. Portable software means you can use it without installation. Root Genius windows version doesn't require any installation on your PC. Simply download rootgenius and run while your device connected to the PC. Root Genius is such a portable program that has the capacity to root Android devices in one-click. Plus, this Android rooting tool supports more than 10,000 models of Android devices.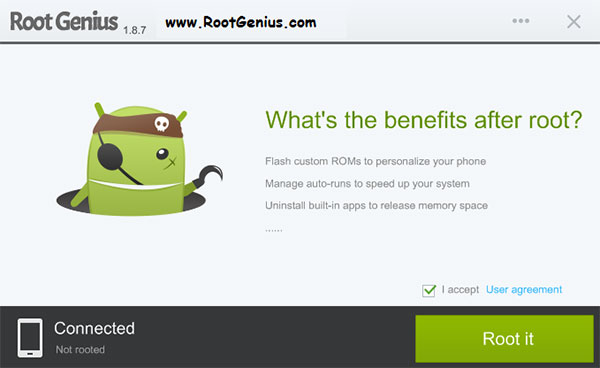 How to use Root Genius
Step 1: Download this one click root Android tool from its official website to your computer.
Step 2: Unlock your Android phone and open the USB Debugging mode. If your phone runs Android 2.x, you can open Settings app and find out USB Debugging in Application-> Development option. For Android 3.0-4.1.x, the USB Debugging mode is in Settings-> Developer Options.
In Android 4.2 and later, you have to go to Settings-> About phone/About tablet->Build Number. Tap on the build number 7 times to turn on Developer Options. Then you can find Developer options under System menu in Settings app. The USB Debugging is included in the Developer options.
Step 3: Connect your Android phone to the computer with a USB cable.
Step 4: Once this one-click root free detects your device, you can check box of User agreement and click on the Root it button.
Step 5: When process is done, a new app called Kinguser will install on your phone. That means Android is rooted successfully.
Top 3. KingoRoot - Best free one-click root tool
Kingo Root is one of the most popular Android root tools available on market. It is an open-source program, so everyone could use it for free. Moreover, KingoRoot is well designed that allows you to root a wider range of Android devices with one click.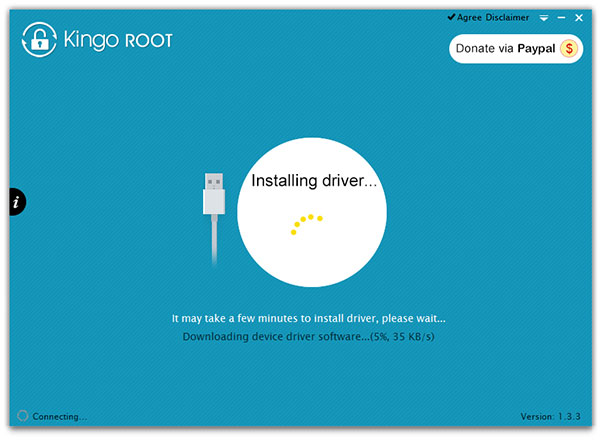 Step 1: Install this one-click root tool in your Windows computer. And link your Android phone to the computer physically.
Step 2: Unlock your Android device and set to USB Debugging mode. When you are ready to root the Android phone, launch KingoRoot.
Step 3: Once it detects your Android phone, a notification will pop up. If you are sure, click on the ROOT button to evoke the Android rooting process.
Step 4: Leave KingoRoot and your Android phone work alone until it shows you ROOT SUCCEED.
Then you can restart your handset and check the root status.
Top 4. iRoot - Most stable one-click root software
There are many applications on market announced they could root Android in one-click successfully. But according to our testing, stability is one of the most important features a rooting application should have, because software crash during rooting could lead to disasters, even brick the devices. iRoot is the most stable one-click root program in our research with success rate more than 90%.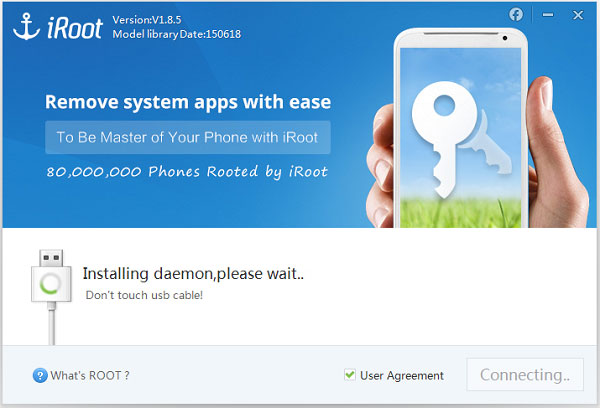 How to one-click root with iRoot
Step 1:Download and open iRoot on your computer. Plug the Android device to the computer for one-click root. Remember to enable USB debugging mode on your phone.
Step 2: When connection is done, iRoot will show you the model of your phone. Trick the checkbox of User Agreement and click on the Root button. iRoot will do rest work automatically.
Step 3: Wait for a while until iRoot said root successed. Then you can press the Complete button to finish the process. At this time, you can remove your Android phone and manage your phone completely.
Top 5. Easy Rooting Toolkit - Best cross-platform one-click root tool
Android rooting tools are usually only compatible with Windows. With DooMLoRD's Easy Rooting Toolkit, you can root Android devices on Windows, Mac or Linux. Moreover, this one-click rooting tool supports a long list of smartphone from Sony, Samsung and other venders.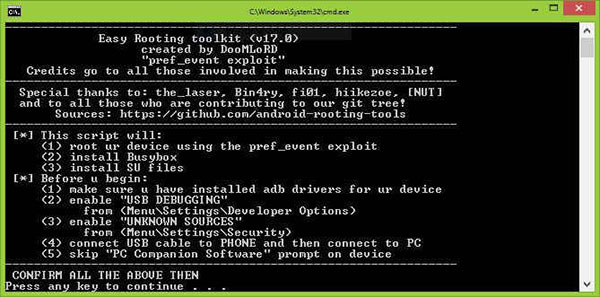 How to use Easy Rooting Toolkit
Step 1
Turn on USB debugging mode and Unknown Sources on your Android phone. Then connect it to your computer with a USB cable.
Step 2
Download the latest update of Easy Rooting Toolkit to your computer and use winrar or winzip to extract it.
Step 3
Run the file labeled RUNME.bat and follow the on-screen instruction to root your Android phone with one-click.
After rooting, you can use a root checker app to check the root status.
Conclusion
After reading this tutorial, you would found that rooting an Android device is not as difficult as you thought. There are at least five best one-click root APPs. You can make a decision based on your demands. If you are a beginner and need strong customer service, you can pay for One Click Root. iRoot has higher successful rate of Android rooting and the last version has enhanced stability. KingoRoot is a wide spread one-click rooting tool that supports a wider range of phone models. Root Genius could root an Android phone without installation it on your computer. And Easy Rooting Toolkit works well on Mac, Linux and Windows.