Top 5 iPhone Reminders in 2023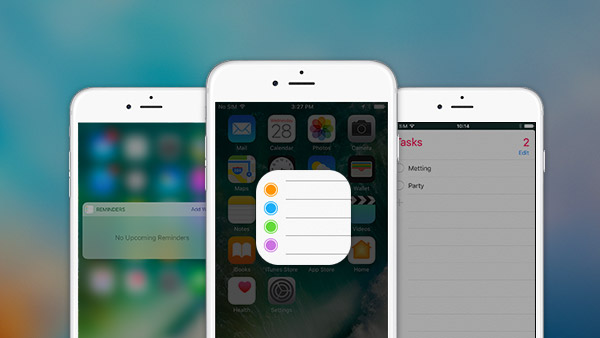 The Smartphone is not only a tool to make calls, but also useful to deal with multiple daily tasks, like recording agenda. No matter what age you are, a good reminder app could help you to avoid forget important things. We live in a world full of distractions and variations. Thus, a good iPhone reminder could increase the productivity and even save our career and life occasionally. There are many reminder apps in App Store. It is impossible to try every reminder and identify the best one. Therefore, I will recommend the best 5 reminders for you in the article. You can choose the desired program to build your great habit with some awesome reminder programs accordingly.
1. Tipard iPhone Ringtone Maker
iPhone Ringtone Maker is professional application to make ringtone for iPhone user. You can create the unique and special ringtones to remind you different affairs. It allows users to extract audio clips from videos, music and other audio files. The application supports all the frequently-used audio formats and could convert most video formats to audio, like AVI, MPEG, WMV, MP4, FLV, MOV, RM, RMVB, M4V, VOB, ASF, 3GP, 3G2, and so on. This application also supports the latest version of iOS and iTunes. Although iPhone Ringtone Maker is a powerful iPhone reminder application, users could download and use it freely.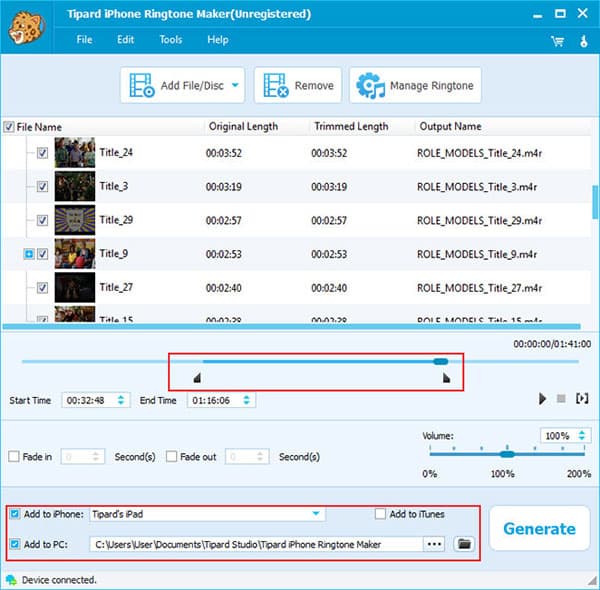 On the other hand, iPhone Ringtone Maker is easy to use. It offers a friendly interface and simple navigation, so users could create and edit reminder rings conveniently. All you have to do is to add a file and begin to customize it. You can set and adjust the volume of your reminder ring, preview the audio, and export it directly to your iPhone. You can use this reminder application to edit the existing iPhone reminder rings, rename or remove them, export them to iTunes, other iPhone, or computer.
2. Alarmed Reminders + Timers
Alarmed is one of the most useful iPhone reminders and timer apps. iPhone users could download the program from App Store freely. This application supports almost all the features of a reminder. There are over 140 high quality custom sounds, and what is more, you can customize these alarm features as well. For most employers, the ring is not a good choice to remind your agenda. It will not only bother others, but also leak your privacy. Alarmed could pop up the intermittent messages to remind users quietly. And this app also provides a persistent auto-reminder function called Nag Me.
The iPhone Reminder App Alarmed also supports Siri. So if your hands are busy doing something, you can tell Siri to create or edit reminders in Alarmed. This application also combines the features of reminders and timers. This function is useful, when you are cooking and baking. You can say good-bye to scorched food and become a confident chef with Alarmed. Users could also customize the ringtones or import agendas from iPhone built-in reminder.
3. Checkmark 2
Checkmark 2 is one of the most powerful iPhone reminders to manage projects. Although it is a paid app, it is an excellent reminder for iPhone users. This app offers not only all the features that other reminders provide, but also the reminders based on location. That is unique, because majority of iPhone reminders just allow users to create agenda or set alarm. But Checkmark 2 allows users to add reminders according to the location or the date and the time quickly. So after setting up Checkmark 2, it will remind the user where to go next according to the agenda, when the user leaves on place. For example, it is your turn to pick your child up from school.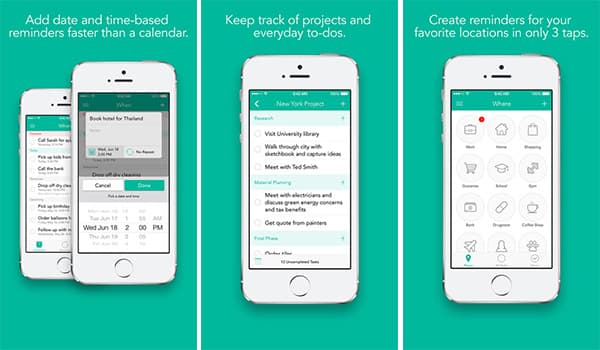 When you leave your office and get on your car, Checkmark 2 will remind you to go to your daughter's school. Then you will never miss your child. Other useful features of Checkmark 2 include rescheduling, cancelling prioritize, recurring reminders and so on. The iPhone reminder adds a timer to location-based reminders, so the alert goes off when you're ready, such as 15 minutes after you arrive home.
4. Productive Habit & Daily Goals Tracker
We need an iPhone reminder, partly because we want to improve the productivity and create good habits in our daily life. Productive Habit & Daily Goals Tracker is good choice to meet such demands to build good habits. According to researches, it will take twenty one days to build a habit. So we need Productive to plan our daily life and repeat the schedules. After enough repetitions, some activities will become habits and we will do it spontaneously. The most interesting feature is that Productive allows users to create motivation when they complete the habits and tasks. That will concentrate your attention on the current habit and avoid distractions. So Productive is actually a habit cultivation reminder for iPhone.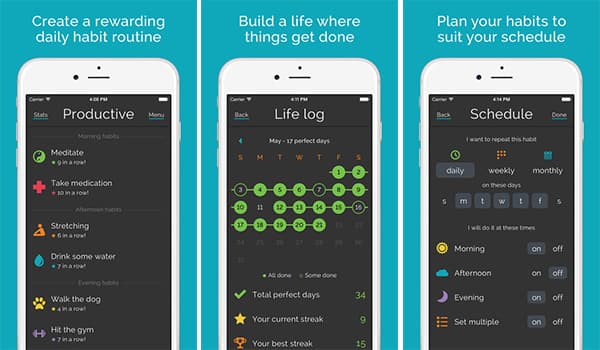 And the iPhone reminder app also offers other features related to reminder, like a calendar with agenda, records and notes, password for privacy, and so on. The powerful reminder Know what's due for each time period, plus you can set reminders for each habit, or get a big push from Boost Mode. Remember that it is more productive to focus on one habit at one time.
5. I am – Daily Positive Reminder
Some iPhone reminders will provide unique and awesome features, like I am. Actually the people that need a reminder are usually busy persons. And the stress of work and life will make them depressed. Some people even become afraid of the alarms of these reminders. But I am will change your mind. This iPhone reminder is special. And it creates a more positive way to let you think and work the whole day. It is not only a reminder for your schedule, but also a utility app to reaffirm yourself.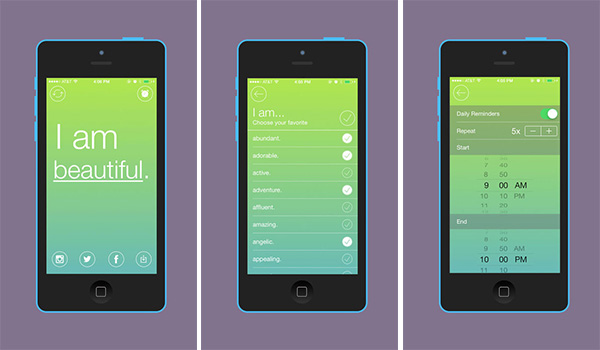 Compared to other iPhone reminders, the iPhone reminder will send you positive reminders to create and strengthen your positive thinking patterns. Daily affirmations help rewire our brains, build self-esteem and change negative thought patterns. Empower yourself by verbally affirming your dreams and ambitions. If you use this iPhone reminder for a while, you will regain your self-esteem and confidence. And that will help you face the challenges in both work and life positively.
Conclusion
We are usually facing multiple tasks at the same time in our daily life. It is a challenge to plan the time and remember the important affairs. With these iPhone reminders, we can deal with multiple tasks easily and remember every important thing without keeping them in mind. What is more important, you can also build good habits and organize your life. Just download the iPhone reminder programs to have a try first. If you are satisfied with the any other reminders, you can free feel to share the information in the comments.