How to Save Instagram Photos on iPhone/Android/PC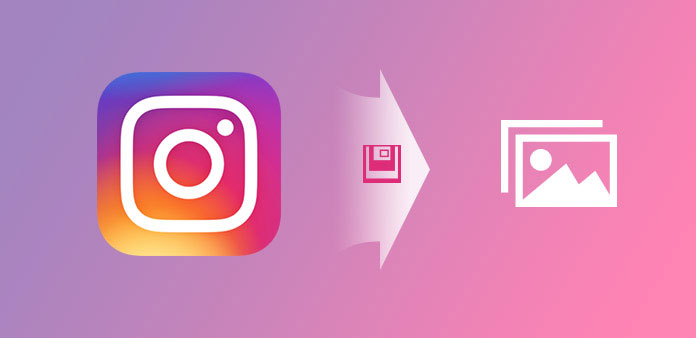 As you already know that Instagram does not welcome people to save Instagram photos. You are not able to download any Instagram photo on iPhone, Android, PC and Mac officially. I mean, no direct download icon can you get on Instagram, but there are many other methods to save and transfer photos from Instagram. After all, Instagram is not doubt to be one of the best social media platform, for people to share creative pictures all over the world.
Sometimes it is unavoidable to save other people's photos from Instagram when you see something really attractive. Remember do not post downloaded pictures online again and announce that they are created by you.
Part 1: Top 3 methods to save instagram photos on iPhone/iPad/iPod
You are able to get solutions to access Instagram photos, not only from yourself, but also from strangers and friends online, to download Instagram pictures on iPhone with ease.
Method 1: Save instagram images of yourself
If your Android device still runs well, things can be really easy.
Step 1: Go to Settings on your iPhone Instagram profile.
Step 2: Find Options list, to turn on Save Original Photos option.
Well, the moment you post any photo to Instgram on iPhone, it will be duplicated to Camera Roll automatically. The folder stored it names Instagram as well.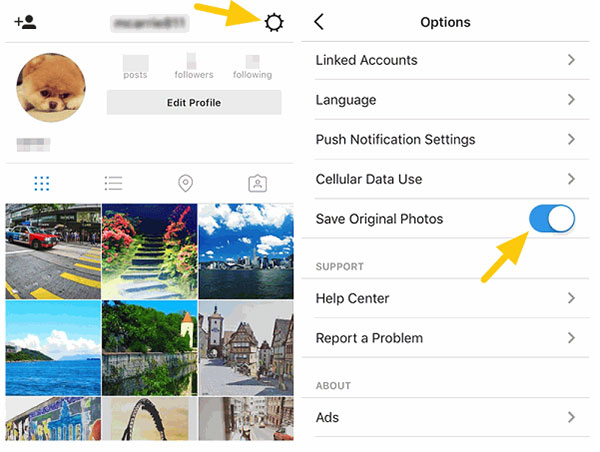 Method 2: Save someone else's picture from instagram
Hum, no direct way to save Instagram photos from other people at present. But there is one trick to enable you download someone's Instagram pictures, by cropping the screenshot.
Step 1: Press Home and Power together, to get the snap shoot.
Step 2: Open with Photos, to Crop the screenshot you captured.
Step 3: Click Done to own the Instagram picture of that person.
Method 3: Copy instagram photos to Camera Roll
It is the method especially for people who do not like to take a screenshot of Instagram photos.
Step 1: Find the More option in three-dot icon, and select Copy Share URL.
Step 2: Copy and Paste the Photo to Camera Roll.
Open the browser on iPhone to track the URL. Later, long press the displayed picture, to paste it into Note app. Hit Share button and select Save Image option, to Save the Instagram image to iPhone Camera Roll.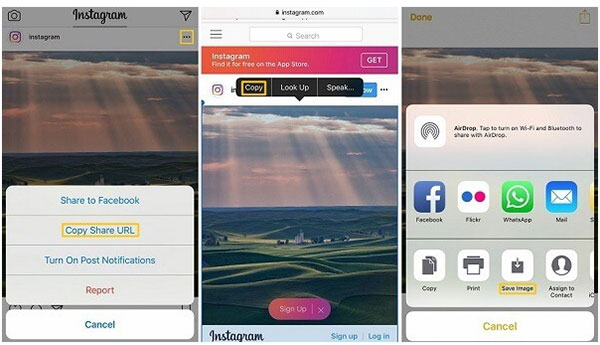 So, the above three methods are frequently used, to save Instagram photos on iPhone, from other people, or of yourself.
Part 2: Top 4 methods to download instagram photos and save on Android
Android users have the demand of Instagram photos downloading like iPhone users do. And in this part, you can get four representative Instagram photo saving steps, to download on Android.
Method 1: Use Facebook messenger to store instagram photos on Android
Step 1: Launch Instagram application on Android, and open the picture to download with.
Step 2: Use Facebook Messenger program to save pictures on Android.
You will get three-dot button on the top right corner, click it to tap Copy Share URL option. After that, turn to Facebook Messenger to open and search Repost Bot, paste the copied URL, and hit the Download icon, to get Instagram photos saved on Android.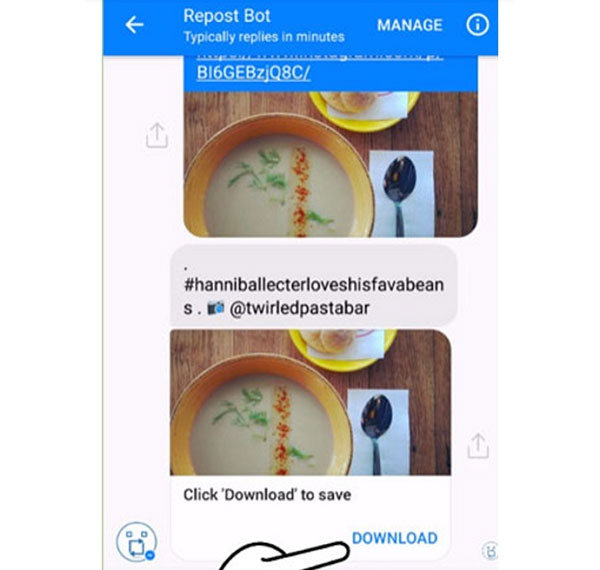 Method 2: Open instagrabbr to get instagram photos on Android
Many people reported that their rooted phones bricked after do hard reset Android simply. That is true. If you do not unroot your device, hard reset could be a disaster.
Step 1: Open one Instagram downloader site online, like Instagrabber.com.
Search Download Instagram photos online with Google search engine, to access online downloaders, and enable Instagram saver online.
Step 2: Save pictures from Instagram with Instagrabber.
Method 3: Install instagram saver on Android to collect instagram pictures
Find the Instagram photo downloader to deal with those images, like EasyDownloader program.
Step 1: Install Instagram photo saving program on Android.
Sign in with your Facebook account, or you can register with new personal information.
Step 2: Enable Download mode from Settings.
Choose Copy Share URL option, to download pictures from Instagram to Android.
Method 4: Download photos from instagram.com
Step 1: Enter Instagram.com on PC.
Step 2: Open the picture on Instagram you wanna to download.
Step 3: Move and Save Pictures from Instagram on Android.
Click the three-dot option on the lower right corner, and choose Save image as, to set destination to save Instagram images to.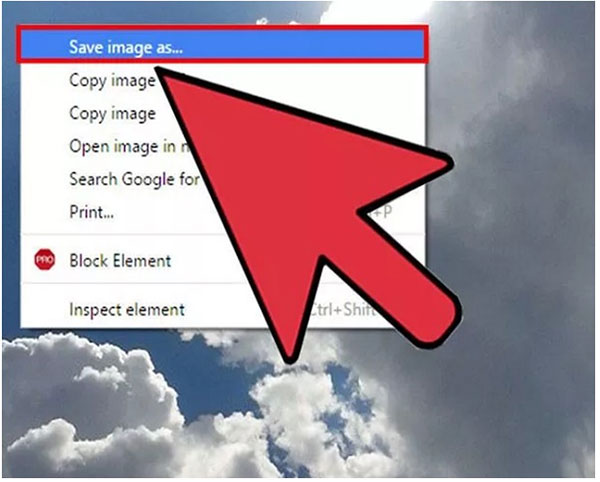 That's all for saving Instagram photos on iPhone and Android, well, including sources from other people and from you. If you have any advice about Instagram pictures saving and managing, feel free to contact use, to share with people all over the world.
Part 3: How to save instagram photos from iPhone to computer and other iOS device
There should be a tool to help you transfer saved Instagram photos to computer and another iOS devices directly. It is Tipard iPhone Transfer Ultimate, which can manage, backup and transfer iOS files between iOS iDevices and computer without limitations. You can move music, photos, videos, contacts, messages, notes and all iPhone data through the iPhone Transfer Ultimate. Not like iTunes file transferring, your Instagram pictures transfer trip is safe and lossless, no damage of losing previous iOS files. All your iPhone files will be protected, and exported to the receiving device smoothly.
1. How to transfer instagram pictures from iPhone to computer
Step 1
iPhone with PC connection, through USB cable.
Step 2
Click Photos to open saved Instagram photos.
After detected by iPhone Transfer Ultimate, locate your photo gallery to find out all downloaded pictures, including Instagram photos.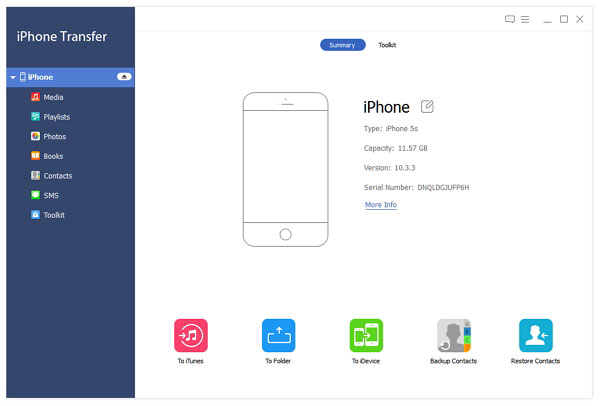 Step 3
Export iPhone downloaded pictures to computer.
Select which Instagram images you wanna to transfer to computer. And later, hit Export to menu to set the destination folder.
2. How to export instagram images from iPhone to iPhone/iPad/iPod
Step 1
Connect the two iOS device to computer.
Step 2
Select pictures to transfer with.
Choose from the iPhone, which downloaded Instagram photos will be moved to another iDevice. Locate Photos and find pictures displayed under the category.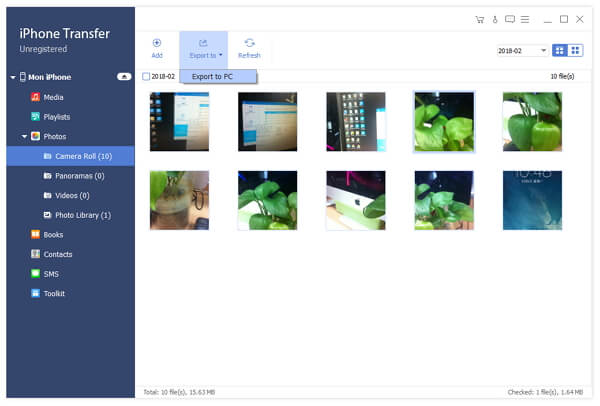 Step 3
Transfer Instagram pictures from iPhone to another iPhone/iPad/iPod.
Hit Export to menu on the toolbar, and choose your iDevice's name, to transfer files from iPhone to iPhone.
iPhone Transfer Ultimate can backup all iPhone data between Apple devices and computer directly. Therefore, if you have no idea how to transfer iPhone data with, iPhone Transfer Ultimate is your first choice.

Click here to join the discussion and share your comments