10 Best Free Android Spy Apps You Should Know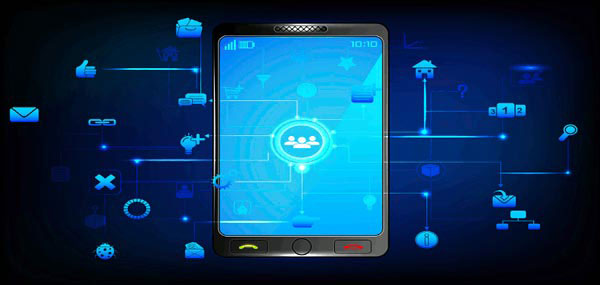 Do you worry about the location and security of your children and parents? Once you install the 10 free Android spy apps, you will never fell fidget about these things. You cannot only know the location of your family members, but also see all the images and videos on the smartphone, access to the entire contact lists. These free Spy APKs for Android are your loyal spies and never stop working or betray you. Your life will be better with these free Android spy apps. Just learn more detail about the features of the programs from the article.
No.1 Free Android Spy
Price: Free
Platform: Android
You can easily know everything about the smartphone when installed Free Android Spy. You will be able to know the location of the smartphone so you will not worry about losing your cell phone. You can also check the images and videos, access the entire contact lists from the free spy App for Android.
Free Android Spy is not only a spy app of you, it also is a loyal and powerful guard for your information security, you can send massages by it to avoid revealing your personal information. If you are afraid to information leakage, the spyware will be your best information protector. On the other hand, the free Android spy is a social app that you can share the activities.
No.2 Free Cell Phone Spy App
Price: Free
Platform: Android
Free Cell Phone Spy App is able to inspect the reasons that your kids come back home too late, or the staffs talk about you. The free Android spy has lots of powerful functions for you. You can easy locate your children and you will be able to see everything on his/her cell phone, such as images, videos contact lists, Facebook, etc. So your children's life will be under your control.
If you are a boss of a company, the Android free spy app will help you track your employees' location during the working hours, and get your employees' information on the Android phone for work. You can see the images and videos on the Android tablets, get messages from their Facebook, MMS, Kik, etc.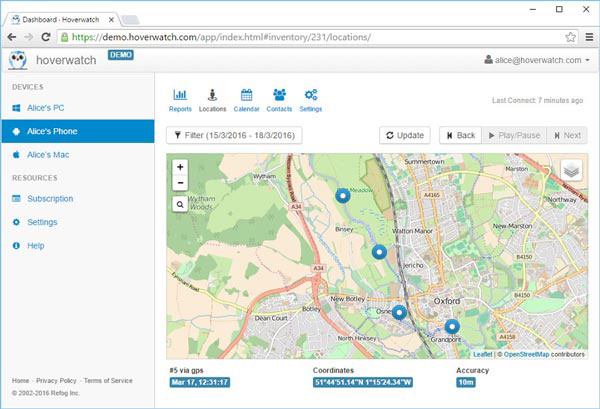 No.3 Cell Spy
Price: Free
Platform: Android
Cell Spy is another excellent free Android spy with powerful functions, which you can locate the cell phone and know your children's location easily. Of course, you can also check the images, contact lists, Facebook massages, call recording, etc.
On the other hand, you can control camera and some function about pictures. You can control camera to take pictures and capture the passcode and passwords. If you want to know which website and theme the people you are spying on, you can look through the web history, bookmarks, address books and calendars. If you are afraid to the blame on you if you get founded, you can trust the free spyware for Android because you can spy on them in background so them will never find you. With the Cell spy, everything will under you control.
No.4 SpyHide
Price: Free
Platform: Android
If you want track someone and get some information about him/her, the free Android spy app will help you a lot. SpyHide is a new app of spying on other phone with a lot of powerful function. It can help you login to user panel and get information you want. It also allows you to track location, check the call recording, which means you can know so many things about the owner by using the free Android spy app.
Of course, the functions of the app are various. The SpyHide can also help you to catch cheating spouses and spy on E-mail messages. As the first premier Android monitoring app for the Android, SpyHide can help you a lot and make your life more convenient.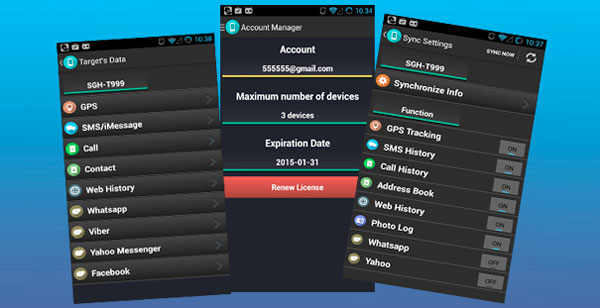 No.5 TheTruthSpy
Price: Free
Platform: Android
As one of the best free Android spy apps, TheTruthSpy is really good at spying and monitoring. You are able to track other smartphone and see all call recording, SMS messages, and Facebook information. You will not only know messages and photos, but also locate the phone. It means the smartphone will always under your control, you do not need to worry about being blamed by the person you are watching, because he/she will never discover. If you are a father or mother, you can easily know your children's location with the Android spy app, you will not need to worry their safety, if you are a boss, you can spy on your employees, and you can handle all their information. TheTruthSpy just makes your life more convenient.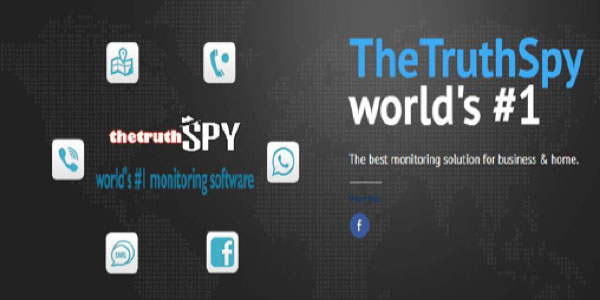 No.6 Cell Tracker
Price: Free
Platform: Android
Cell Tracker should be an excellent free Android Spy to track the locations and show the tracks of your visits. The application just records the tracks without turning on the GPS. It is able to collect locations info once every 0.5 hours with GPRS or Wi-Fi. When you install the application on the other's smartphone, you can get the tracks for your child or parents with plenty of information.
You can also access to extra features, which enables you to clear all the location information or export the tracks as text via Email. Just tap on "View Now" link the app, you can see the tracks of the cell on Google Map View. If you need to check the locations for sells of your business, it should be the best free Android spy.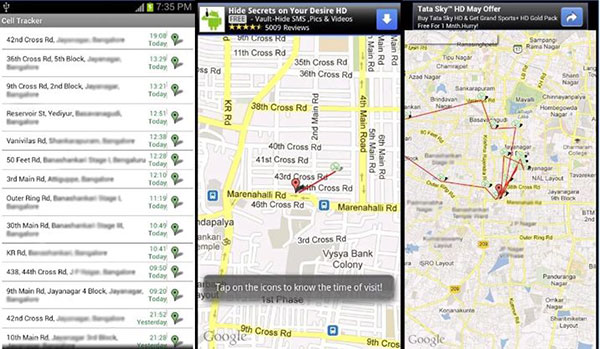 No. 7 Sneaky Cam
Price: Free
Platform: Android
In order to be a profession spy, Sneaky Cam should be the free Android spy for you. It allows you to take photos with your Android phone camera discreetly, without letting others know what you are doing. Instead of the preview of the camera, the program just shows you a screen of your choice available in the Preference menu.
When you take photos with the free spyware for Android, you can get a small preview of what you are about to take. Once you take the picture, you can find the pictures in "Sneaky Cam" folder of Gallery. It is able to silent the shutter sound to make sure no one can hear about any noise about taking a sneaky picture.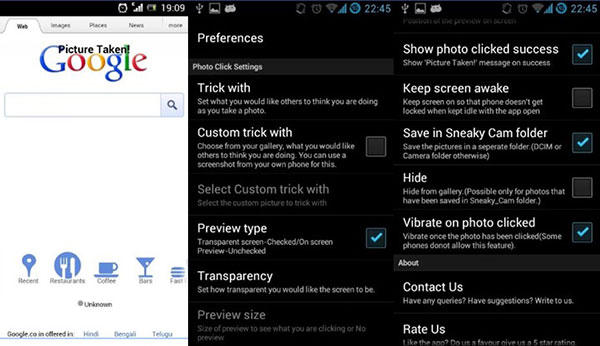 No. 8 M-Spy
Price: Free
Platform: Android
M-Spy is a free Android spyware without jailbreak, you are able to spy on an Android phone even without installing the software. The key-logging feature just helps you find out the users password, it allows you to gain access to all the buttons being pressed in the target Android phone. And then you can get the password to access the account to get more private information.
What is more, the free Android spy app has some primary features, such as call logging, message viewing, GPS Location tracking, Chat apps, texts, access browse history and more others. It is a top of the line monitoring software and security application created for the supervision of employees and minor children.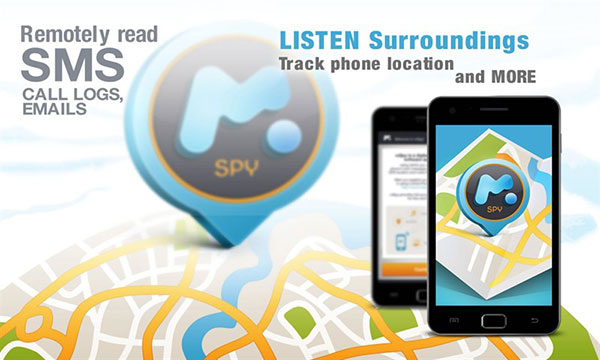 No. 9 Spy Message
Price: Free
Platform: Android
Just as the name of the application, Spy Message is a free Android spy app that you can exchange secretive messages and appointments. And you can also access to the Message Time Bomb feature, which automatically explored some important message after checking. You can also set the Message Timer to allow you to sort messages according to the priority and delete them without any track.
What should you do with other friends? Actually you do not have to worry about all the friends in your contact list. The free Android spyware enables you to sync content from Google account and customize the list and share the private information with special friends only. And then you can make sure the private information is safe.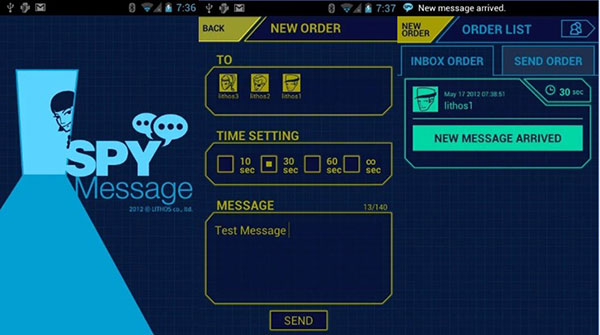 No.10: Automatic Call Recorder
Price: Free
Platform: Android
In order to record some useful information for calls, Automatic Call Recorder should always be free Android spy app for call recording. It will silently record calls, and then upload them to the cloud service. You only need to login Dropbox to check out more detail about the conversation.
There are 3 default settings for automatic recording. What is more, if you think a conversation is important, you can also save the file in the Saved Calls folder. The Android spy freeware will automatically delete the old call records automatically. As for the Pro version, you can set calls from particular contacts to be automatically saved, and they will be saved in the cloud.