Ultimate Guidance About Factory Unlock iPhone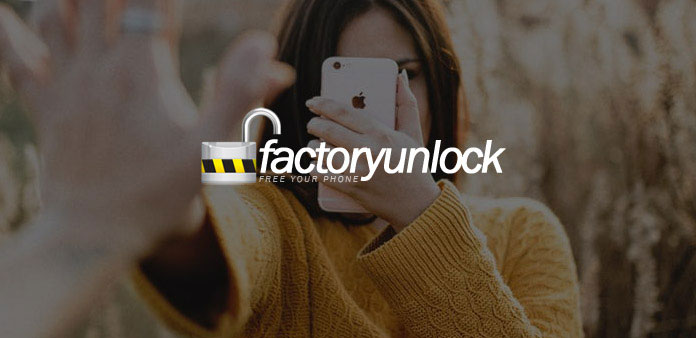 Factory unlock iPhone is famous for its accessibility and flexibility of network, because of which, more and more people are looking for the methods to achieve the goal. Especially when you need to save up on international roaming charge. However, lots of people have little knowledge about Factory unlock iPhone. In order to use the best carrier service of iPhones, you can learn more detail about how to change the carrier service from Sprint locked iPhone 7 to AT&T service.
Section 1: What is Factory Unlock iPhone
If you want to know what is factory unlock iPhone, you are supposed to understand what is locked iPhone first. Generally, a locked iPhone is locked by a carrier in order to block the way of entering and using other carriers/networks. And your phone may be installed logos and specific functions. So, a factory unlock iPhone means that after unlocking, your phone can work under any GSM providers, and it don't have to use any other software. Once your iPhone is factory unlocked, you can promote your operating system freely.
What can a factory-unlocked iPhone bring you? First of all, flexibility can be assured. Once you factory unlock your iPhone, you can get rid of a particular cell phone provider that restricts you to connect other networks, and you are allowed to choose or change whichever providers you like, if you don't like the service of the former. In addition, for frequent travelers, using a factory-unlocked iPhone is money saving, for most of providers will charge a lot international roaming fee. Finally, factory unlocked iPhone can resell easily and it is high in demand because of its accessibility and flexibility of network.
Section 2: How to Factory Unlock iPhone X/8/7/6
Method 1: Factory Unlock iPhone with the Carrier
Step 1: Just make sure you can meet the requirements for factory unlocking iPhone. It is the official method to unlock iPhone in a legal method.
Step 2: Contact the carrier if the Factory Unlock iPhone service is available. And then you can submit a request, which might take a few days.
Step 3: Once you get the confirmation, you can unlock the iPhone and replace with a new SIM card after the network expiration.
Method 2: Factory Unlock iPhone Online
CellUnlocker.net provides the official services to factory unlock iPhone 7 or whatever iPhone type you have. Once you whitelist your CellUnlocker.net from Apple's database, your phone will never be relocked. Here's how it works:
Step 1: Select your iPhone model
Enter the CellUnlocker.net website, choose your phone model, network and your e-mail address. And then you will be guided to another page.
Step 2: Enter the IMEI code
Follow the instructions to enter your IMEI code, which leads to the removal of your CellUnlocker.net from Apple's database. After finishing, you will get a notification via e-mail.
Step 3: Factory Unlock iPhone online
Once you have completed processing your order all you need to do is plug in your iPhone into your computer, start iTunes and your device will be automatically unlocked.
Method 3: Factory Unlock iPhone with Software
Before introducing the detailed process of how to factory unlock iPhone with software, you are supposed to know the threats to unlock iPhone via jailbreak. It is a way to get rid of the restrictions of software on your iPhone. Just take Gevey SIM unlock for example.
Step 1: Go to "Setting" > "General" > "About" to get the information about the baseband version of your iPhone.
Step 2: Download the Gevey SIM for iPhone 4/4S to read the instruction for the procedure that should be simple.
Step 3: Factory unlock iPhone with the code, which you can remove the existing unlock. If you need to update iPhone, you need to run the program again.
Method 4: Factory Unlock iPhone with Hardware
The last method to factory unlock iPhone is using the hardware, which you need to replace the SIM card related component. It is a dangerous and unreliable method to get rid of the carrier issue.
It only has a 30% effectiveness rate, and will completely void your warranty in the off-chance it does work. Just open your iPhone 7 to get everything fixed with ease.
Section 3: How to Check whether iPhone is Factory Unlocked
If you just bought a second hand iPhone, how do you check whether iPhone is factory unlocked? Here are the step-by-step direction to check iPhone 7 before you factory unlock iPhone 7.
Step 1: Find out the IMEI code
Dial #06# on your iPhone 7 and obtain your iPhoneIMEI code. And you can also go to "Settings" > "General" > "About" to scroll down to get the MEID.
Step 2: Enter your iPhoneIMEI code
Enter the IMEI website, and type your IMEI code. Click "check" button to check whether it is a locked iPhone.
Step 3: Check the situation of your iPhone
After type your IMEI code, the website will show you the information of you iPhone. Click "Free simlock status check" at the bottom of the interface.
Step 4: Get the Factory information about iPhone
The website will find out whether your iPhone is factory unlocked or not. By the way, it will show the warranty situation of your device.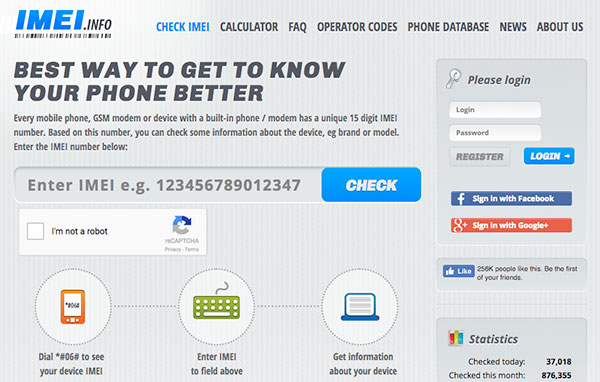 Conclusion
Factory unlocking your iPhone makes it more convenient and free to use carrier network you want. For frequent international travelers, it is also a perfect choice to be flexible and money saving. It should be a nice choice if you need to resell iPhone. The article recommends some legal and easy methods, you can check the status of iPhone and follow the methods to factory unlock iPhone for a better service.