How to Make iPhone 4 Ringtone with iPhone 4 Ringtone Maker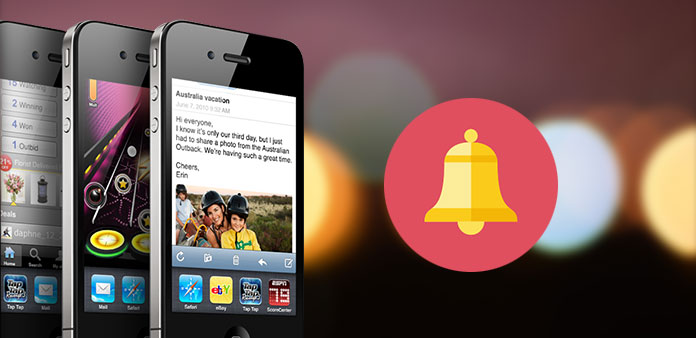 The digital products of Apple Company have swept the world now, like iPhone 4, iPhone 4S, iPad, iPod and so on. So more and more people like to make a unique ringtone for their iPhone 4. However, with the launch of iTunes 12, Apple removed the ability to create and buy custom ringtones from that software. Then, how to create custom ringtones for your iPhone 4? In fact, thanks to a variety of third-party apps, there are still plenty of options for creating your own unique ringtones for the iPhone. And Tipard iPhone 4 Ringtone Maker is a member of them.
There are a number of apps named Ringtone Maker, but the one very popular among iPhone users is developed by Tipard. Tipard, as a dedicated professional multimedia software provider, is always working to make your digital life more wonderful. So Tipard has developed this software in order to meet the needs of users.
Frankly speaking, this powerful iPhone 4 Ringtone Maker is an ideal ringer creator tool to express personality for iPhone fans. It allows you to convert almost all mainstream video/audio formats including MPEG, WMV, MP4, DivX, MOV, RM, AAC, WMA, MP3 to iPhone 4, white iPhone 4 M4R ringtone. Moreover, Tipard iPhone 4 Ringtone Maker works pretty simply -- after selecting a source file that your want to generate ringtone from and a video or audio, and then the app will help you edit that song into a short clip. After your clip is edited, save the ringtone to begin the transferring process. Now your ringtone has been created and you can enjoy them on your iPhone 4.
Now follow the step-by-step guide.
Step 1
Install Tipard iPhone 4 Ringtone Maker
First download Tipard iPhone 4 Ringtone Maker installation file; then follow the instructions to finish the installation. After that, please launch iPhone 4 Ringtone Maker, and the registration window will pop up automatically. You can enter correct User Name and registration key to finish registration, or you can just skip the step to try this iPhone 4 ringtone maker firstly.
Step 2
Connect your iPhone 4
After registration, you will see the the following screenshot.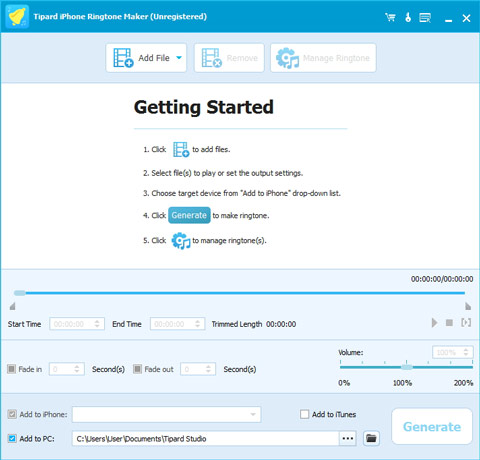 Step 3
Choose source file
Connect your iPhone 4 to PC via Apple dedicated data line, then you can choose the source file that your want to generate ringtone from. You are allowed to choose video, audio and DVD file as the source file, then the format of the destination files will be set as M4R automatically.
If this is the first case, you just click "Add File" Button to choose your favored video and audio files.
If it's the latter, you need click "Load DVD" Button to choose your favored DVD movie.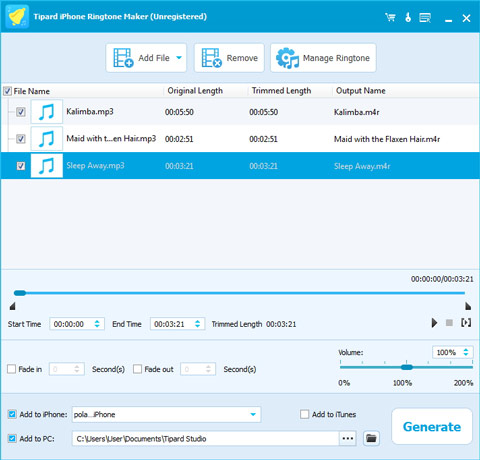 Step 4
Generate iPhone 4 ringtone
You can convert a complete song or video file to iPhone 4 ringtone, or you can trim the length of the source file by setting the start and end time. After editing, choose the output folder, then check "Import to iPhone 4" box. In the end, just click "Generate" button to make personalized ringtone.