Wondershare Slideshow Builder and Alternatives to make DVD Slideshows

With the digital age approaching, digital has become a hit in ordinary family, with which we can capture wonderful moments we want. However, when those unique photos which once made you happy, sad, surprised, piled up in your hard drive, making it hard to manage, I guess you will be unwilling to go through them again and again. So, how can save these photos without wasting too much space, while you can appreciate them in a more lively and creative way? Here we introduce the Wondershare DVD Slideshow Builder, an excellent photo slideshow builder, to achieve it. Apart from that, I am going to give you some alternatives for you to choose from.
Part 1. What is the Wondershare DVD Slideshow Builder
Wondershare DVD Slideshow Builder is a rather helpful software, which allow you to combine your photos, videos, music together with some special effects in a lively and eye-catching way. If you think adding so many things into one slideshow is complicated, you are wrong. Wondershare DVD Slideshow Builder gives an excellent service that you can make combination of it easily by yourself; and if you think it will take you quite a long time to accomplish the whole DVD slideshows, you are wrong as well. The burning process is quick and smooth. All in all, The Wondershare DVD Slideshow Builder can be recognized as simple and quick.
The general approach to operating this DVD Slideshow Builder is to use timeline to build your photo slideshow. What you have to do is to add your photos and videos and arrange them along the timeline in a way you like. Also, you can try every effects and options, then decide which one to use. when you finally finish editing your digital album, you can save it wherever you like without considering wasting space. Or if you want to share your elaborate DVD slideshow to your friends, you can also put it on your social network, such as YouTube or others.
Features:
1. Use it easily for all levels.
2. Provide wonderful design options.
3. Offer freer save options.
4. Easily drag and drop everything.
5. Add unique transition effects with many options
6. Share your DVD slideshow anywhere
7. Enjoy the highest picture quality
8. Watching your digital album on portable devices anywhere.
9. Protect your privacy and your financial and personal data with full encryption.
Part 2. Other alternatives to replace the Wondershare DVD Slideshow Builder
In case you don't like the Wondershare DVD Slideshow Builder, I prepare other alternatives to fulfill your requirements.
No.1 Free Slideshow Maker
Free Slideshow Maker gives you an easy way to pieces together pictures, videos and auto files into one file. And it creates novel and stylish photo slideshows from your picture collections in an easier way, because you will be guided by clear labeled buttons. It supports most popular auto and picture formats, so there is no need to convert them. However, the output is limited on AVI format. Another limitation of this software is that you can't choose the transitions effects between pictures, or pictures and videos. If you make slideshows for business or other use, this software may not be the suitable one. But if you are the one who just want some simple decoration for your pictures and videos, you are encouraged to use the Free Slideshow Maker.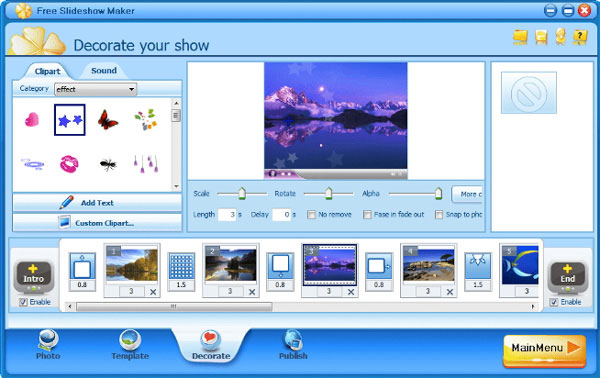 Features:
1. Easy to operate for anyone
2. Free download
3. No need to convert the formats of your photos and videos
No.2 DVD Photo Slideshow
DVD Photo Slideshow gives a service of making your own digital photo albums and turning your digital photos into lively and creative DVD movies in an easy and simple way. Whether you want to generate a slideshow on your mobile devices, such as iPad, iPhone and Android, or you need to upload a slideshow video on your YouTube, the DVD Photo Slideshow can meet your requirements. What you should do is to choose your pictures and drag them into the slideshow, and then pick up your favorite transition effects. Then, you can add a soundtrack as you like. DVD Photo Slideshow provides you lots of choices of output than any other software, including DVD, VCD2.0, MPEG-4, FLV, SVCD and so on.1.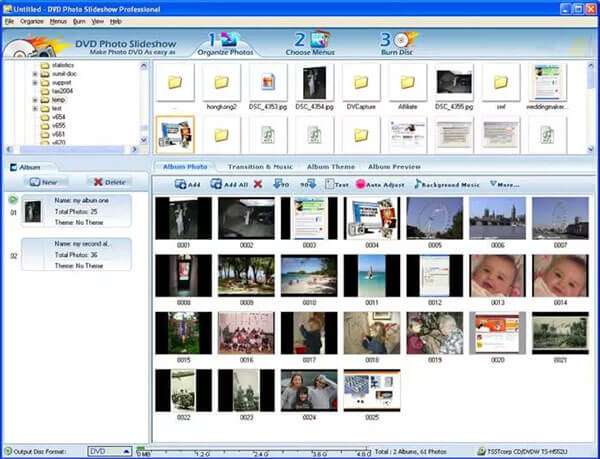 Features:
1. Save space for your photos and help you to organize them.
2. Share your digital slideshow on computer, mobile devices, Facebook, TV, iPad.
3. Create unique and entertaining video slideshow.
No.3 DVD Slideshow GUI
DVD Slideshow GUI offers a very quick and easy way to generate a perfect DVD slideshow. What you are required to do is to choose your photos and videos into the interface of it, and with some simple steps, you can get the output. Also, you can add transitions, music, titles and special effects to decorate your slideshow. At last, save your work into hard drive or some social networks as you like.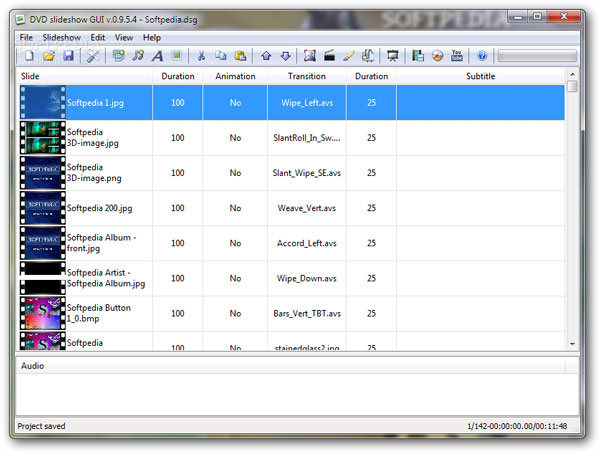 Features:
1. Provide 83 effects, 15 motion background and 237 transitions for you to choose.
2. Support English, French, German, Danish, and Dutch,
3. Add borders, subtitles and music to your slideshow.
Conclusion:
The Wondershare DVD Slideshow Builder and all other DVD slideshow makers provides a simple and easy way to help you edit your own slideshow. Once you try to use them, your family memories, holiday moments will be creative and meaningful, most importantly, space-saving.