How to Clean a DVD on Different Operation Systems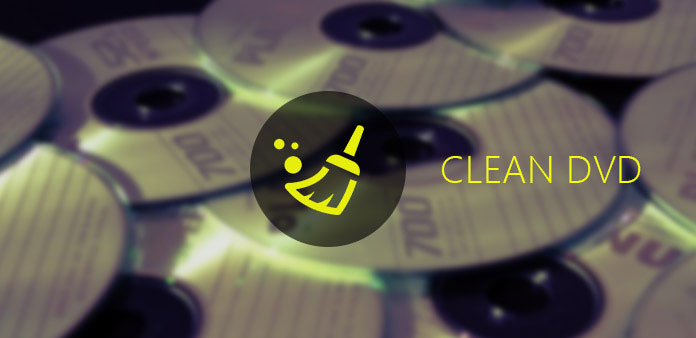 When you bought a DVD, you might notice that its cover was printed DVD-RW or DVD+RW. Generally speaking, RW on the DVD cover means rewritable. The venders have announced that a DVD-RW could be rewritten a thousand times. That is awesome, right? When you did not need the files on the disc, you can clean up a DVD for burning something next time. Moreover Windows and Mac OS X have included tools to clean a DVD disc. We can these system utilities and third party applications to erase the content on DVDs easily. In this tutorial, we will share the details.
Part 1. Clean a DVD in Windows 10
There are two ways to clean a DVD in Windows 10. If one way fails, you can try another one.
Method one
Step 1
Insert the DVD-RW or DVD+RW disc into the DVD drive.
Step 2
Go to Start menu, search Computer in search bar and press the first on the result list to open Windows Explorer.
Step 3
Click on the disc and choose Erase this disc on the menu list.
Step 4
Follow the instructions to finish DVD cleaning.
Method two
Step 1
After put the rewritable disc into the DVD drive, go to search bar and find out Control Panel.
Step 2
In Control Panel, choose Administrative Tools-> Computer Management -> Disk Management successively.
Step 3
Right-click on the DVD drive and choose Format option. Select the file system and set the cluster size according to your disc.
Step 4
Hit the OK button to clean the disc.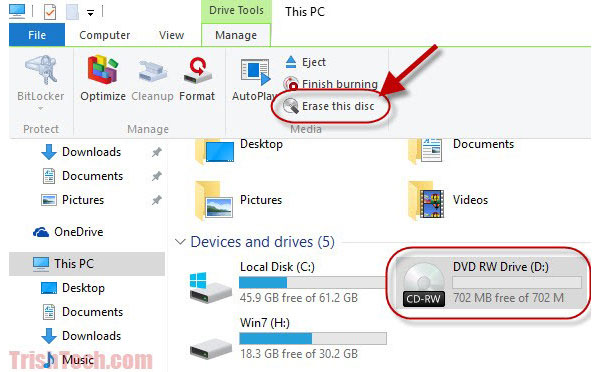 Part 2. Clean a DVD in Windows 8
Windows 8 also includes the similar feature that allows you to clear a rewritable DVD. This method is also available in Windows 7.
Step 1
Power on your Windows 8/8.1 computer and insert a rewritable disc into the optical drive.
Step 2
Go to the Start menu and choose the Computer option.
Step 3
Select the DVD drive contains the disc you want to clear, locate to the top ribbon and choose Erase this disc in Drive Manage section.
Step 4
When the disc erase wizard appears, click on the Next button to confirm and start clear the DVD.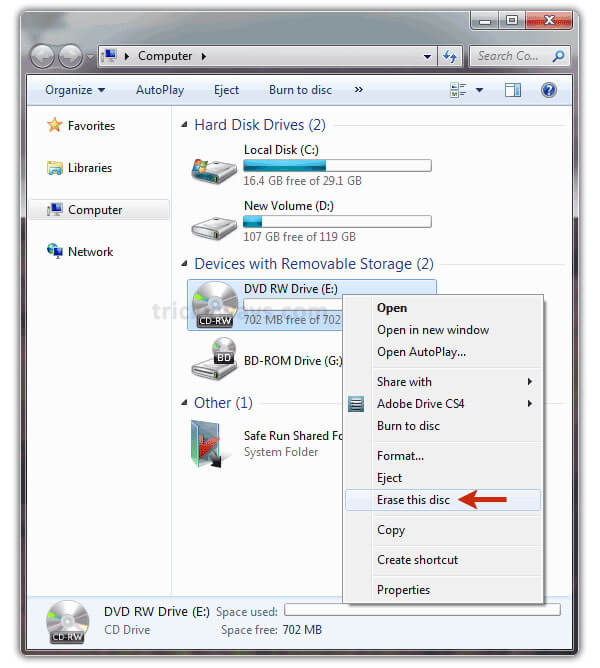 Part 3. Clean a DVD in Windows XP
There are still many people using Windows XP and refusing to upgrade to Windows 10. Unfortunately, Windows XP is not able to clean a DVD without third party tools. The good news is there are multiple solutions offer the feature in Windows XP, such as CDBurnerXP and ImgBurn. We use ImgBurn as the example in this part.
Step 1
After installing ImgBurn in your Windows XP computer, you can start wiping the disc immediately.
Step 2
Run ImgBurn and insert the rewritable disc into your optical drive.
Step 3
On the interface of ImgBurn, go to Tools menu on top ribbon and then select Drive.
Step 4
Unfold Erase Disc menu and choose Full option. Reset the options according to your disc and demands.
Step 5
Finally, click on the OK button on the confirmation box to start erasing a DVD.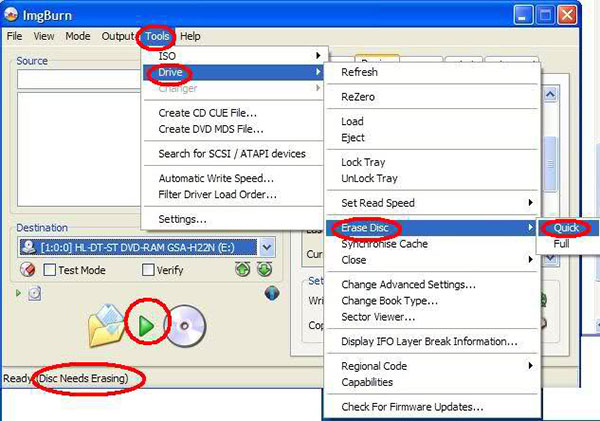 Part 4. Format a DVD in Mac OS X
Apple has integrated DVD burning feature into Disk Utility and Finder app. So, both Disk Utility and Finder are able to format a DVD with simple steps.
Erase a DVD with Disk Utility
Step 1
Launch Disk Utility and put the rewritable DVD into the internal or external disc drive.
Step 2
In Disk Utility screen, choose the disc you want to erase, locate to top ribbon and choose Erase icon.
Step 3
Disk Utility provides Completely erase option and Quickly erase option. The former one is usually use to format an unreadable disc and the latter one spends shorter time to erase a disc. You can make a decision based on your demands.
Step 4
Finally, click on the Erase button to securely erase a DVD.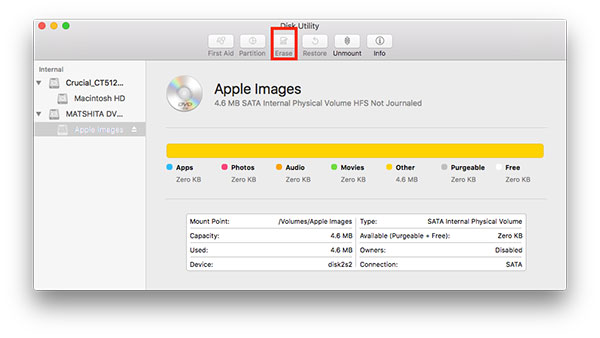 Part 5. Erase a DVD with Finder
Step 1
Put the disc you want to erase into your computer's DVD drive. When Mac OS X detects the disc, Finder app will pop up automatically. If it does not show up, you can press Shift+Cmd+C to evoke Finder app.
Step 2
Locate to the DVD you want to erase and right-click on it; then choose the Erase rewritable disc [DVD title] option.
Step 3
Then you can follow the on-screen instruction to complete the process of erasing a DVD in Mac OS X.
Part 6. Burn on the cleaned DVD
After cleaning a DVD, you may want to burn something new on the disc. Only powerful DVD burning software can write high quality content on a cleaned DVD, such as Tipard DVD Creator. The largest benefit of using this DVD creator to burn DVD is to generate the highest quality outputs. Moreover, it is easy to use.
How to burn on cleaned DVD with Tipard DVD Creator
Step 1
Launch DVD Creator, unfold the Add Media File menu on the top ribbon and choose Add File option to import media files, after you download and install this DVD burning application on your computer.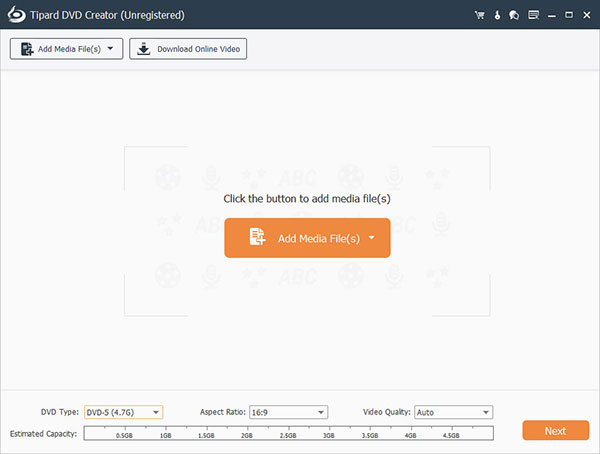 Step 2
After the video clips imported, you can click on the Edit Video menu to go to video editing window and edit the video clips, like trim, crop, merge, add watermark and apply video filters.
Step 3
The Edit Audio menu and Edit Subtitle menu are used to add audio tracks and subtitles on the video.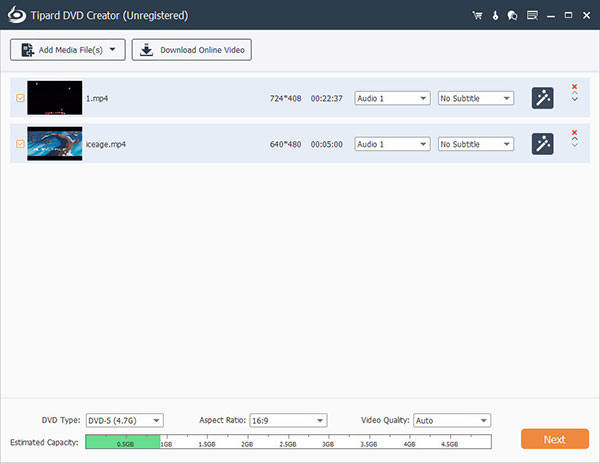 Step 4
On the main interface, hit the Edit icon in DVD menu panel to go to menu editing window. Choose your favorite menu template and customize it as you wish. The click on the Save button to back to main interface.
Step 5
Put the cleaned DVD into the DVD drive, select the DVD drive on the list of Destination option and input a name in the field of Volume Label. Once you click on the big Burn button, DVD Creator will do the rest work alone.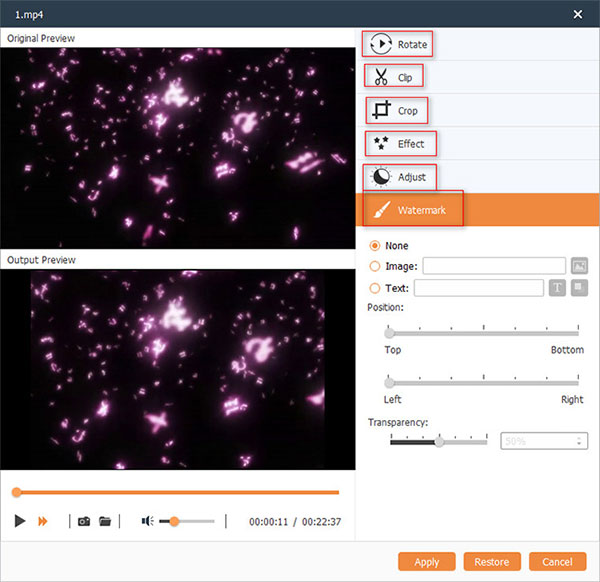 After a few minutes, you can enjoy the latest movies on larger screen with impressive audiovisual experience. Click here to get various ways about how to clean a CD and Blu-ray.
Conclusion
In this article, we share multiple ways to clean a DVD on Windows11, 10, 8/8.1, 7, XP and Mac OS X. Many people believe that the best method is free method. That may be feasible when you want to clean a disc, because both Windows and Mac OS have included the capacity of erasing or formatting DVDs. If these built-in features fail to clean a DVD, you can try some third party tools, like ImgBurn and CDBurnerXP. After erasing a DVD, you may want to burn the latest movie or other data important on the cleaned DVD. At this time, we recommend Tipard DVD Creator. This application is able to simplify the process to burn data on rewritable DVDs.

Click here to join the discussion and share your comments