4 Best Auto Subtitle Generators to Play Videos with a Sublime Subtitles
Today, video content is an integral part of our lives., whether it is for education, entertainment, or marketing. Due to the growing popularity of videos on different platforms, the necessity for faultless and engaging subtitle generators has never been more crucial than today. Because subtitles do not only enhance diverse audiences' accessibility, where non-native speakers and hearing impaired are included but also improve their SEO optimization and engagement. Thus, if you also have this reason in mind andneed a tool to generate the subtitles from your videos automatically, then find out the detailed features of the carefully garthered tools. Explore the top subtitle-generating programs with their features and benefits as you enjoyably read the review below.

Part 1. Best Subtitle Generators for Online Easy Watching
To enjoy your online videos on your computer browser and play them with generated subtitles, then you can try the extension and an online subtitle generator below.
1. Substital
First on the list is this Chrome extension that you can grab from the Chrome web store called Substital. It is an amazing extension that lets you watch videos from third-party websites, even popular ones like Netflix. It manually fixes the unsynchronized subtitles while giving you the option to change the font style, color, and background color. Additionally, it supports special characters to cater to other languages like Arabic and Greek.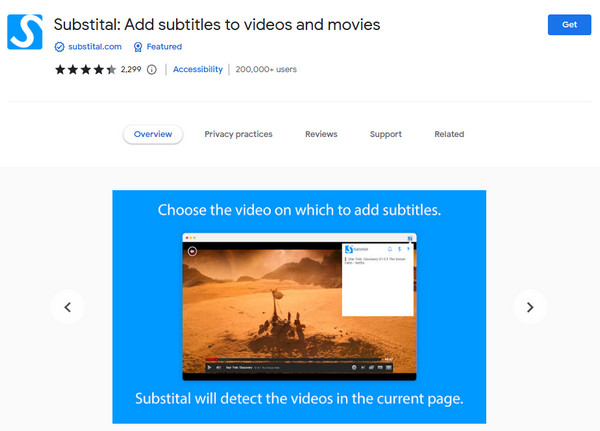 Features:
• Accessible on Android devices.
• Built-in search feature to search subtitles.
• Options to customize subtitles.
• Synchronize mistimed subtitles.
Where to Download: Chrome Web Store
Pros:
• It is easy to use the auto subtitle generator Chrome Extension.
• Multiplatform support.
• It supports multilingualism.
Cons:
• It relies on the stability of your internet.
• The accuracy and quality of the subtitles depend on their contributors.
• It comes with intuitive ads.
2. Kapwing
Kapwing is a multifunctional online program that comes with a photo editor, video maker, meme generator, and our main agenda, a subtitle generator. Other than trimming video in Kapwing, you can use the free AI subtitle generator to create subtitles files for the video.. With it, you can generate subtitles for the videos you want to play as long as their URLs are given. You can generate English subtitles, Spanish, Japanese, and subtitles of other languages.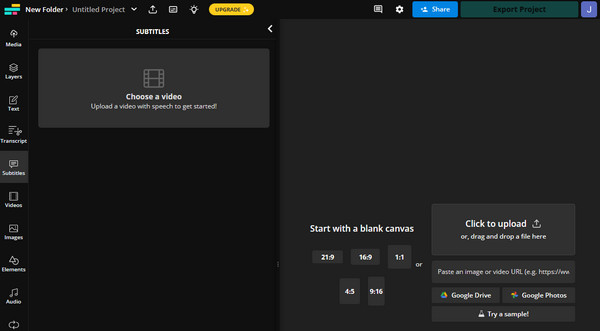 Features:
• It can generate subtitles from URLs.
• Upload the subtitle file in SRT format.
• Sixty various languages supported.
• Editing features are available.
Where to Download: Non-downloadable, use and purchase it from its official website.
Pros:
• You don't need to download anything to use it.
• It offers a free subtitle generator trial.
• It supports various languages for your favorite foreign movies.
Cons:
• The free version contains watermarks.
• You can only export 3 videos with a 30-minute duration for the free version.
Tip: Use Tipard Blu-ray Player to Play Offline Videos with Local Subtitles
If you have movies saved on your computer and want to watch them with their local subtitles, then you won't need to use the programs above. Instead, you can use the Tipard Blu-ray Player and watch like you are in the cinema. This player automatically synchronizes the subtitles to the movie. It also allows you to add other subtitle tracks to your playing video or movie as long as they are saved in your local folder. Hence, here are the steps on how to use this movie subtitle generator.
Step 1Launch the program after you install it using the Download buttons below.
Step 2Click the Open File button when you reach the program's main interface. Then, search for the movie or video you want to play with it.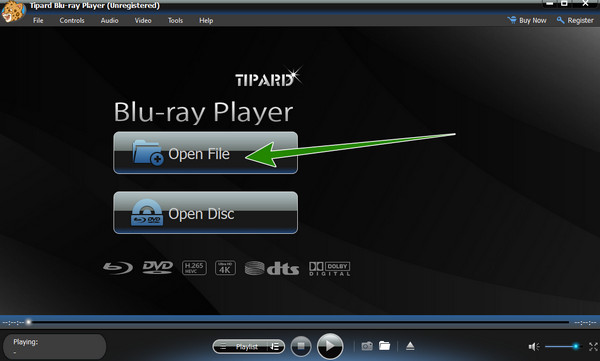 Step 3While the video is playing, and you want to add a subtitle track, click the Video tab menu. Then, select the Subtitle Track option and hit the Add Subtitle button. After that, you now enjoy the video with subtitles.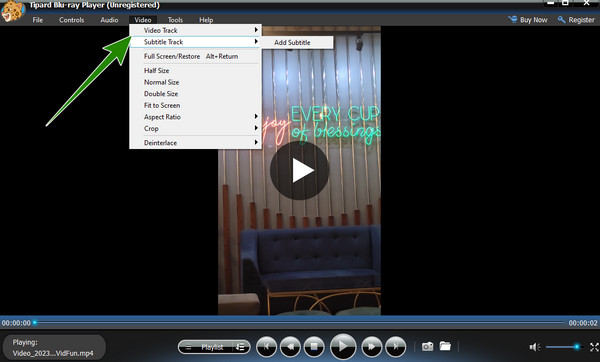 Tipard's player supports various video formats and SRT and AAS subtitle file formats, you can flexibly add subtitles to MP4, MKV, AVI, and other videos if the files are supported.
Part 2. Top Auto-Subtitle Generators [Software and App]
1. Simplified
Allow to meet this social media management app that has a trustworthy AI subtitle generator. Simplified is capable of creating subtitles for your videos automatically while letting you choose the style. It is available to use through the app and online.
Supported OS
Windows, Mac, Android, and iOS
Highlights
1. AI powers it.
2. Video editor.
3. Customizable subtitle menu.
Pricing
1. Free version.
2. $6 per month for the pro.
3. $10 per month for the business plan.
Pros
1. You can use it for free.
2. 30 available languages.
3. Accessible online and on the app.
Cons
1. You will need a tutorial to use it.
2. The advanced features are not present in the free version.
2. Subcap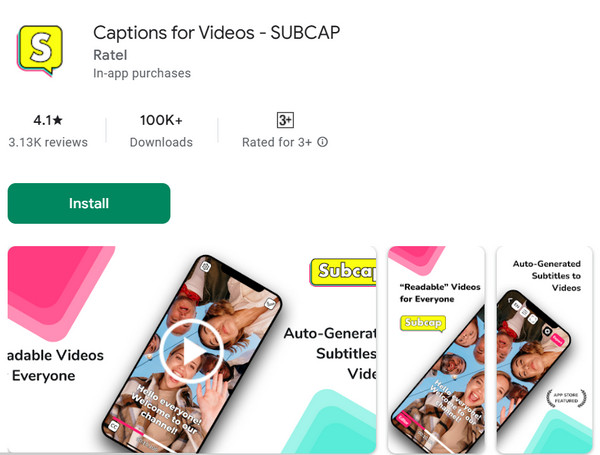 Subcap is a subtitle-generator app that can also create subtitles. With this app, you will never find subtitling time-consuming since it has an exciting process. What makes it more lovable is its ability to make and showcase subtitles in dual languages at the same time.
Supported OS
Android and iOS.
Highlights
1. AI technology.
2. Video recorder.
3. Customizable subtitle menu.
Pricing
1. Free version.
2. In-app purchases.
Pros
1. You can use it without paying for it.
2. 125 available languages.
3. It is easy to use.
Cons
1. The exportation process takes time.
2. It randomly breaks the caption.
3. It doesn't work on some Android phones.
Part 3. FAQs About Subtitle Generators
Can TikTok generate subtitles?
Yes. TikTok recently introduced a feature named Auto Captions. It is a feature that is dedicatedly created to help people with hearing disability. It automatically generates subtitles enabling users to read the content.
Can VLC auto-generate subtitles?
Yes. You can play the video with VLC subtitles automatically with the help of an add-on extension called VLSub. It is the auto subtitle generator for VLC.
Can you create an SRT subtitle file in VLC?
No. VLC doesn't have a built-in SRT subtitle creator, but it supports playback for such kinds of files.
How can I add subtitles to a video without any software?
No. But if your movie or video player has a feature to add subtitles, then you can just upload a separate file. Hence, if you want such players on your computer, then use Tipard Blu-ray Player.
How can I copy all subtitles from a video?
You will need subtitle extraction software to copy or extract the subtitles from a video. To do so, you will need to find an OCR software that recognizes and extracts subtitles from video frames where the subtitles are put.
Are there any free and open-source subtitle generators?
Although there is no open-source subtitle generator that can automatically creates subtitles for your video, there are quite a few feasible open-source subtitle editors like Gaupol, Subtitld, Jubler, etc.
Conclusion
You can obtain your chosen subtitle generator on your device anytime soon after reading this post. Hope you saw the essentiality of this article, and if you did, do not hesitate to share it with your friends who need the same tools for the same goal. On the other hand, if you do not need a generator but a player that can include the subtitles you have from your local folder, then you won't need to install the introduced tools but the Tipard Blu-ray Player instead.