How to Solve the Problem of YouTube Videos Not Playing on PC/Mac/Android/iPhone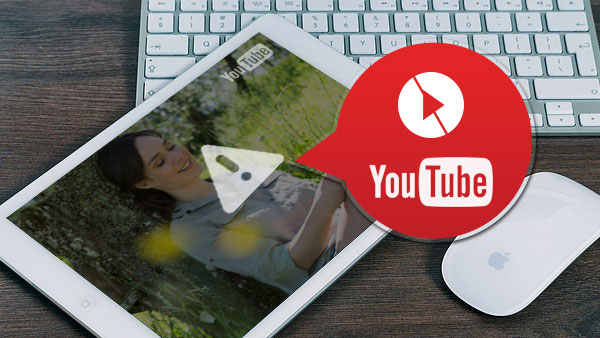 Maybe you have encountered the trouble about YouTube video not playing before. It's not rare that YouTube stops working for this or that reason. The common prompt including "YouTube video doesn't start", uTube video loads slowly", "YouTube videos won't load" on Safari, Chrome of laptop, or mobile devices like iPhone, iPad, Android, etc. YouTube loadsbut video doesn't play", "video gets stuck" and " Vdeo Player is blank with no video". For everyone painlessly solve YouTube videos not working problem, here we clearly list causes and solutions for YouTube playback issue.
The issues and solutions on YouTube videos not playing
1. Too many browser cache and cookies
Cache refers to a hidden storage that contains the data that enables your web browser to work faster. Cookies are small files stored on your devices storage. But too many cache and cookies will lead to video not playing on YouTube. The ability of your browser or its installed extension can also affect YouTube and cause YouTube down problems. Therefore, users should pay the same attention to cache and cookies when your YouTube videos not playing Chrome, Safari, Firefox etc. To solve YouTube is not working problem like this, try to clear YouTube cookies and data from your temporary cache of your browser to make sure that your web page is empty.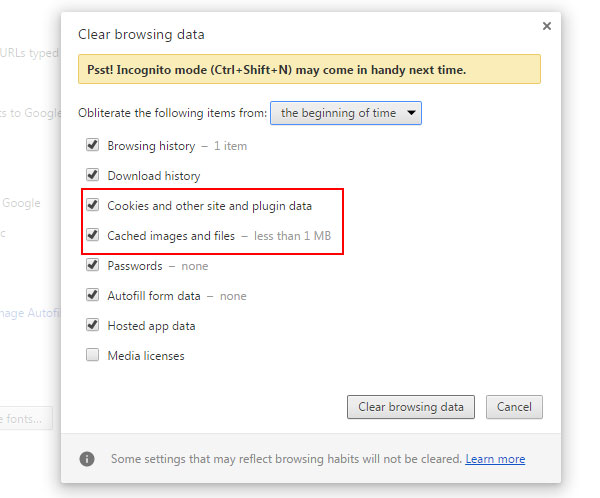 Solution: Clear cache and cookies and then restart your browser to play YouTube videos again. Below is the detailed operating instruction about different browsers.
Firefox: Click Firefox Menu > History > Clear Recent History > Details > Cache > Clear Now;
Chrome: Click Chrome Menu > Settings > Show Advanced Settings > Clear Browsing Data > Empty the Cache/Delete Cookies;
IE: Click Gear icon > Safety > Delete Browsing History > Temporary Internet Files/ Preserve Favorites Website Data > Delete;
Safari (for Mac OS X): Click Safari Menu > Empty Cache > Empty.
2. Browser is outdated
If your browser is outdated, your YouTube videos will not play. No matter what kind of browser installed, you need to consider if your browser is outdated or not when YouTube videos not playing. The reason is that an old browser does not have the ability of taking advantage of the speed as well as the security that has been embraced by the new technology.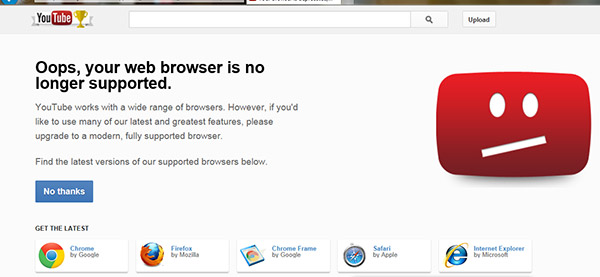 Solution: Check your browser's version and compare it to the latest one. If it is not the latest version, then you should upgrade it following the browser update instruction.
3. Slow internet connection
If you spend hours on waiting for a video to buffer, it means that probably your Internet connection is not fast enough to watch video online. In other words, if your internet connection is not good enough, you are very likely to get the YouTube buffering problem. Namely, even a low-quality YouTube video can lead to longtime buffering and choppy playback. To solve such YouTube is not working problems, you are suggested to shut down other.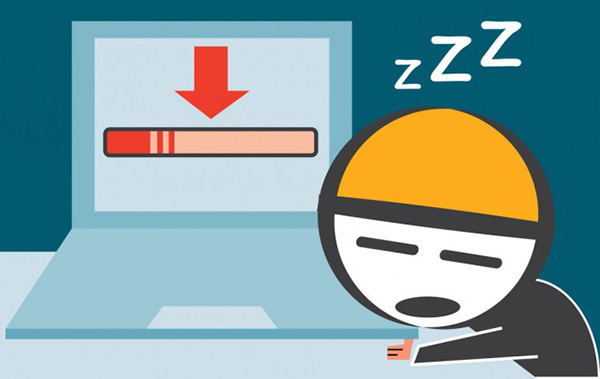 Solution: If you have a slow Internet connection, you may use Tipard Video Converter Ultimate to save YouTube videos on your PC instead of watching them online. Due to multistream download technology, the software will download YouTube video much faster than it buffers in your browser. The tool is free for everyone, no time or feature limitations.
4. Firewall blockage
Sometimes the YouTube video can be blocked by a firewall system on your PC. Firewall is used to help keep a network secure and to control the incoming and outgoing network traffic. It is doubtful that native Windows firewall could be blocking YouTube videos, especially if everything worked well beforehand. The problem with not loading YouTube videos may be in third-party firewalls like Comodo or McAfee ones.

Solution: If you have one of them installed, just try to disable it and reload your browser to check YouTube videos again. If it helps, you may either uninstall the blocking firewall or add YouTube to the list of authorized websites.
However, the protecting antivirus program is, of course, essential for the PC.
Malware can be always a cause to some problems in your PC. The unsuccessfully playing of YouTube video is not an exception. Make sure that an antivirus is installed on your PC and scan it regularly.
5. JavaScript is disabled
For many features to work, JavaScript is a requirement on your browser. If you see some errors on websites such as broken images or stuttering that slows down your browser, it's possible that JavaScript might have been disabled. Without JavaScript YouTube would also be pretty crappy, because several YouTube components work without reloading the page (favorites, ratings, comments, the new channel design, related videos, etc.) and require JavaScript.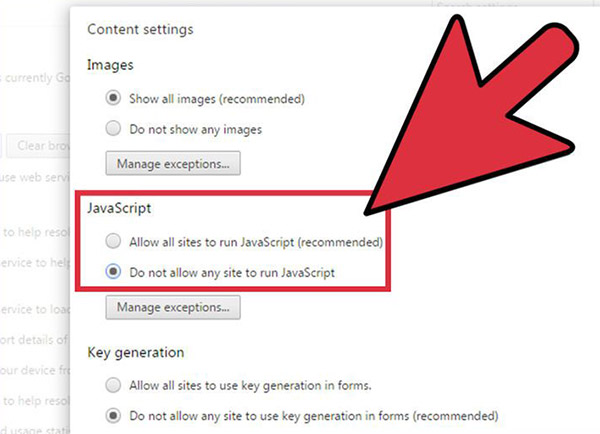 Solution: You should Enable JavaScript before you play YouTube videos.
6. The issues on Adobe Flash Player
As experienced YouTube users, we know that almost all YouTube videos use HTML5 player for playing them nowadays, but some of the videos still require Adobe Flash Player plugin to be watched in the browser. Maybe you will ignore Adobe Player installation because they believe this is an unsafe download.
Besides, sometimes even if you installed Adobe Flash Player, you can still encounter YouTube no sound/audio issue. Why? You might installed an Adobe Flash Player or your Adobe Flash Player is broken with some missing data, etc.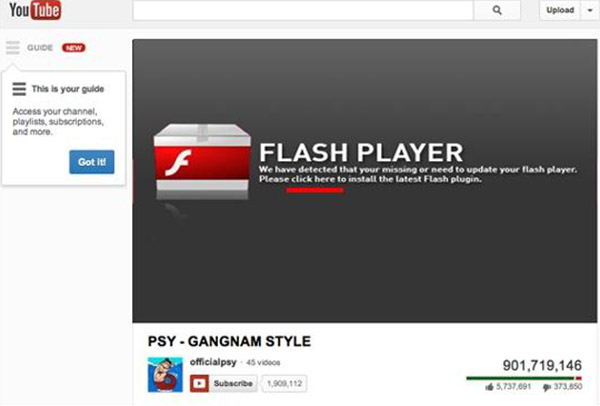 Solution: To avoid YouTube error of videos not playing, install Adobe Flash Player plugin when you came to YouTube site at the first time, or update Adobe Flash Player according to its prompt.
7.Video quality is not match YouTube video
For making users having the best viewing experience, YouTube allows you to freely adjust video quality from low to high. Sometimes, it is feasible. But, YouTube videos won't play, such as YouTube black screen problem or burrly YouTube videos, if your selected video quality is higher than its original upload quality. The video quality is determined by the size of the video player, and the quality that was used to upload the video, if it happens that the video was recorded using the standard definition, that video is definitely not going to be available in the high definition.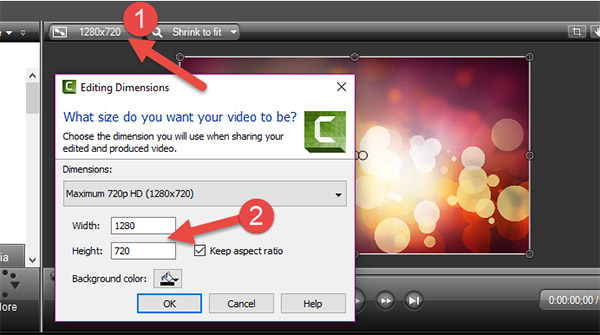 Solution: In this kind of case, it is wise for you to change the quality of the video. You can go to the gear icon and select the quality that you prefer. By the way, you'd better watch YouTube video with its default video quality for avoiding of YouTube videos not showing.
8. Third-party addons
The following add-ons and plugins may influence on the correct YouTube work.
1) Any types of web accelerators – if you have one, disable it or select the option "Don't accelerate this website" for YouTube.
2) Any types of ad blocks – since YouTube has a complicated system of video monetization, some ad blocks may affect video loading.
3) Download plugins – however good and convenient they may seem, various YouTube download plugins not only slow down YouTube work, but make it even impossible.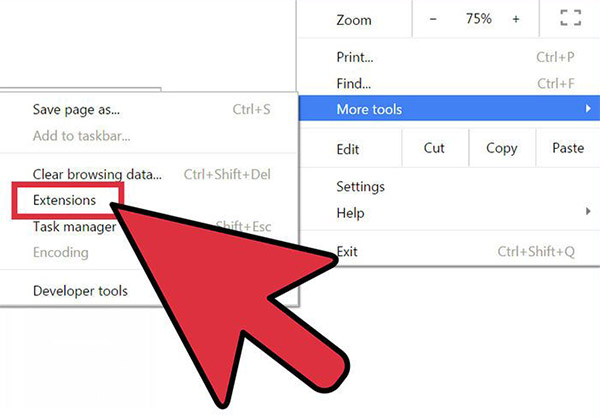 Solution: Turn them off. If you'd like to download YouTube videos, you'd better use Video Downloader, because it needs just YouTube video link to start downloading and this won't affect the website work in any case.
9. Outdated system for your Phone
Not all android devices get timely system updates. Having outdated system may cause some software applications not to run properly, especially YouTube application. After the updating YouTube data API to support new features, YouTube mobile app will no longer function on many older devices. Those who use an iOS device running iOS 7 or newer versions are safe, but if your iPhone, iPad, or iPod Touch is running an earlier version of the Apple operating system, you'll not be able to use YouTube.
The oldest version, which is capable of running iOS 7 is iPhone 4. All previous generations are capped at iOS 6.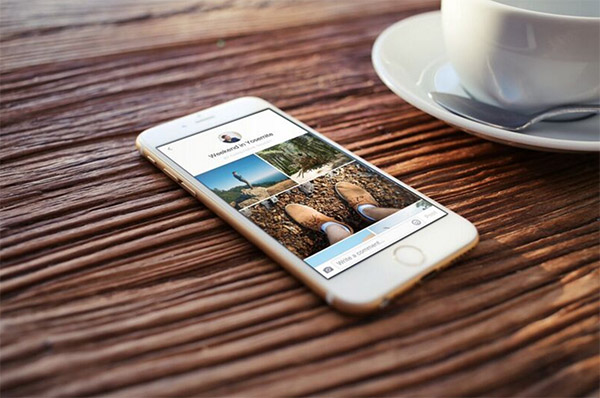 Solution: You may try to update you iOS version if your device allows doing it or try to download videos offline on PC and then transfer them to the device.
10. Low Memory
Low memory means slower device and slow device means inability to run heavy applications like YouTube. So, it is important that you check your phone memory and make sure it's maintained and managed.
Solution: There are a lot of ways to manage your memory and here are some ways to do it. You can also download memory management applications to help boost your device's performance and free up some memory.