How to Transfer Text Messages from The Old iPhone to A New iPhone 7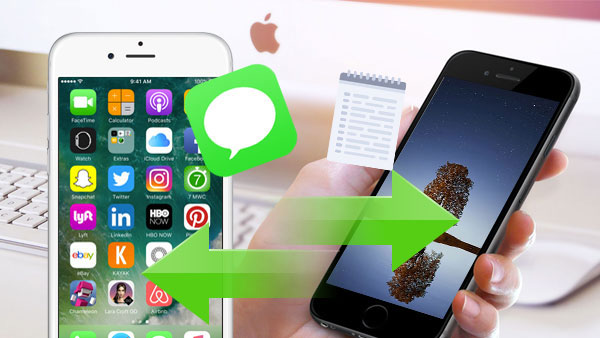 Many Apple fans will buy the latest version of iPhone to experience the new features. However, there are usually many important text messages, iMessage or SMS that stored on the old phone. Then how to transfer text messages from iPhone to iPhone 7 becomes an emergent problem to many users. Therefore, this article will introduce some methods to help iPhone users to fix this problem. If you follow the introduction in this article, you will find out that transferring text messages from iPhone to iPhone is a simple task.
Part 1. iCloud - sync SMS from iPhone to iPhone
iCloud is the default method to backup iPhone files. For the text messages are contained within the iCloud backup, so you can use iCloud backup to sync text message from one iPhone to another. And then you can back up and restore messages from one iPhone to another with the following method.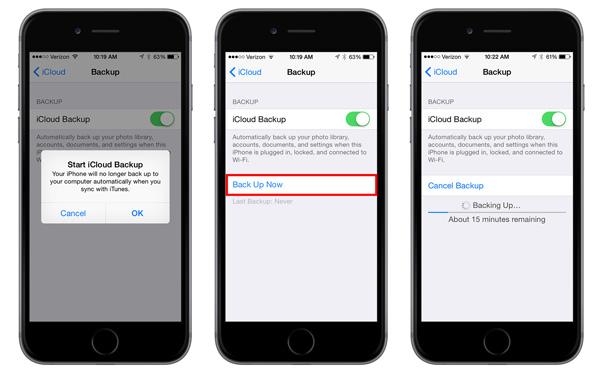 1. Log in iCloud with Apple ID on the old iPhone, navigate to

iCloud

, and then

Settings

.
2. Click the

Backup

option. And tap

Back Up Now

to upload the data that saved on iPhone to iCloud.
3. After backup, you can turn to the new iPhone and log in the iCloud with the same Apple ID.
4. Select the option of

Restore from iCloud Backup

to download the data from the iCloud.
When the whole process is over, your new iPhone now displays all your messages from the old iPhone, along with all your other apps, photos, emails and other app data.
Part 2. iTunes - transfer text message from iPhone to another
iTunes is another solution of Apple to transfer text messages between two iPhones. When you connect two Phones to iTunes with USB cable, you can transfer messages, iMessages or SMS from the old iPhone to new iPhone accordingly. Just follow the process to get the desired message accordingly.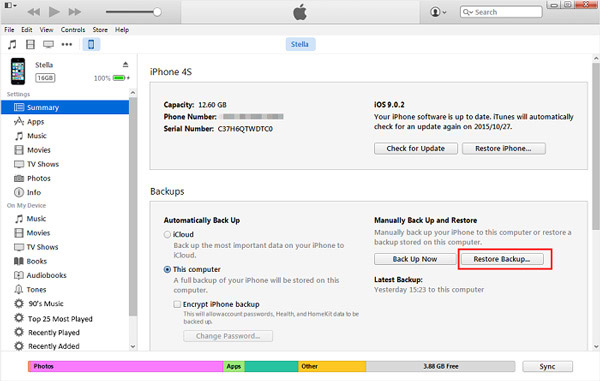 1. Before transferring text messages from iPhone to iPhone, make sure that you already back up the messages from the old iPhone to iTunes.
2. Connect the new iPhone to your computer via cable and unlock the screen of the iPhone.
3. When the iTunes detect the new iPhone, click on

Restore from iTunes Backup

to export the backup messages to new iPhone.
4. Log in your Apple ID and password and select the backup files to begin to export text messages from iPhone to iPhone using iTunes.
5. After the process is complete, the new iPhone will restart. Then you can see the messages already on your new iPhone with other data.
When you transfer text message from iPhone to iPhone, you cannot preview and select the desired files. You have to import all the files, and some of them might not necessary for you.
Part 3. Tipard iPhone Transfer – copy messages from iPhone to iPhone
As you can see, it will take you a long time to back up and download the data via iCloud or iTunes, because it is downloading all the data, but not only the text message. While if you just want to copy text messages from iPhone to new iPhone, Tipard iPhone Transfer will become the excellent tool. Just learn more detail about the features for the program as below.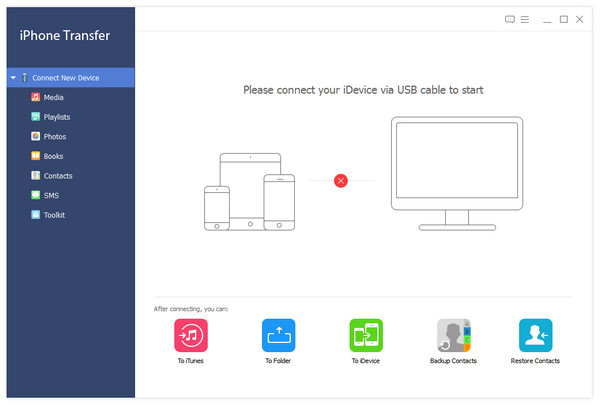 1. Tipard iPhone Transfer is the best iPhone data transferor, which transfer text messages from iPhone to iPhone, Windows or Mac within one click.
2. The program not only supports text messages, iMessage, SMS, video files, photos, but also contacts, PDF files and almost all data files of iPhone.
3. And the application enables you to manage iOS files conveniently on PC. For example, you can group photos, songs into albums, playlists and create new ones.
4. What is more, you can also copy the files from iPhone or other iDevice to computer for backing up. It will not erase the original files on your iDevice.
5. The program could also help users to restore data that you have transferred to new iPhone at any time.
6. The program supports both Mac and Windows. You can use the program to transfer any iDevice with iOS 6.0 or above operation systems.
How to Transfer Text Message from iPhone to iPhone
Before execute text message transferring from iPhone to iPhone, you could download and install Tipard iPhone Transfer on your computer. Remember that Tipard iPhone Transfer supports both Windows and Mac, so choose the version depending on your computer system freely.
1. Once you install Tipard iPhone Transfer, you can launch the program and connect two iPhone to your computer. Make sure the computer can recognize both devices.
2. When you connect the program with both iPhones, Tipard iPhone Transfer will detect your two iPhones automatically. Then you will find that the two iPhones are all on the interface of the software.
3. After that you can choose the SMS from the left menu of Tipard iPhone Transfer. Select all the text messages or a part of the messages in your source iPhone.
4. Navigate to the top menu bar and click on

Export to

, then select

Export to

the name of your new iPhone to start to transfer text messages from old iPhone to the new one.
5. You can read the text messages transferred from old iPhone a few seconds later. The process will take a while depending on the amount of transferred data. And remember that never unplug either of the two iPhones during the process.
If it is the first time to connect the iPhone to your computer, there will be a pop-up box that asks you whether the connection is trustful. Click Trust at that time to continue. Actually Tipard iPhone Transfer not only is a useful text message transferor between two iPhone, but also has more features related to export and back up. You could synchronize unlimited files from iPhone to iPhone, like email address, music, videos, photos, contacts, and other files.
Conclusion
As you can see, the services that Apple developed for iPhone users could help us to export text messages from iPhone to iPhone free with other data. But users cannot customize the categories to export. And you have to back up the data on one iPhone first and then export it to the other one. On the other hand, Tipard iPhone Transfer could provide more powerful features, like just transferring the text message from iPhone to iPhone at once, and allow users to control their iPhones completely. You may have noticed that only iCloud could transfer data with wireless connection. In short, you can choose any method above to transfer text messages from iPhone to iPhone free, according to your situation.

Click here to join the discussion and share your comments