How to Unblock Numbers on iPhone 12/11/X/8/7/SE/6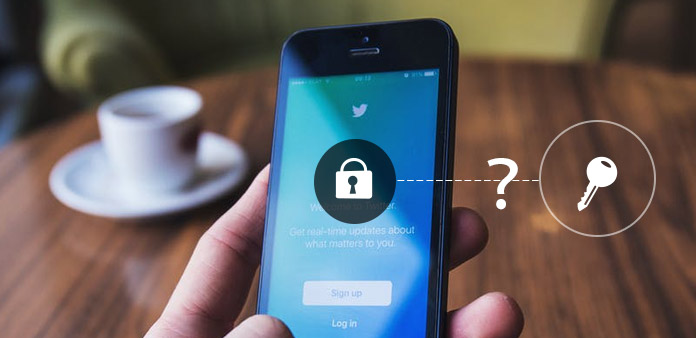 In your daily life, you may receive lots of annoy sales calls from someone unfamiliar. You can use the cool feature from your iPhone or above to block these numbers on your iPhone. But what should you do to unblock numbers on iPhone? If you want to remove these numbers from the blacklist from your iPhone, you can learn more details about the methods to unblock iPhone numbers that you have blocked previously.
Part 1: How to unblock numbers on iPhone in Settings
When you just found that you have added the wrong contacts to the block list, you might want to remove these numbers from the blacklist on your iPhone. Once you unblock numbers on iPhone, you will unblock text messages, Face Time and calls at the same time. Just make sure whether you want to unblock all these before you follow the process below.
Step 1. Access to block features on iPhone
Go to the home screen of your iPhone, and then you can tap the "Settings" app. Scroll download to select "Phone" > "Call Blocking & Identification". When new page pops out, scroll down the screen to select the iPhone numbers you blocked.
Step 2. Unblock numbers on iPhone
Tap "Edit" button and select the numbers you want to unblock and tap minus mark in front of the numbers. And then tap "Unblock". You also can wipe the number from right to left, and then click "Unblock". Touch the "Done" button at the top-right corner of the screen.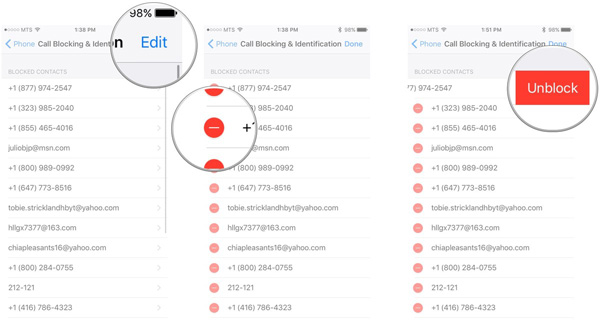 By this method, you can unblock iPhone numbers for someone you blocked by mistake. And now you can receive a call or message from this number again. It is very simple to handle. You will not miss it if you follow the instruction step by step.
Part 2: How to unblock iPhone numbers from AT&T
If some friends call you frequently or you are not stand by to receive the call at a certain period, you may miss-block some important numbers. Then you need to know how to unblock iPhone numbers from AT&T Phone. When the AT&T call blocking service launch, you need to call them to unblock them from blacklist or remove them from AT&T Call Protect.
Method 1. Call AT&T rejection system
Dial "60" from the iPhone to enter the selective call rejection system. You can press the "*" button to unblock a number from iPhone and dial the number you wish to unblock. And then press "#" key to confirm you want to unblock the number.
Method 2: Unlock from AT&T iPhone
When you enter the home screen on iPhone, you can enter the "Call Protect". And then you can access to the Auto-blocked or Manually blocked number. You just need to unblock the number from iPhone to turn them to contacts.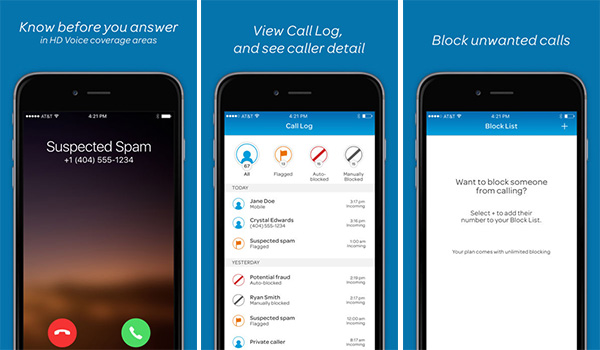 If you are using the other carrier service, you can also check the detail unblock features from the carrier website. And then you can call the service to unblock iPhone numbers to receive the calls or messages from your friends now.
Part 3: How to unblock iPhone numbers from Calls or Messages
If you are searching a solution to unblock iPhone numbers that are already blocked and deleted, here is the solution you can follow. It is very easy for you to get blocked and deleted numbers back with Apple built-in features. Check out more detail about the solution now.
Method 1: Unblock iPhone numbers from Recents Calls
Just find the name of contacts or the numbers of iPhone you would like to unblock in "Recents" tab of Phone app. After that you can select the blue icon on the right of their names, scroll down and tap the "Unblock This Caller."
Method 2: Unblock numbers of iPhone from Messages
And you can use the similar process to unblock the iPhone contact via Messages by selecting the message thread with the contact, and tapping the little blue "i" in the upper right corner. Select the information icon, and proceed with the same instructions as in the "Recents" tab in Phone.
Of course, you can also unblock iPhone numbers from Face Time, iMessage and more other contacts methods with the similar process. In the way, you can active all the contact numbers of iPhone.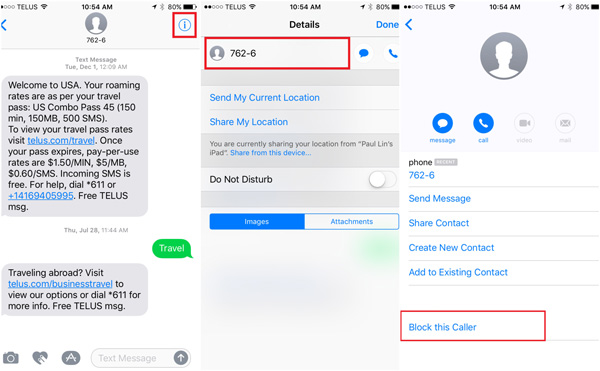 Conclusion
When you need to unblock numbers of iPhone, you can check the frequently used methods from the article. If you still have the contact numbers of iPhone, you unblock the contacts from Settings, or recent calls or message. Of course, you can also use other methods to call AT&T or other carriers to unblock iPhone numbers. If you have any other queries about the solutions, you can feel free to inform us in the comments.