How to Get Free Music on Android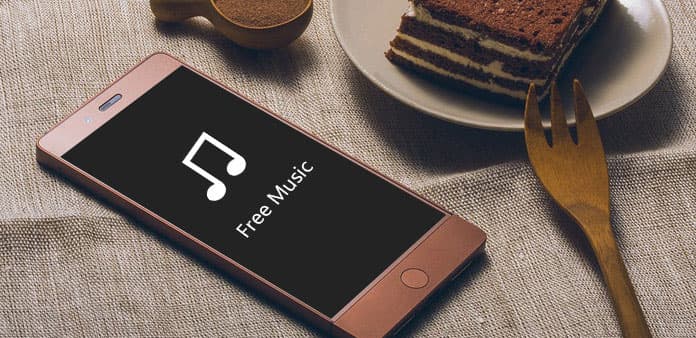 Listening to music is a good way to relax. After work all day long, for example, listening to music on the way home can relieve stress. It is not surprise that smartphone has become the most commonly-used platform to enjoy music. Where to discover new music on Android devices? How to get free music on Android phone? We are going to answer these questions in this post. Smartphone users spend a lot of time to access mobile apps, so we will introduce the best apps to get free music on Android.
Top 1: Google Play Music
For Android phone users, Google Play Music is a popular music app. What is more, Google Play Music also provides some free music frequently, which you can get music to your Smartphone without extra charge. If you want to find free music on Android, you would better follow the guidance.
How to get free music on Google Play Music
Step 1: Access play.google.com/store/music/collection/deal_of_the_day in any browser on your computer. Make sure you have login your Google account.
Step 2: Click on the "Free" button on the right side of the song and then hit the "Add" to Library button.
Step 3: Launch Google Play Music app on your Android phone and login the same account.
Step 4: Then you can download the free music for listening to it offline.
Google Play Music offers some free music once a week, so it also called Free Song of the Week. These songs are completely free to listen to and download.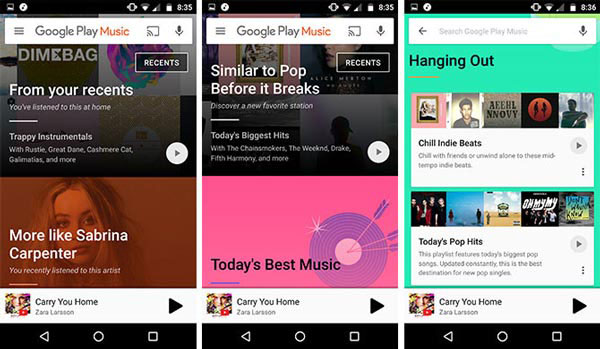 Top 2: Music Paradise
Music Paradise Pro should be one of the best Free Music Downloader on Android. The program has multiple search engines to get music from multiple sources. Just learn the detailed features and process to get free music on Android.
1. Special searching engine to download most of the music files from the APK on Android.
2. Download, manage and listen to the music files from the app from in-built downloader.
3. Supports short video clips, sound effects, ringtones, MP3 songs and more other sound files.
How to get free music on Music Paradise
Step 1: Once you download the APK on your Android phone, you can open Music Paradise Pro on your Android phone.
Step 2: Click the "Search" tab to access to any song you want to download from the App.
Step 3: After that click on "Download" button to start getting free music on Android and play them on your Android phone.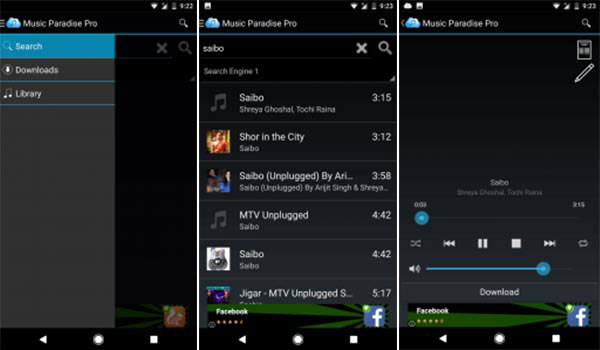 Top 3: SoundCloud
SoundCloud is one of the most popular music databases. Now, it has released mobile app for Android devices.
1. SoundCloud has integrated a music player and all songs are free to listen to.
2. If the download button next to a song is available, that means you can download free music on Android.
3. Another reason that SoundCloud is so popular is that it contains a huge music database.
4. This Free Music app also supports stream music online.
Top 4: Spotify Music
Spotify Music is another popular way to get free music on Android. When you subscribe the favorite music wherever you want. What is more, you can also make your own playlist and discover the most popular songs.
1. Listen to and download free music tracks on mobile or tablets.
2. Create your own playlists for music, and then enjoy the free music on the shuffle mode.
3. Enjoy the smart recommendations and radio stations according to your mood.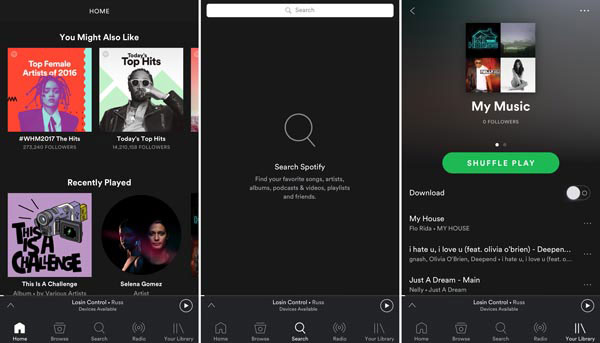 Top 5: Jango Radio
Similar to SoundCloud, Jango Radio also has both web app and mobile app. The difference is Jango is a music radio. Its key features include:
1. This Music Radio is a good choice to enjoy music on Android phone without ads and other interruptions.
2. Once you start with the name of your favorite artist, Jango will create a custom playlist according to your preference.
3. To get free music for Android, you only need an Internet connection.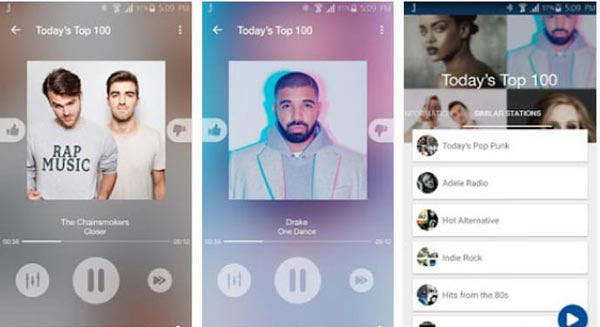 Top 6: Gaana – Bollywood Music & Radio
If you prefer to Bollywood music, you should try Gaana. Its principal features include:
1. Gaana is a collection of Hindi songs and Bollywood music, including classic ones and new songs.
2. You can discover your favorite Bollywood music by artist, album and titles.
3. The top list shows you the most popular Bollywood songs currently.
4. All songs are free to download and listen to online.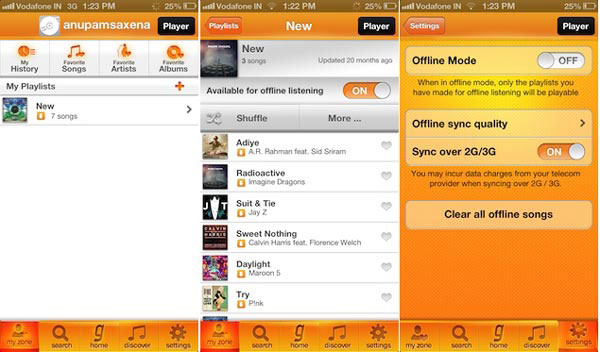 Top 7: 4Share
4Shared is more than a Free Music Downloader App for Android. You can also download documents, photos and other files to your phone directly. It is a versatile program to copy, move, delete, upload, rename, and download any files on your account.
1. Access to more than 30 million files from the account.
2. Listen, watch, and download free music on Android.
3. Transfer the music files to others within the app.
4. 15 GB of storage space to store the downloaded music.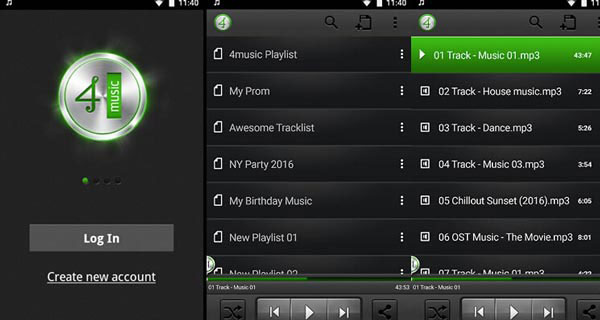 Top 8: Deezer - Songs & Music Player
Deezer is another popular music player that supports to get free music for Android devices. When you subscribe the premium plus service, you can also enjoy the 320kbps music on Android. Its basic features include:
1. Play unlimited music with the built-in music player.
2. Create personalized playlist.
3. Download part of free music to Android phones.
4. Stream music to CarPlay.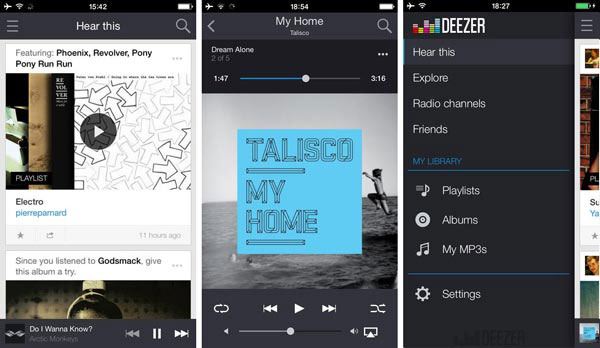 Top 9: SuperCloud Song Downloader
If you are looking for a fast solution to get free music on Android, SuperCloud Song Downloader should be the application you should choose. Just enter the name of the music in order to download the desired music with ease.
1. Search for the favorite music or the artists from the program before downloading.
2. Preview thousands of music before getting free music on Android devices within the program.
3. Download music to your media library or stream the files online.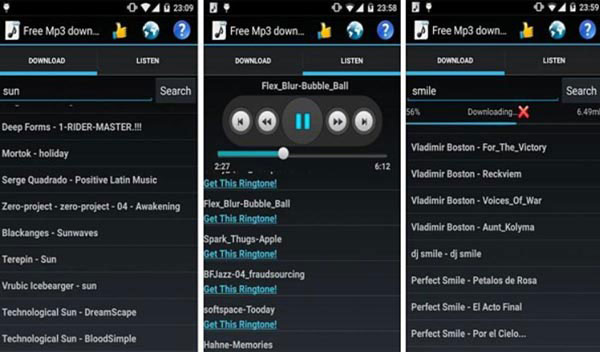 Top 10: RockMyRun
When you need to get more motivation from your workout music, RockMyRun is one of the solutions. The program works with World's best DJs with the best playlists and mixes.
1. Get free music on Android with different Genres, such as hip hop, rap, house, drum and base, 80's, 90's, dubstep, oldies, country, Christian, classical, reggae, seasonal, Bmore, and more.
2. Compatible with lots of running and tracking application for sports.
3. Enjoy some music for body driven.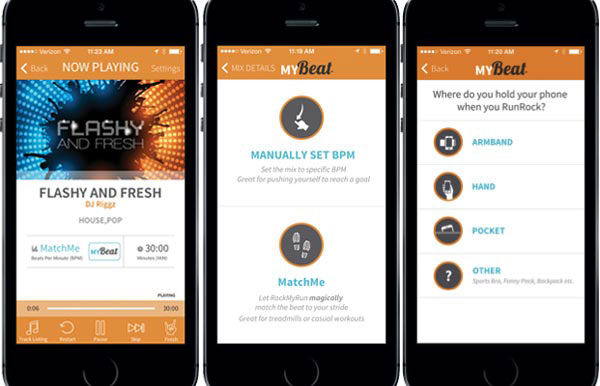 Conclusion
In this article, we have shared top 15 mobile apps to get free music for Android. All these apps are legal to use without virus and malware. For mobile app fans, top free music apps are available in the second part. Plus, we also showed you how to use these music apps to get free music. If you discover a better solution to get free music on Android, you can leave a message below this article.