CopyTrans Review and Top 5 Alternatives - Transfer and Manage Files on iOS Device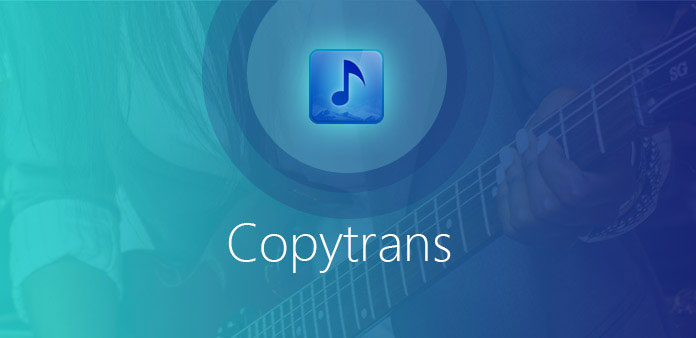 When you need to transfer iPhone to PC, copy iPhone to iTunes Library, CopyTrans should be one of the most effective transfer programs you should take into consideration. The program helps you sync and transfer iPod/iPhone/iPad photos, music, videos, apps, and other contents to iTunes and PC. Besides, it offers you backup options and lots of other operations. If you want to know the CopyTrans alternatives, you can also find the 5 best programs from the article.
Part 1: CopyTrans review and how to use
CopyTrans should be a versatile iPhone Transfer and Manager, which is able to backup all the music files, manage iPhone contacts, copy pictures and videos, and more other features. It should be one of the best iTunes alternatives on Windows. When you need to transfer and manage data from iOS devices, you should take CopyTrans into consideration. What is more, CopyTrans also provides a series of functions to manage the iOS devices. Just learn more features about the program.
1. Transfer files from iPhone, iPad, and iPod Touch to PC.
2. Transfer photos, videos, TV shows, artwork, playlist and most of the iOS data.
3. Back up all the data, such as contacts, messages, music and video from iPhone to PC.
4. Download photos and other files from iCloud to computer.
5. Copy and sync the music and video to iTunes within one click.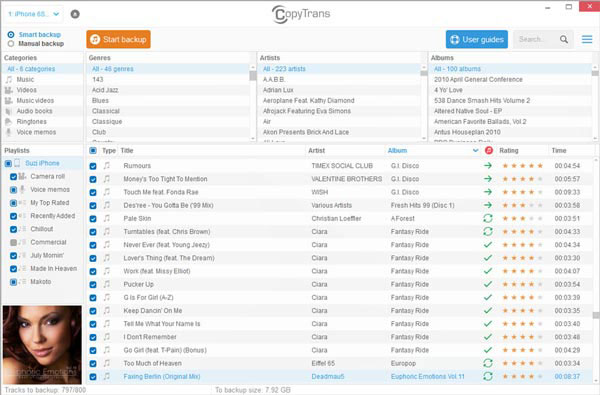 How to use CopyTrans
Step 1: Download and install CopyTrans Manager, and you can launch the program. And then connect iPhone to computer within USB cable.
Step 2: Drag and drop the selection of files, such as music tracks from the Windows Explorer into CopyTrans Manager track listing.
Step 3: Click the "Update" button to save the changes, you can view and enjoy the music tracks on your iPhone 7 now.
Part 2. Top 5 CopyTrans alternatives
Top 1. Tipard iPhone Transfer Ultimate
Tipard iPhone Transfer Ultimate is one of the best iOS Transfer software for iPhone/iPad/iPod. The CopyTrans alternative satisfies all your need in transferring, managing and backing up iPhone/iPad/iPod files.
1. When you want to import music, photos, videos and other files to iPhone, it offers you to make transformation in one click.
2. When you need to copy music, photos, videos, etc. from iPhone to PC or iTunes for backup, the CopyTrans alternative allows you to transfer your files from iPhone to computer or iTunes directly and smartly, which means the existing files won't be erased.
3. As for transferring contacts, music, photos, etc. between different iOS devices, Tipard iPhone Transfer Ultimate makes it a breeze to share files among iPhone/iPad/iPod. You can connect devices to computer and transfer files directly, or transfer iOS files to computer then import to iOS device.
4. Apart from the iPhone File Transferring function, it is also a thoughtful iOS File Manager. It not only backup iPhone contacts and messages on your computer, but also makes yourself group and edit the files and information.
1. How to transfer files from iPhone/iPad/iPod to computer
Step 1
Download Tipard iPhone Transfer Ultimate
Download this software and double click the .exe file to install it on your computer. Set connection between iPhone, iPad, iPod and PC via USB cable.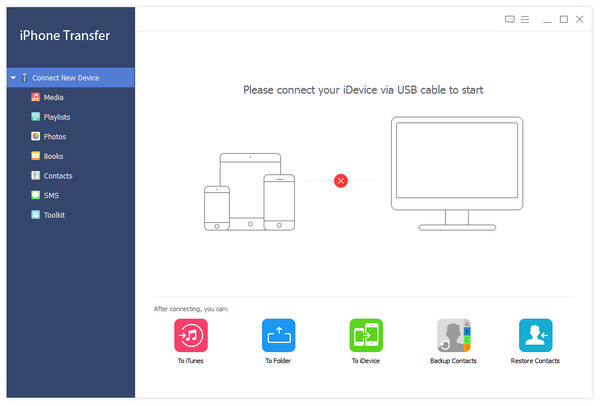 Step 2
Choose the desired files
After connection, the files in your devices will be presented on the list. On the left side of the interface, you can click the file type to find the file you want.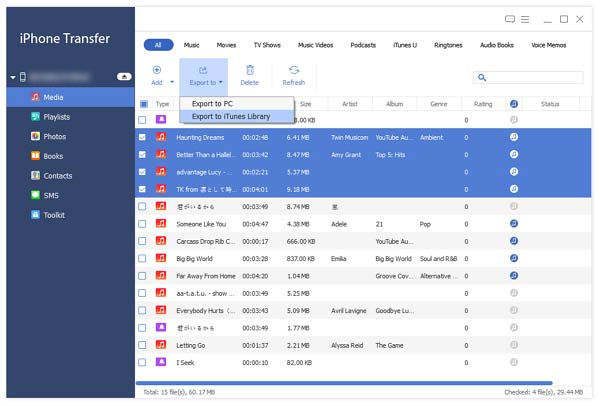 Step 3
Start export files to PC
Click the Export button on the top. If you want to transfer files to your PC, you can choose "Export to PC" option and set the destination folder. If you want to sync these files to iTunes, click Export to iTunes Library. And it's smart that these repeated files will not be copied in your library.
2. How to transfer files from computer to iOS device
Step 1
Connect your iOS devices to your computer
Connect iPhone, iPad or iPod to your computer with USB cable and the program would recognize your device.
Step 2
Select files to transfer
Click the certain types of files you want in the left of the interface.
Step 3
Start to transfer file
In the pop-up window, choose the file or folder you want to stream to iPhone.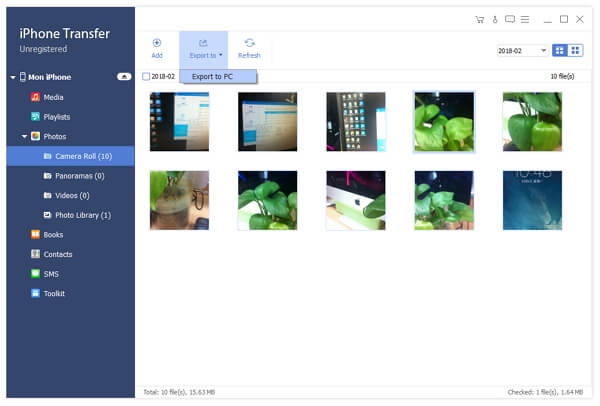 Top 2. iSkysoft CopyTrans
One of the best iOS File Transfer tools for Mac I want to recommend is iSkysoft CopyTrans. Like the CopyTrans, it not only lets you transmit music, videos, photos and other media files directly to iPhone without incompatible issues, but also allows you to transfer music, video, photo files from iPhone to iTunes Library, backup photos from iPhone to computer in a single click.
1. It helps you rebuilt the iTunes library with music, videos, TV shows, movies, etc from iPhone.
2. When you want to backup photos from iPhone to computer, just one click can achieve it.
3. Stream video, music files from your iTunes library to iPhone.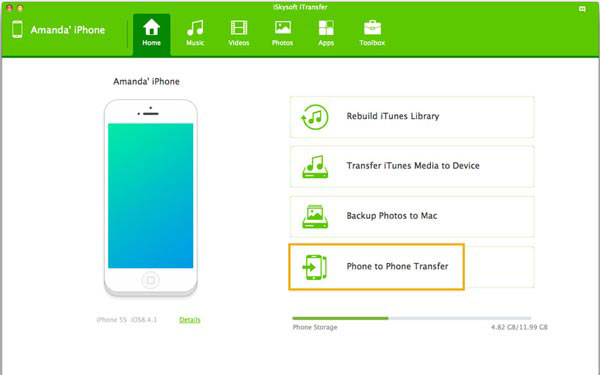 How to use iSkysoft CopyTrans for Mac
After download it, you can double click the installation document to install it. And then you can follow up simple steps to set up the program.
Step 1
Backup photos from iPhone/iPad/iPod/Android Phone to Mac
In the main interface, you will find 4 option buttons. Click Backup Photos to Mac button, and then the CopyTrans alternative will copy and save all the photos to your computer. Additionally, you can choose the destination folder where you want your photos transfer.
Step 2
Transfer Files between 2 Devices
First of all, connect two devices to Mac at the same time via USB cable. After then, click Phone to Phone Transfer button in the main interface. Next, choose the file you want to make transformation.
Top 3. i-FunBox
i-FunBox is one of the best CopyTrans alternatives for iPhone, iPad and iPod touch. With it, you can easily import or export your music, video, photo files to other devices. And the greatest benefit about using i-FunBix is it requires no jailbreak at all.
1. Easily transfer files to your computer with the optimized stream and browsing.
2. One-stop app installation and setup.
3. It offers you the high speed of transmission.
4. Access app sandbox without jailbreak.
5. Wallpaper function helps you get high quality of imagines.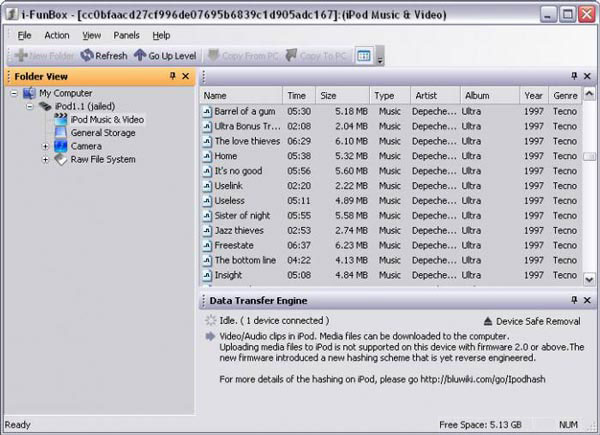 How to Use iFunbox to Import iPhone Music
Step 1: Launch iFunbox > Connect your iPhone/iPad/iPod Touch to computer > Click Quicktool Box > Import Files and Data > iPod Music
Step 2: Click the button "Click here to browse music files" to choose the music files you want to import. Or you can drag-and-drop the files to this window. Then you will find these files are on your computer.
Top 4. iExplore
iExplore, an excellent CopyTrans alternative, transfers music, messages, photos, files and everything else from any iPhone, iPod, iPad or iTunes backup to any Mac or PC computer. Its easy operation, lightweight, fast speed in transferring files and folders make it standout among lots of competitors.
1. Transfer music from your iPhone to computer intelligently with the touch of a button or with drag and drop.
2. This CopyTrans alternative helps you export, view and manage your SMSs, iMessages, text messages, etc.
3. It allows you to use your iPhone, iPod or iPad like a USB flash drive that you can view your files directly in your computer and you're also able to get file system access to data contained within the apps or other directories on your device.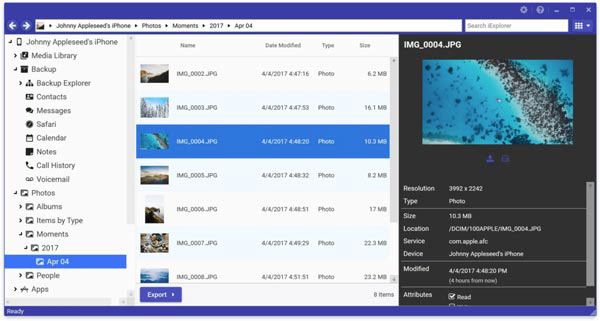 How to copy photos from iPhone to Mac
Step 1
Connect iPhone to Mac
Connect iPhone, iPad or iPod to your computer with USB cable.
Step 2
Click "Photos & Videos" in the middle panel
Or access your photos by clicking "Photos" through the sidebar on the left. Once your device's photos have been input, iExplore will display all your photos in the sub-directories.
Step 3
Export photos from iPhone to Mac
To export photos to Mac, click "Export" then select an option from the pop-up menu. And those selected photos will be streamed to your computer.
Top 5. Apowersoft Phone Manager
Apowersoft Phone Manager is the last CopyTrans alternative which I want to recommend to you. Like other alternative, it is a transfer management allowing you to manage, transfer, and backup all the data on you Apple devices with clicks.
1. It offers you an easy and effective way to manage and transfer music, videos, photos, contacts, eBooks, SMS, apps, call logs, bookmarks, notes and other files between your computer and phones.
2. Connect your devices to computer with two methods: connect via USB or connect via Wi-Fi.
3. Backup Mobile Data like a Breeze. Besides being able to backup data, the tool also allow you to restore from the previous files.
4. Mirror Your Phone to PC. Once you have connected iPhone to your computer, this smart CopyTrans alternative will display your phone's screen on your PC.
How to Backup Music from iPhone with ease
Step 1: Download and install Apowersoft Phone Manager
Step 2: Connect iPhone to computer via USB cable
Step 3: Click music icon in the home page, then select music you want to backup
Step 4: Click Export to backup iPhone music to computer
Conclusion
These five CopyTrans alternatives for Mac can totally satisfy all you need in copying and transferring files. And some people will mention iTunes. Comparing to these five CopyTrans alternatives, iTunes has too much restrictions on transformation and is not as easy-using as they re. Thus, as a CopyTrans alternative, each of these can be your best choice.

Click here to join the discussion and share your comments