How to Safely and Easily Hide APPs on Android without Rooting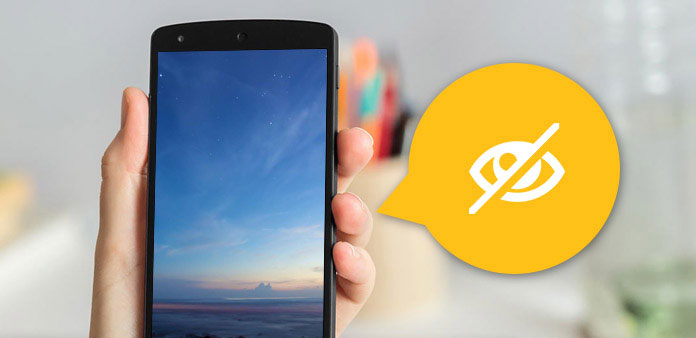 Wanna to hide something secret, especially for specific applications? There are large groups of users who desire to know methods to hide apps on Android, among most popular forums. To solve Android app hiding issue, I collect several representative solutions, to hide apps on Android without rooting, in safe and fast mode, considering rooting Android will bring you hassles. If you need to protect your privacy, this article will show you secure solutions to conceal apps on Android, with easy operations.
Method 1: How to hide Android apps with Go Launcher
Go Launcher has gathered over 200 million users all over the World, because of its sophisticated Android redefine experience and stylize filters. It is easy to hide any app on Android with Go Launcher. All you need is to install the App-hiding applications on Android, no jailbreak and no USB cable to connect to computer.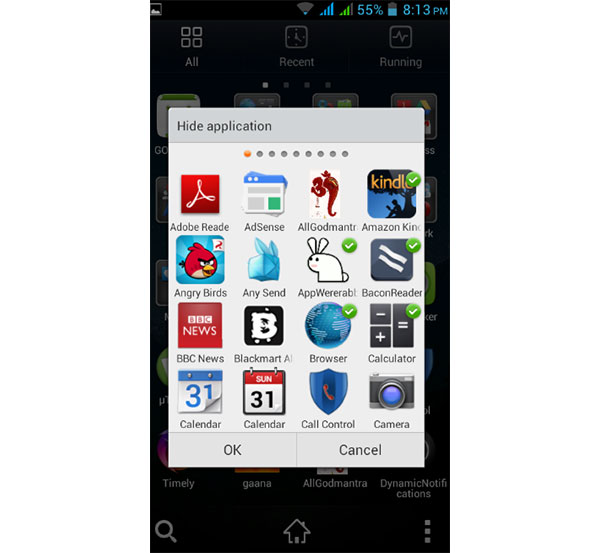 Step 1: Set Go Launcher as default Launcher app.
Download and install Go Launcher on Android by visiting Play Store page. Later, launch Go Launcher interface, and visit "Settings". Choose "Apps" option in the menu, and then click "Launcher" button, to set Go Launcher as your default App-hiding Android app.
Step 2: Locate "More" option to dig out Android app hiding
Your Android interface will get the overall look change after setting Go Launcher as default Launcher to hide apps on Android without root. At this time, hit the More option in the right corner, which looks like the three dots in black and white.
Step 3: Hide Android apps.
Tap "Hide App" option the middle of the list first. Then all your Android applications will display in window named Hide application. Tick multiple Android apps and press "OK" to check.
Note: The method to find hidden apps on Android with Go Launcher is similar with the above Android apps hiding operations. When you locate "Hide App" menu, you can access certain application to run with. And there is also the Add icon, with which you can hide more Android applications into, or unmark it to unhide apps on Android.
Method 2: Hide apps on Android via Nova Launcher Prime
Nova Launcher Prime is the alternative Android app hider, to customize Android applications with more features, than Go Launcher does. For instance, the scroll effect, gesture control, icon swipe and etc.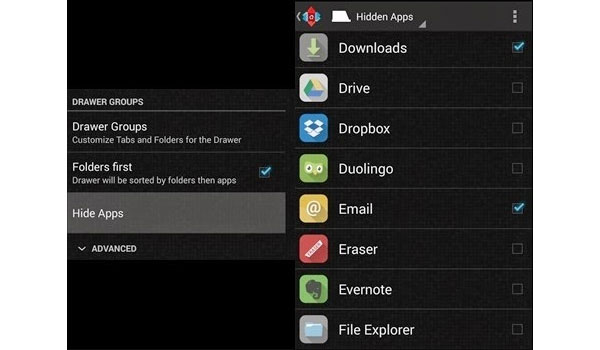 Step 1: Set Nova Launcher Prime as default
Download and install Nova Launcher Prime on Android, the turn to the home screen, to set "Nova Launcher" as default app-hider on Android.
Step 2: Hide apps on Android without rooting
Long press the Home screen button until the "Add to Home Screen" dialog appears. Tap the "Wrench" icon on the top right corner, and then click "Drawer" under "Nova Settings". Tap "Hide Apps" button to access and mark all Android apps to hide.
Note: Search the name of the hidden Android app to access again. Moreover, for unhide apps on Android, follow the above steps and then unmark the certain applications to make them visible.
Method 3: Rename and change icons to hide Android apps
Hum, it will be a small trick, to rename and change icons to hide apps on Android without launcher in some degree. And it will be fun to customize app icons with something you like. No need to root Android either. The only thing you need to make sure is that, do not forget hidden Android apps with name and icon changed.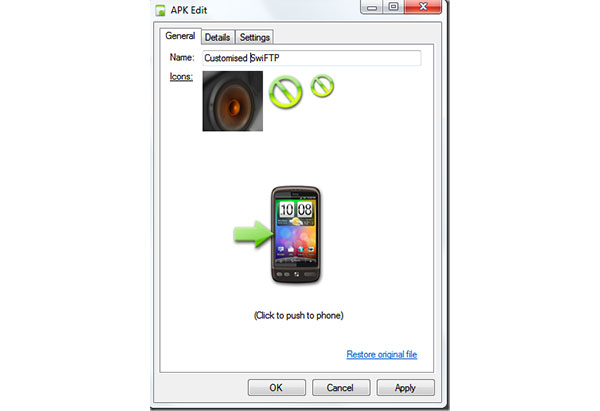 Step 1: Download and install APK Edit
First of all, you need to prepare APK packages of installed Android applications. Later, extract and install APK Edit v0.4 on Android.
Step 2: Launch APK Edit.exe to edit load APK files with.
All the Android icons' name and icons are displayed below. Click the image to change icon, and edit the App's name to rewrite. Hit "Apply" after all Apple app hiding and pretending processes. It is the simple trick, to mask and secure apps on Android. And remember that renamed Android app is not yours. Therefore, it is illegal to resale and publish hided apps on Android for commercial usage.
Method 4: Hide pre-installed apps on Android directly
When you get the new phone, it will always be full of installed many applications before, and you cannot reinstall pre-installed Android applications unless to root Android. If you have enough space or storage, and just want to disappear pre-installed apps on Android, hide Android apps will be easier and safer to achieve.
Step 1: Launch Settings and find your Device
Click "Settings" and hit "Apps" under "Devices" menu.
Step 2: Locate the Android application to disable app with
Choose "Application Manager" and tap "All", to access all Android installed apps. Select the one and tap "Disable" to hide apps on Android without Launcher or root.
Note: For not pre-installed Android apps, Disable option will be replaced by Uninstall.
Summary
To hide Android applications away from others, or to remove programs few to use, disable them into the corner will be the smart way. Just add a door to apart yourself with other people who access your Android. You control the only key. Moreover, you do not have to root Android for hiding apps on Android, with the support of app-hiding third party programs. Including the track of rename and icon change. For pre-installed Android applications, things will be much easier, to disable them directly.