How to Download Videos from Vimeo and Save as MP4 Files Simply
This article focuses on how to download Vimeo video to MP4 on PC, Mac, iPhone and Android. Vimeo is a collection of high-quality movies, videos and animations from users all around the world. Sometimes, you just want to save your favorite videos from Vimeo to your digital device so you can view them offline. When you are around the poor internet coverage, that is more important.
Unfortunately, all videos on Vimeo are copyright protected and you cannot download them directly. That is why this article intends to share the 100% working methods to do it.

Part 1: Best Way to Download Vimeo to MP4
As mentioned previously, you cannot download Vimeo to MP4 officially. The alternative solution is a third-party Vimeo downloader, such as Tipard Video Downloader.
1. Download online videos from Vimeo, YouTube, and more.
2. Extract multimedia files from Vimeo address for downloading.
3. Preview Vimeo videos with the built-in media player.
4. Convert online videos to MP4 and other video formats.
5. Batch download multiple videos at the same time.
In brief, it is the easiest way to download and convert Vimeo videos to MP4 format for watching without internet connection.
How to Download Vimeo to MP4 on PC
Step 1
Install Video Downloader
Make sure to install the best Vimeo downloader and converter to your computer. When you find a video on Vimeo that you wish to watch later, launch the program. Copy the video address, which is the content in the address bar on the top of the browser.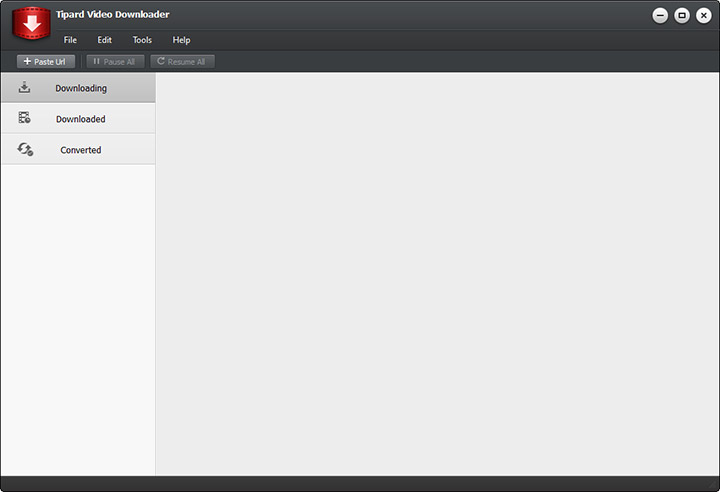 Step 2
Extract videos from Vimeo
Click the Paste Url button at the upper left side to open the new download dialog. Then paste the Vimeo video address into the URL box and hit the Analyze button to extract multimedia files from the address. Check the desired video file on the list after analysis.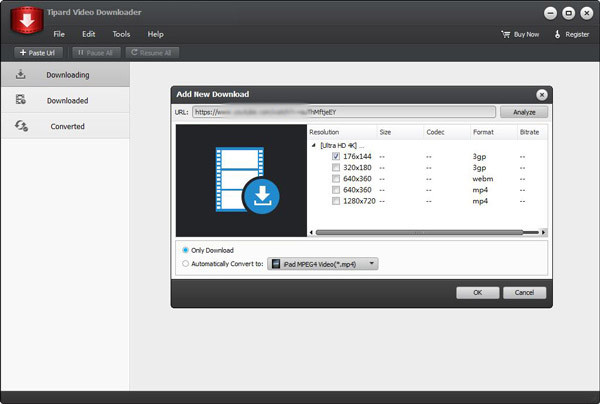 Step 3
Convert Vimeo video to MP4
Go to the bottom area and select Automatically Convert to. Expand the drop-down list and select MP4 from All Profile tab. If you want to watch the result on your mobile device, select it from the drop-down list directly. Once click the OK button, Vimeo to MP4 downloading will initiate. You can start another video download and conversion task.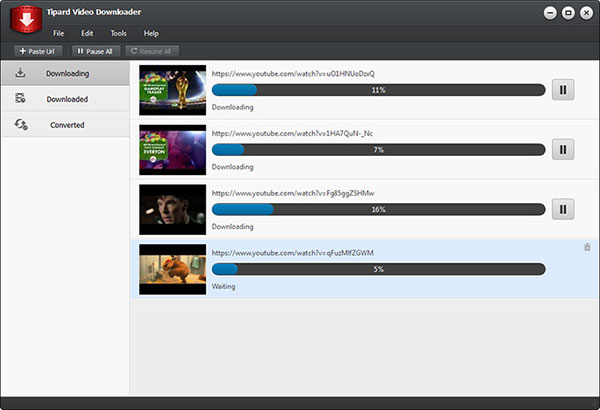 Note: If you select Only Download and get the Vimeo videos in other format, you can convert it in the Downloaded tab later.
Part 2: How to Download Vimeo to MP4 Online
Sometimes, it is not convenient to install a Vimeo downloader to computer. Online Vimeo downloader apps can meet your need. They do not require installation and can convert Vimeo videos to MP4 online. The downside is the low success rate since they are only available to encrypted videos. Considering web video downloaders are not reliable, we share two apps. If one is failed, you can try the other.
Method 1: Download Vimeo to MP4 via RIPSAVE
RIPSAVE is a simple way to download Vimeo videos to MP4 online. It is free of charge and does not ask you to sign in with your personal information.
Step 1
Visit https://ripsave.com/vimeo-video-downloader/ in a browser, cop and paste the Vimeo video address into the box. Make sure that the video is not private; otherwise, you will get nothing but an alert.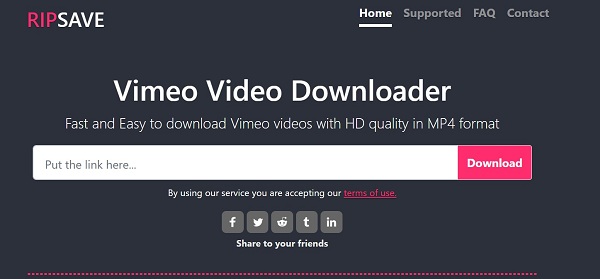 Step 2
Click the Download button to start analyzing the URL. When it is done, you will be presented the media files with various formats and resolutions available to download.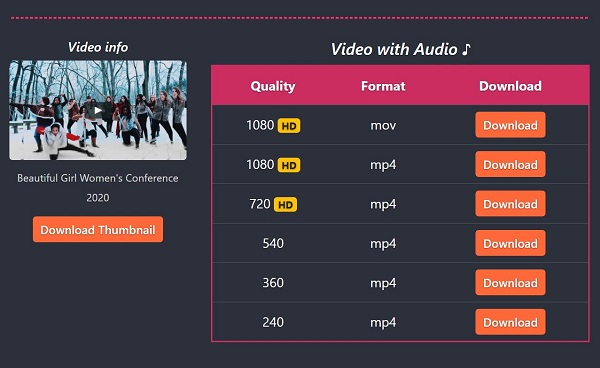 Step 3
Select the MP4 format and your favorite resolution. Then click the Download button to download Vimeo to MP4.
Method 2: Convert Vimeo Video to MP4 with Online Convert
Online Convert is a database of online file converter apps including a Vimeo to MP4 converter. It can process multiple online videos per conversion.
Step 1
Input https://webservice.online-convert.com/convert-video-for-vimeo into the address bar of a browser and hit the Enter key on your keyboard to open the webpage.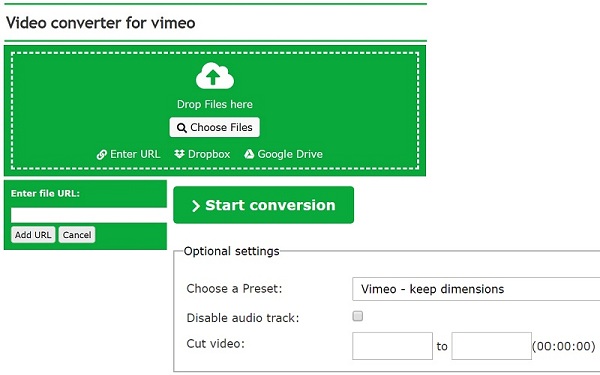 Step 2
Select Enter URL and enter the Vimeo video address that you wish to download into the box under Enter file URL. To download more videos, click Add URL and then enter the video addresses.
Step 3
Pick a preset from the Choose a Preset drop-down list. By default, the web all will convert Vimeo videos to MP4. Now, click the Start conversion button.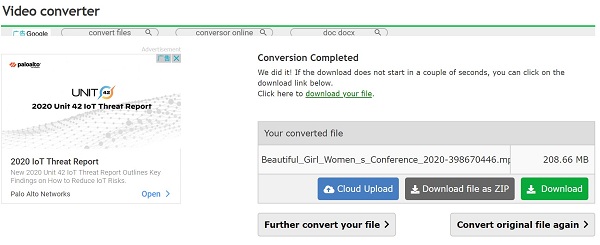 Step 4
When the conversion is complete, you can download all MP4 files as ZIP archive or hit the Download button to get each file.
More Vimeo downloaders are here.
Part 3: Download Vimeo to MP4 for Free
VLC is another way to download Vimeo to MP4. It is a popular media player partly because it is open-source and free to use. If you already have VLC on your desktop, it is a good option to download MP4 from Vimeo. Bear in mind that, VLC is cannot download private videos from Vimeo.
Step 1
Start your VLC and select Open Network Stream from the Media menu.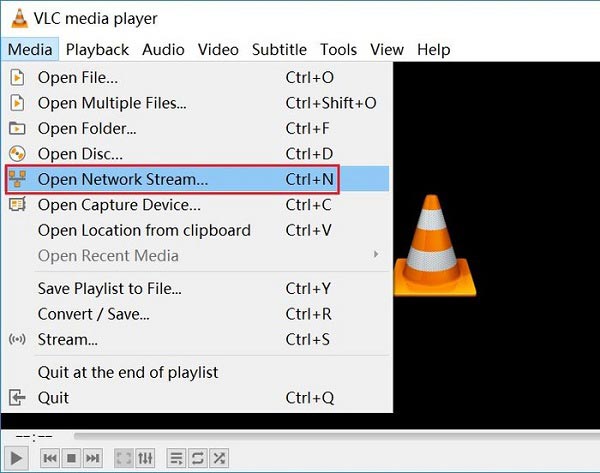 Step 2
Copy the Vimeo video address from your browser and put into the box under Please enter a network URL. Click the Play button to back to the media player window.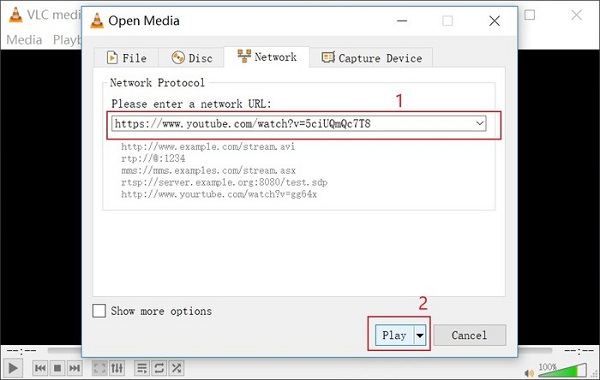 Step 3
Now, go to the Tools menu and select Codec Information on PC. For Mac, select Media Information from the Window menu. Copy the link in the Location box and open it in a web browser. Now, download Vimeo video as MP4.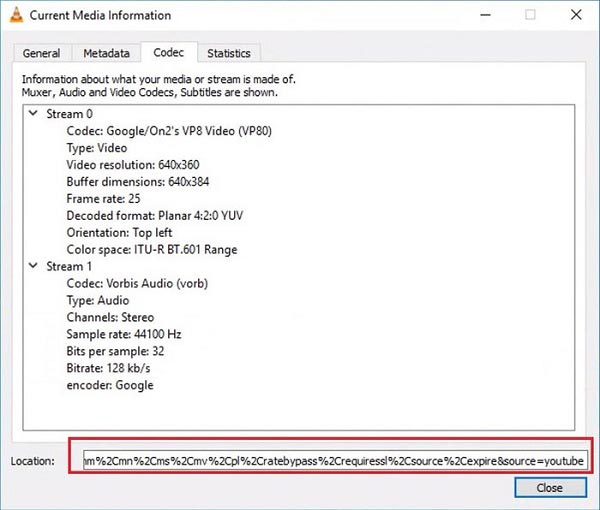 Part 4: Download Vimeo to MP4 on iPhone or Android
Since Vimeo 2.2, the developer had introduced the official way to download Vimeo videos with the app on iPhone or Android phone directly. However, it cannot convert Vimeo videos to MP4 or save them to Camera Roll or Gallery. Alternatively, you still have to view the videos within Vimeo app.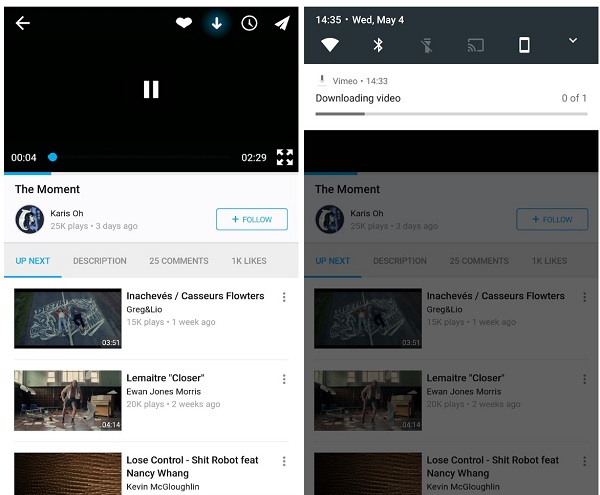 Step 1
Open the Vimeo app from your app draw or home screen. Or you can download it from App Store or Play Store for free.
Step 2
Search for the video that you want to watch offline and open it into the player screen.
Step 3
Once the video start buffer, you will get several options on the top, including the Watch Offline button marked with an arrow icon. Tap it to download Vimeo to iPhone or Android.
Part 5: FAQs of Downloading Vimeo to MP4
Can you download a video from Vimeo?
By default, you cannot download most videos on Vimeo since they are private and copyright protected. However, there are methods to get your favorite videos base on the guide above.
How do you download music on Vimeo?
Vimeo is a video collection and you can download music videos to MP4 format. If you want to convert Vimeo music to MP3, you will need a Vimeo converter, such as Tipard Video Downloader.
How do I download a Vimeo video to my Android?
You can download a video in Vimeo app for Android after you updated it to the latest version.
Conclusion
Now, you should understand how to download Vimeo videos and save them as MP4. As a video platform, you can find oceans of videos on Vimeo for watching online. However, it is hard to download them to view offline or edit later. Tipard Video Downloader is both a Vimeo downloader and a converter. If you have other questions related to Vimeo, please leave a message below.