Best YouTube Video Editor Software on How to Edit Videos Free for YouTube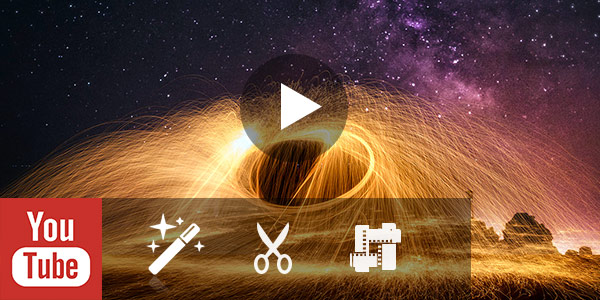 There are more and more creative and attractive home-made videos by users posted on YouTube, which enrich our daily life. To customize and enhance a video, we always need to any kind of Video Editor software for help. While there are many excellent applications out there, and YouTube provides itself totally FREE Video Editor for users to edit and improve the uploaded videos on YouTube. However, the problem on how to use YouTube Video Editing software become a unpleasant topic between users. Now this article would help you solve this problem. Besides, it will show you other excellent YouTube Editor software to choose at will.
Part 1: How to edit videos with YouTube Video Editor
Step 1
Add videos to the editing timeline
First of all, you need to sign into YouTube account when open YouTube Video Editor. Or click "Upload">"Edit" to the Video Editor Area.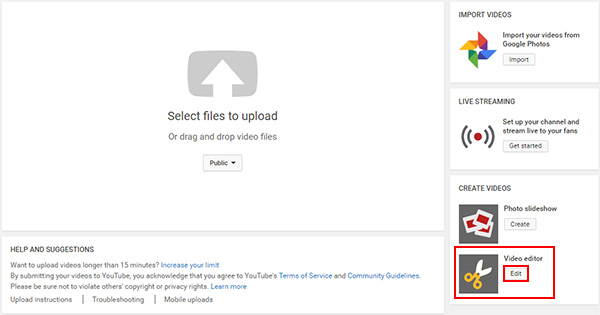 To add your uploaded videos to the editing timeline, locate them in the media library in the top right-hand corner of your screen. You can preview a clip by clicking the red play button on the thumbnail to see the content of any clip. Once you find the ones you need, drag them to the timeline below, or hover over the thumbnail and click the "+" sign to add them.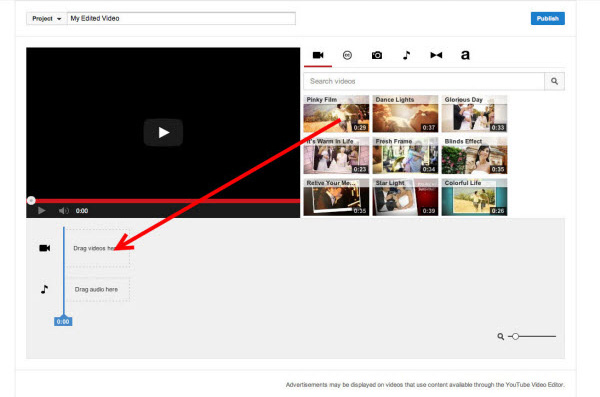 Step 2
Trim/cut video and split/remove video clip
To trim and cut the original video to get the clip you want, you need to click on it to select. And then click on either of the white bars to the left or right of the timeline and drag the handles to trim your video. This will highlight part of your video clip's timeline in white. The white part of the clip is what is being trimming or cutting.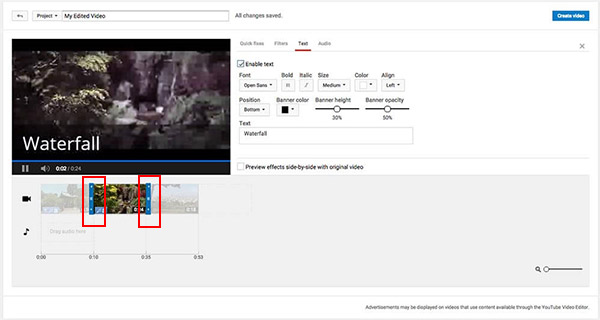 To split a video clip, you need to hover your cursor over the thumbnail of your video in the edit section. A scissor bar will appear over the thumbnail and drag the scissor bar to one section of video clip you want to cut and then click on the scissor icon o split the clip in two. Besides, hover your mouse over the middle clip and click the "x" in the top right-hand corner of the clip to remove it.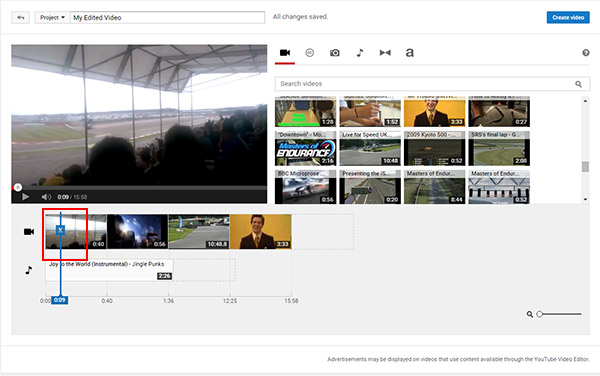 Step 3
Enhance video effect and add filters
After dragging the video from media library to the editing timeline, the Quick fixes area would appears atomically. Or you can also double click the video clip to enter the "Quick fixes" area. This Free YouTube Editor provides many basic functions here which allows you to change video Color, Brightness and Contrast. Besides, you can add slow motion, and pan zoom effect, stabilize video, audio fix or rotate video.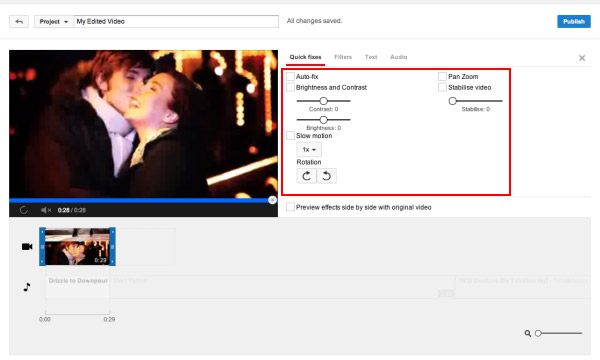 The Filters menu is located to the right of the "Quick fixes" area. Here you are allowed to add HDR-ish, Cross Process, Old-Fashioned and other multiple effects to individual video clips. Simply select the clip you want to apply the effect to, then click the effect you want to add. Then you can go to the "Text" area, tick "Enable text" and enter the text to the text column. Then customize the font, size, color, position of the text as you like. And you can adjust the audio volume in the "Audio" area.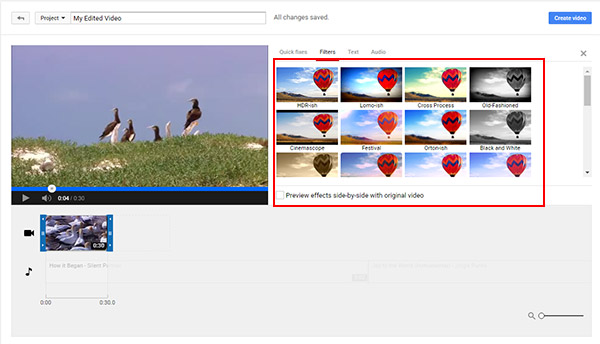 Step 4
Search creative commons videos
Creative Commons licenses provide a standard way for content creators to grant someone else permission to use their work. YouTube allows users to mark their videos with a Creative Commons CC BY license. These videos are then accessible to YouTube users for use, even commercially, in their own videos via the Free YouTube Video Editor.
To find the Creative Commons videos in the Free YouTube Editor, click the CC icon in the menu bar and search for some keywords that might be associated with the type of video you are looking for.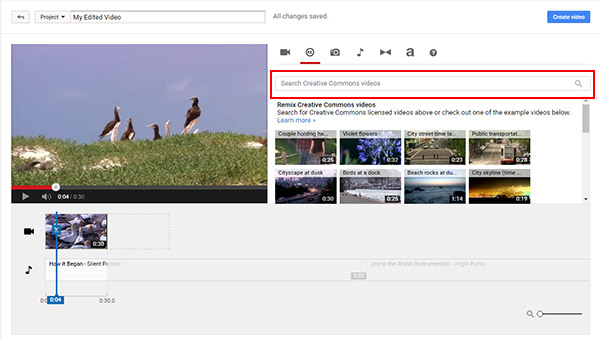 Step 5
Add photos and music to video
This Free YouTube Video Editing tool enables you to add photos alongside your videos. Click Add photos to project button and find the photos from your Google+ account, or upload photos directly from your computer. Then drag the photos to the timeline, and drag the bars on the left or right to control how long a photo appears on the screen.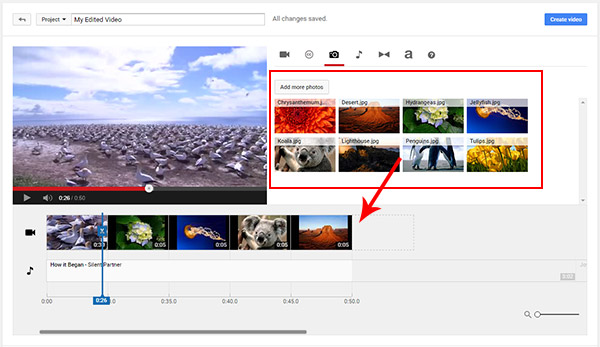 YouTube also allows you to swap out the audio with one of its licensed tracks. To do this, go back to the main interface of the YouTube Editor and click the Audio tab. Then select a song from the library and either drag it to the soundtrack timeline or press the plus sign to the right of each title.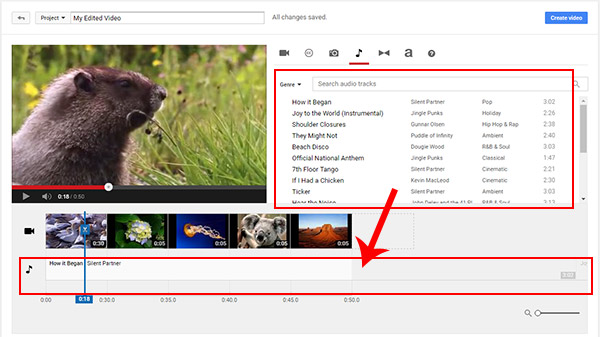 Step 6
Add transition and text to video
To make your video viewing smoother, you can add transitions between video clips. To add transition, go to the Transition tab and choose from 16 transition effects. Then click and drag it down to the timeline and hover your mouse between the two clips that you want to separate with a transition. When you see a thick blue line, release the mouse button to add the transition.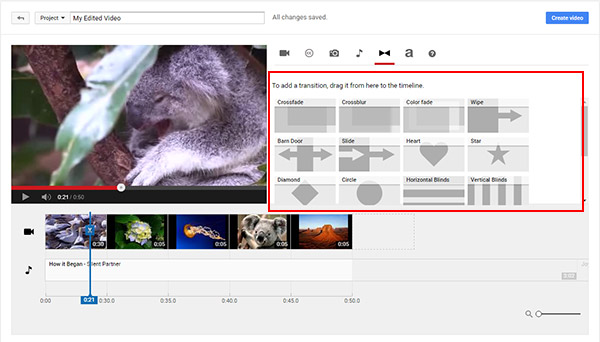 This YouTube Editing for Free provides you adding text to the video clip or to the timeline. Click a tab and choose the style of text you want to add. Then drag it to the timeline and insert it at the beginning or end of your project. You can now choose from a number of font properties to customize the text to your liking. To add text to a specific video clip, you need to drag the text style to video clip where you want it to appear. The text will then display in the video you selected and will be visible for the duration of the clip.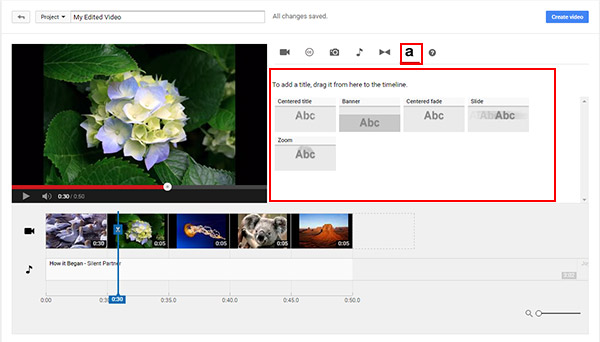 Part 2: Best third-party YouTube Video Editor software
1. Windows Movie Maker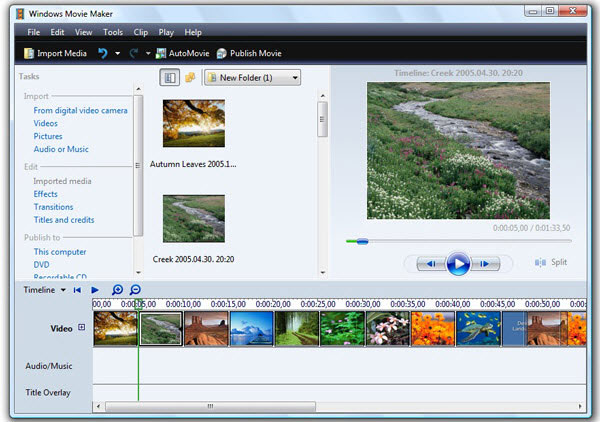 Windows Movie Maker is a Free YouTube Video Editor software for Windows, which has a variety of functions to create, edit, enhance and publish your videos to any online sharing site like YouTube, Yahoo and Facebook. It has support for very many transitions, effects and titles to help customize video.
When you're done with editing the video, click the Publish Movie button and export the movie using one of the many choices given, including burning the movie to a DVD or writing a new WMV file to the disk for playing on a computer.
2. LightWorks Free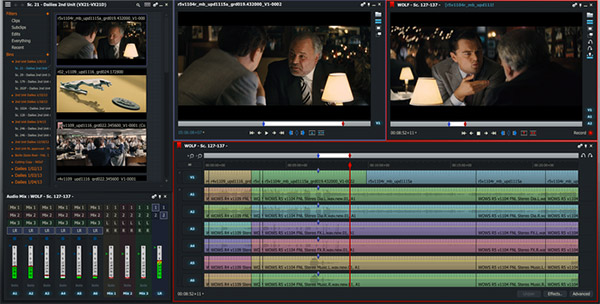 Lightworks Free offers you full editing power, and export to our preferred upload partner Vimeo at 1080p resolution. It is a professional YouTube Editor for Free software, which can use to edit on YouTube video files. It is compatible for both Windows and Mac.
Share your movies with colleagues, friends and family with our super-quick export to MPEG4/H.264. The video files produced are ready-made for YouTube, Vimeo, Facebook and Instagram. You even have the option to upload directly to your YouTube account in one easy step, so you have more time to make a better movie!
3. iMovie for Mac/iOS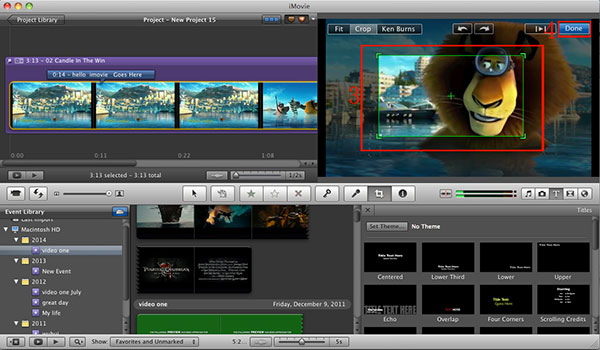 iMovie is the excellent YouTube Video Editor for Mac and iOS, which lets you create Hollywood-style trailers and beautiful movies at stunning 4K resolution. You can even start editing movies on an iPhone or iPad, and finish them on a Mac. And when your movie is ready for its big premiere, you can enjoy it on all your devices in iMovie Theater.
iMovie gives you even more ways to share with your most loyal fans. When you're ready to present your movie, you can email it to friends from iMovie. You can also publish directly to Facebook and Vimeo, or share to YouTube at stunning 4K resolution. Soon, you'll be playing everywhere.
4. Final Cut Pro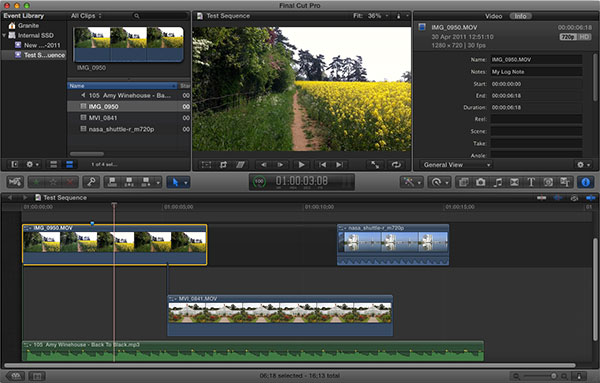 Final Cut Pro is not only the revolutionary YouTube Video Editing, but also the powerful Media Organization for Mac users. It enables you to edit multi-camera projects with automatic sync and support for up to 64 camera angles. Assemble clips in the Magnetic Timeline without clip collisions or sync problems.
The software is updated on regular basis to keep the user up to date. The interface of the program is very easy to use and switching is never an issue. Deliver projects for playback on Apple devices and websites such as Vimeo, YouTube, and Facebook.
5. Sony Vegas Pro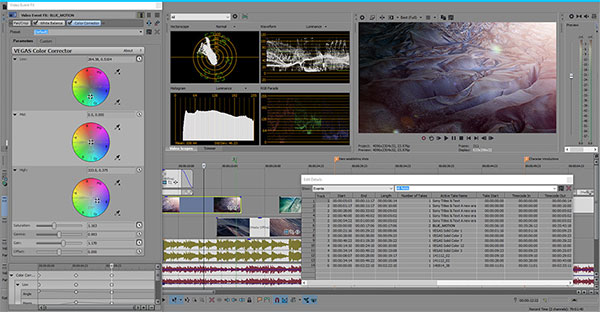 Sony Vegas Pro, the excellent YouTube Editor for Windows, is easy to use and features the latest technologies to edit videos. Experience a new level of creative freedom in video editing with VEGAS Creative Software.
Sony VEGAS Pro is your project companion from start to finish. Edit professional video and audio material in high resolution formats up to 4K. Discover workflow-optimized plug-ins for image stabilization, design dynamic titles and create custom DVDs and Blu-ray Discs. Experience a new type of creative freedom with VEGAS Pro.
6. Adobe Premiere Elements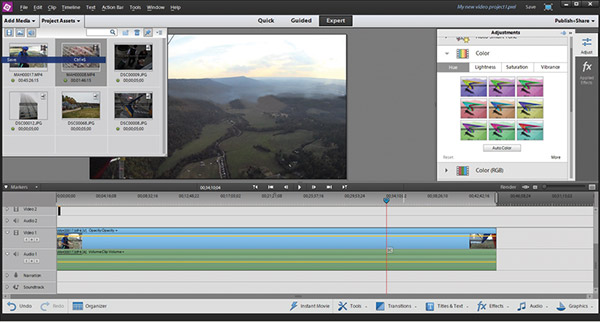 Adobe Premiere Elements is compatible with Windows and Mac, which has powerful editing functions to edit videos for YouTube. It lets you create dynamic collages with photos and videos that show many memories at once, and create an instant movie by simply picking a theme and more.
You are allowed to easily remove unwanted footage, use new Haze Removal to make video sharp in seconds, fix color and lighting, and drag and drop to quickly create your movies. Share your customized videos with friends and family via YouTube website and others such as Facebook, Vimeo, HDTV, and also disc.
7. Tipard Video Converter Ultimate
As the all-in-one YouTube Editor software, if you need to edit a YouTube video after uploading it or create your own YouTube files based on original YouTube video, you can simply launch Tipard Video Converter software to achieve your requirements. It owns multiple functions to enhance video for perfect.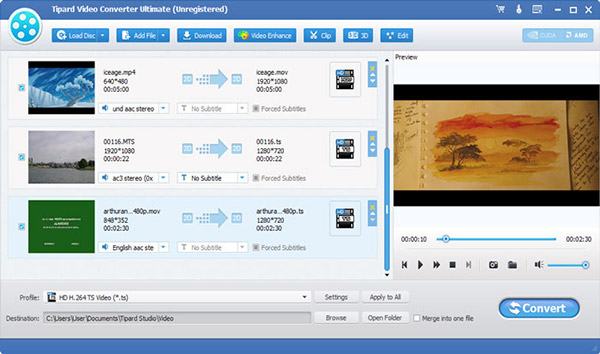 1. It allows you to improve the video quality by using the excellent editing features.
2. It is necessary to resize the videos, rotate or flip video clips and crop the videos before any further edit of YouTube videos.
3. Adjust the effects of the video files and audio files, de-interlace the video files for a better preview experience.
4. In order to protect the video file, you might also need to add watermark when you edit the video files.
5. If you need to edit the YouTube video for other devices, you can also convert the video to any format or the device directly.
How to download and edit YouTube videos with Tipard Video Converter Ultimate
Step 1
Download YouTube Video files
Just click the Download button, and then copy and paste the link of YouTube video to download YouTube video files from YouTube for further editing YouTube videos.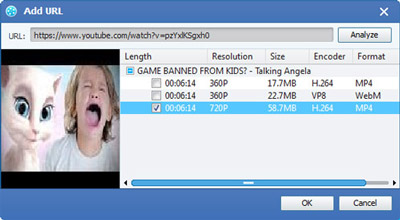 Step 2
Edit the YouTube video
Once you downloaded the video files, you can click the "Enhance Video" option to make any change for the YouTube videos.
1. Rotate or flip YouTube videos
2. Enable 3D settings for YouTube video
3. Crop and trim video on YouTube
4. Add effects to the download YouTube video
5. Enhance the YouTube video
6. Create watermark for video on YouTube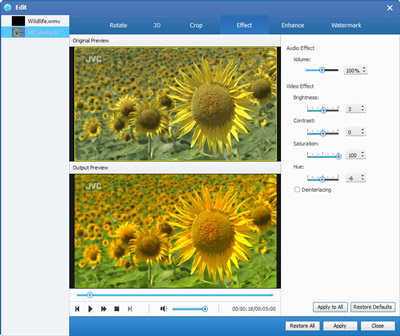 Step 3
Choose the desired format
When you finish editing YouTube video, you can convert the YouTube video files to desired video format by clicking the Profile button to choose the desired format accordingly.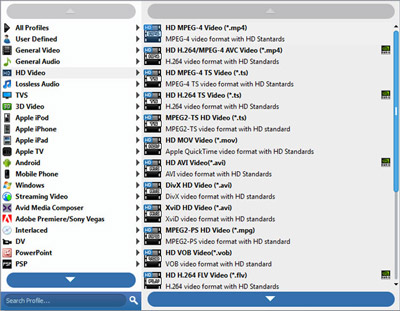 Step 4
Export edited YouTube file
And then you can click the Convert button to export the edited YouTube video files. You can get the desired YouTube video for any device in high quality now.