How to Share Kindle Ebooks in 3 Methods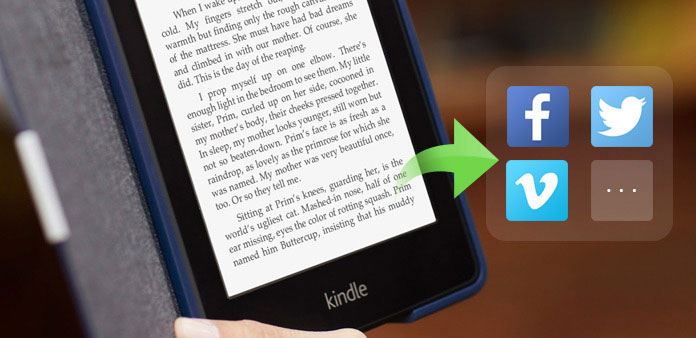 Amazon Kindle is one of the best eBook readers around the world. Many people use Kindle to read Ebooks in their spare time. So you may have such a condition when you read a good book, you may wanna share your favorite Kindle Ebooks to your friends or family. Or even share Kindle Ebooks, audiobook and apps that you have purchased or collected in your Kindle. What is the solution for the situation? Just keep reading to get the desired information from the article.
Tips you know before you share Kindle Books
First of all, you should have an Amazon account with Kindle Ebooks. Whether you have purchased at a cost or free, the account allows you to loan the eBooks. Some books are able to be loaded and others are not. Then you should have a personal email address of the person who you want to share your Kindle books with. And there are some tips you should pay attention to before you share it:
1. You can only share an eBook at a time.
2. Kindle eBooks can only be shared up to 14 days. And after 14 days, the book will be returned to your Library.
3. You cannot read the book while your book is on loan.
4. Be sure to use your friend's personal email address instead of their KINDLE email address.
How to Share Kindle eBooks
1. Load a Kindle book
Just as mentioned, Kindle books can be loaded to another Ebook Reader for 14 days. If you wanna to send a certain book to your friends, you can use the method instead. What is more important, the borrower does not need to read the Kindle Ebook on Kindle, any Kindle book reader on PC, Mac or other devices are acceptable.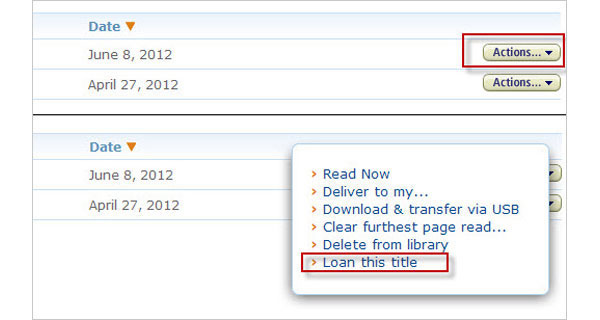 Step 1

Just make sure the book can be loaded first. Different publisher has some special limitations for the published Kindle ebooks.

Step 2

And then Login Amazon website and go to Manage Your Content and Devices.

Step 3

Tick on a book you want to share, and then click Actions button to choose Loan this title.

Step 4

Then you may be required to fill the recipient's information. Once you finished the process, click Send Now to send the book to your friend.
After few minutes, your friends will receive an email notification and he or she will be able to see this book show up in the Amazon cloud library. But please inform your friend that the book can be maintained for just 14 days.
2. Set Up Family Library
Amazon Family Library is a feature that allows family members to share their Kindle books with each other. Besides, a family library is able to contain 2 adults Amazon accounts and 4 children accounts. Once you are in this library, you can read the shared books freely and it also supports apps and audio books sharing. And what you need to know is just to set up Amazon Family Library as below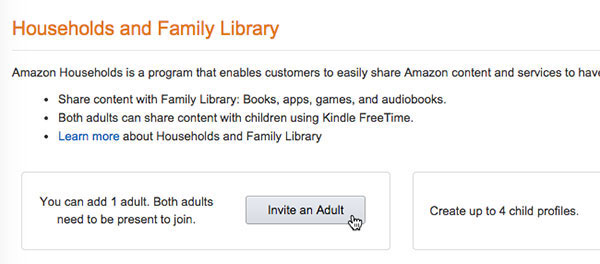 Step 1

Open the Amazon website and go to the Manage Your Content and Devices page. Then login your Amazon account.

Step 2

Click Settings tab, under Households and Family Library, click the Invite an Adult button. And you should input your family's account information on your computer.

Step 3

After the account information is verified, you need to choose which types of content you can share, such as the Kindle Ebook format. And now the household is created.
When you share Kindle Ebook with family members, you should also install it on different devices. And then the content will upload the files to Cloud or Archive section in any device for you.
2. DRM Removal for Ebooks
Sometimes, the people you want to share kindle ebooks are not kindle users or he/she has a low speed on reading. As for the case, there is another method to help you. As we all know, the reason why you cannot share Kindle books with friends directly is the DRM. Thus, what you need to do is removing DRM. And you can use Epubsoft Kindle DRM Removal to achieve it.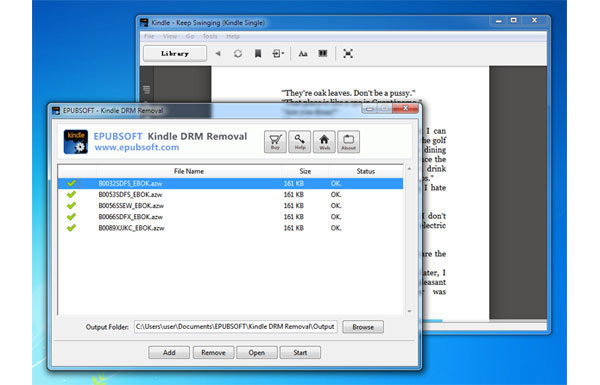 Step 1

Download and install Epubsoft Kindle DRM Removal. And open Kindle DRM Removal.

Step 2

Click Search eBooks button to select the ebooks you want to share.

Step 3

Click Convert button to create a converted ebook file. And you can send the Kindle books to your friends.
As for the case, you can not only remove the DRM protection of the books, but also turn them into another format, such as PDF files. And then you can use most of the devices to enjoy it without any restriction.
Conclusion
When you load a Kindle Book to a friend, you cannot read the book at the same time. And only one book can be lent at one time. As for the Amazon Family Library is a good option to share Kindle eBooks between one or two family members. Remove the DRM protection should be the ultimate solution to share the books, but just make sure the program works for turn the files into the DRM free Kindle eBook format.
Share is a good virtue. When you share Kindle eBooks to friends or family member, you can also share our happiness, sadness. And here we tell you how to share your favorite Kindle books to others. Moreover, we hope you can keep on reading and sharing.