The Comprehensive Google Play Movies Manage Guide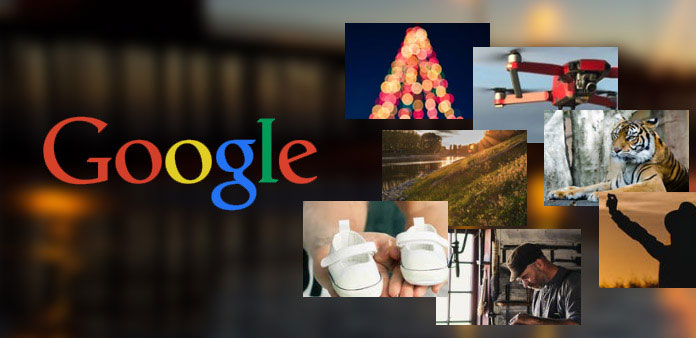 You know, Google has released the summer sale, which offers huge discounts for users to benefit from. The Google Play Store summer sale contains not only apps, movies, TV shows, but also Google Play books, music and etc. The premium Google Play discounts has up to 80% already. If you take this advantage to see some old classic Google movies, it will only cost you $0.99 for one rental. And all Google Play TV shows will be discounted by 50%. As for other Google Play products, there are also many sales for you to grab and enjoy. By taking the advance of this hard-won Google Play summer sale, I want to show you small tips to get Google Play movies free sources and Google movie converters, to turn online movies into highly compatibility format, and watch Google Play films offline.
Part 1. Where to Find Free Google Movie Online Sources?
It depends on whether you want to get purchased Google Play movies for free, or just want to download free Google Play movies to watch online or offline.
1. Google Opinion Rewards – Earn Google Play Credit by Filling out Easy Surveys
Google Opinion Rewards app on Android is the official method for people to get Google Play credit. Once you installed it, you can receive latest news, to announce you new survey rewards. As for the detail step to get free Google Play movies credits, just sign in with your Google account, and then fill in the Google Play Survey. The survey is usually consisted with easy choices. Each survey will offer you $1 on average.

2. Play movies online in Free Way
There is also free Google Play films sources for you to choose from, like the Free Movies app on Android, which provides over 5,000 movies for you to watch on Android or other tablet and computers for free. Or you can just try online free movie sites, to search and download free movies.
Crackle: ad-supported; offer both movies and TV shows; usually offer free old movies, but you can see some top-rated movies and award-winning films as well.
Hoopla: Digital: work like a library, to allow users to borrow movies, and watch free movies within 72 hours.
Tubi TV: the largest commercial movies gallery; no account required.
Part 2. How to Download and Convert Google Play Movies
So, is there any program to grab above online free movies, or to convert Google Play movies into certain video formats, to satisfy specific requirements? Tipard Video Converter Ultimate can do both of them actually. You are able to not only download YouTube videos, but also convert any DVD and video file with wide format selections.
1. Basic Features:
1. Download Online Videos through URL merely, including YouTube, Facebook, Vimeo and most video sharing sites.
2. Convert 4K video to any 4K/1080p HD video, with MP4, AVI, MKV and etc.
3. Rip DVD and convert any video to various video/ audio formats.
4. Edit video and audio tracks with numerous filters, to enhance quality, synchronize subtitles and do other basic editing tasks.
2. Download Free Online Movies:
Step 1
Hit Download button on the toolbar.
Step 2
Open the online video to copy and paste video link into the blank.
Step 3
Click Analyze option and choose output video quality, click OK to download.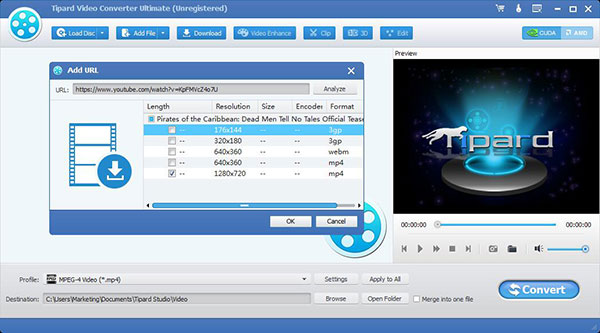 3. Convert Google Play Videos:
Step 1
Select Add File to import your Google movies
Step 2
Choose Profile on the bottom, to select which video format to output.
(Hit Apply to All option if you need to batch convert Google Play movies.)
Step 3
Tap Convert button to change video formats.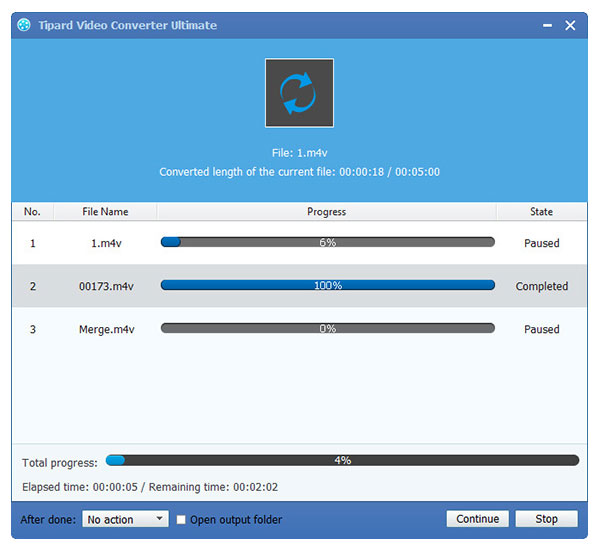 Tipard Video Converter Ultimate is the professional program to help you download and convert Google Play movies, to output them in high quality. Furthermore, DVD ripping can rely on Tipard too, which will help you remove DRM and change video formats simultaneously.
Part 3. Is it Possible to Watch Offline Google Movies
So after talking about so much about Google Play movies online, it is time to solve offline Google movies tasks. To watch Google Play movies on TV or elsewhere let us solve some frequently asked questions about watching Google Play movies offline.
Question 1: Can I rent a movie from Google Play Store and watch it offline?
Answer: Yes, the situation is that Google does not allow you to download Google Play rentals on more than one device. If you have to change tablets to watch offline Google movies, make sure to remove it from previous device first. After Google Play movie downloading, check your validity period, and then you can watch Google movies in airplane mode, or something else.
Question 2: Where can I watch offline Google Play movies, Chromebook maybe?
Answer: The Google Play Movies & TV plugin for Chrome has released. So you can have more choices to watch offline Google Play movies and television shows anywhere. Seeing the Google ad before? "Watch your favorite movies and show on your Chrome OS device, or any Chrome browser". You can sync content among multiple platforms, and it will act as a hub, to work as the connection to HDMI port on your TV even. The highly compatibility enable it to be complete with Apple TV.
Moreover, the Google play app on Android and desktop versions enable users to download Google Play films easier. With the above question solutions, watching Google Play movies offline may have fewer limitations for you.

Part 4. Use Google Movie Maker to Record and Edit Video Memories Easily
Getting tired of watching artworks from others and wanna to create a movie about yourself? It is quite easy to achieve actually. No need to buy professional photography equipment or prepare one digital camera. Once you have one smart phone with front or back cameras, then, you can be your personal director. Here are some good Google Movie Maker apps, to help you recall unforgettable moments.
1. VideoShow
Description: The free video maker and editor, to shoot and export videos without duration limit.
What can you get: over 10,000 handpicked background music pieces; over 50 elaborate themes; create slideshow to edit with exclusive innovation; compress video to reduce video size; extract video soundtrack to MP3 file; share your video to YouTube, Facebook and etc.

2. Movie Maker
Description: Create images or videos, decorate with music soundtracks, to output HD movies.
What can you get: Video edit tools; video effects; directly upload to YouTube and Facebook.
Compares with VideoShow Google Movie maker, the latter Movie Maker apk does not offer as much filters and tools. But it is still worth to consider, for people who just want to export simple movies.
So, that's all for today's Google movies introductions, from find free Google Play movies to create slideshows by yourselves. If you have anything disagree with us, or something hard to figure, just feel free to contact us.