15 Funniest and Most Watched YouTube Videos of All Time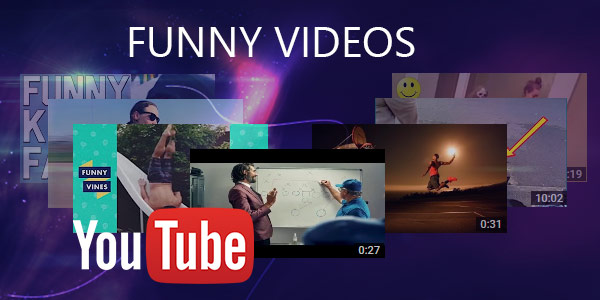 Are you ready to watch some funny videos after work or on the weekend for relaxation? Sometimes, every day of the week is pretty awful. Why not brighten your day by watching these hilarious videos, and make the rest of your week just a little better? YouTube, the largest video sharing site, provides multiple funny videos to rich our life. Here we will show top 15 funny and most watched videos on YouTube of all time below.
1. Charlie Bit My Finger
YouTube's most viewed video of all time is an unlikely champion. Seen more than 843 million times since its posting in May 2007, "Charlie Bit My Finger" was never meant to be anything more than a family flick. But the Internet's hive mind saw something it liked and catapulted the clip, which depicts a laughing British baby gnawing on the finger of his crying brother, past "Evolution of Dance" as YouTube's views champ by the fall of 2009.
2. Evolution of Dance
From the robot to the chicken dance to the twist (but curiously stopping short of the Macarena), inspirational comedian Jud Laipply does it all in this 6-min. dance sequence. Moving seamlessly between eras, Laipply has been viewed more than 297 million times for a reason — his video triggers nostalgia in the happiest of ways. We can all remember, begrudgingly or not, mimicking Vanilla Ice or the cast of Grease at one time or another, though maybe not with Laipply's infectious enthusiasm.
3. Mutant Giant Spider Dog
If you haven't seen this video before, you would be surprised how well made it is. Never before have so many people been scared of an adorable Labrador puppy. This video has been viewed more than 165 million times. Thankfully, this video is nothing but a prank of an adorable little dog dressed up as a scary mutant spider, but we can all agree that if we saw this giant eight (plus four) legged creature wandering the streets and coming out of parking garages, we would be running in the other direction.
4. David After Dentist
More than 133 million people have seen 7-year-old David DeVore's backseat trip from the dentist's office after oral surgery. The medication seems to have left David in a higher state of consciousness: he spouts lines like "You have four eyes" and "Is this gonna be forever?" Some critics called the video exploitative — arguing it took advantage of a child for laughs — but in interviews, David said he wasn't bothered by the attention and that his classmates thought the clip was funny. Once the world had seen David, his father set up a website selling T-shirts featuring David's classic question, "Is this real life?" And it's paying off: the DeVores have made nearly enough to cover David's (eventual) college education.
5. The Crazy Nastyass Honey Badger
Since January, over 2 million people have learned the story of The Crazy Nastyass Honey Badger. He's been featured on Urlesque and College Humor, and his whimsical narrator Randall was even recently asked to weigh in on the Oscars. Yet until now, we've been ignorant of both honey badgers and Randall's animals in general. We can't regret the error enough.
So we now present to you, for those of you who have never seen it (we won't tell), what is possibly the greatest nature film of all time. If you love it, and you will, you'll be pleased to learn that this is only one in a series of Randall's animal videos.
6. Rickroll
The trick goes like this: you are sent an e-mail or instant message with a link to something seemingly cool. But when you click, all you get is singer Rick Astley's 1987 video for "Never Gonna Give You Up." Huh? The bait and switch originated on the online forum 4Chan, when a user promised a video-game trailer and instead led readers to Astley's '80s-tastic track. The trick, dubbed Rickrolling, spread like wildfire in 2008; Astley, clearly in on the joke, even performed his signature song during the Macy's Thanksgiving Day Parade that year.
7. KANGAROO (REMI GAILLARD)
If you've never heard of Rémi Gaillard, he's this awesome French comedian who basically does whatever hilarious thing he wants. All of his videos are hilarious, but this one features him in a kangaroo suit, reeking havoc on anyone around.
8. Best Classroom April Fools Prank Ever
Could this be the greatest classroom April Fools prank ever? Warning: spoilers below, so watch the video first!
A lecturer in Aquinas College, in Michigan in the US, had been forcing students to broadcast any calls that they received on speakerphone for his whole class to hear. Obviously a little annoyed by this draconian tactic, one girl decides to get her own back on the most appropriate day of the year. She pretends to take a call from a pregnancy service, who tell her over the phone that she is expecting. The teacher understandably wants to backtrack and apologises immediately, looking embarrassed, but the conversation keeps going. When it ends, she says: "I've already decided what I'll name the baby. "Her first name will be April and her middle name... Fools." The teacher proceeds to go bright red as the class explodes with laughter. The wildly popular video has gained just over 53 million views at the time of writing.
9. Denver Guilty Dog
Her guilty grin and nervous wag almost too much for the Internet to handle and after 47 million views (and counting), Denver the Guilty Dog has become a household name. Since going viral in 2011, Denver has continued to capture the hearts of pet fanatics around the world. We never set out to make our beloved pet a viral sensation, but do our best to embrace the support we've received from her millions of fans. And while she lives at our house, Denver followers have been begging (pun intended!) to share in the joy of being part of her family. We've always maintained a very active social media presence, but we're excited to announce their new line of plush toys for pets + people so that you can bring Denver and Masey home with you too!
10. Dramatic Chipmunk
The clip lasts just 5 sec. but has been viewed more than 45 million times. All the video shows is a chipmunk turning its head quickly. But when dubbed with a high-drama score, the chipmunk looks as if he's just witnessed a sinister plot, or perhaps has been caught in the act himself. "Dramatic Chipmunk" is the kind of video you can watch over and over and still not get sick of it — the makings of a true YouTube classic.
11. Keyboard Cat
A tabby, dressed in blue, appears to play a tune on a keyboard. Seen on its own, it makes very little sense. But when a YouTube user found the footage and placed it at the end of another video, it spread like wildfire. "Play him off, Keyboard Cat" became a way to signal it was time to wrap it up after an awkward situation or slip-and-fall blooper. Keyboard Cat mashups add a touch more absurdity to already absurd situations, like a man falling off a treadmill orMiss Teen South Carolina flubbing her geography. Combine that with the Internet's penchant for cats, and a craze is born.
12. Sadie Doesn't Want Her Brother To Grow Up
Sadie doesn't want her brother to grow up and she stated crying . I hope little brother will protect his sister for life when he grows up. and I don't blame her for not wanting her baby brother to grow up. She has suddenly grasped the inexorable march of time and her own mortality. She also realizes that the inexorable march of time spares no one, including her innocent little brother. Sadie wails and rails against her fate, alternately kissing, hugging and almost smothering her brother, who looks up and gazes in an adoring yet confused way at his sister, then drools.
13. Funniest Game Show Answers of All Time
Seeing someone give a ridiculous response on a game show just makes watching it all the more entertaining. One of the best was the kid on "Jeopardy" whose "Final Jeopardy" answer was "Some guy in Normandy. But I just won $75,000!" Luckily, someone compiled the most hilarious game show answers throughout the years.
14. YouForgotBlueberries.com
At first glance, it does seem awful to laugh at the misfortune of this adorable little girl. But her sister's reaction at what happens and the overall main event of the video make it pretty darn difficult not to laugh.
15. Tight Pants
After watching this skit, you'll probably have the "Tight Pants" song stuck in your head all day. We have a feeling that's just what Jimmy, Will, and Christina wanted. Diabolical geniuses, all of them.