Top 3 eBook Converter Apps for eBook Reading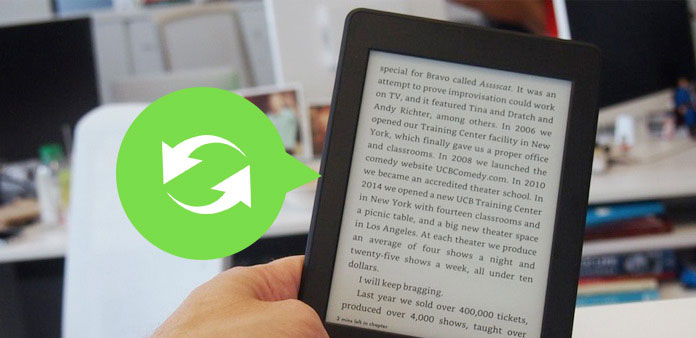 eBook Converter apps are able to convert text files and other formats to the eBook formats compatible with Kindle and other devices. I am one of enthusiasts for eBook reading. Sometimes when I downloaded the eBooks form online shop, but it fails to open on my e-readers. Thus, I need to convert the eBooks to some common formats like PDF. Moreover, it is essential to have an effective and powerful eBook converter when you have multiple devices to read eBooks. And here we have the reviews from which you can choose one or more you like to learn more details.
1. Calibre
Calibre is known as "The one stop solution for all your e-book needs." The eBook converter for Mac/Win/Linux allows you to do nearly everything and it takes things a step beyond normal e-book software.
Step 1
Select an eBook file
Click Add Books icon located in the top left-hand corner of the screen to display the relevant dialog box. Locate the eBook you want to make conversion and then click Open to add it to the library.
Step 2
Edit information of eBook
Edit the metadata for your e-book, such as its title, author, and publisher. It helps you organize those eBooks correctly. Of course you can skip this step if you think it is unnecessary to edit the information.
Step 3
Convert eBook to PDF
Choose the PDF format from the Output Format drop-down menu, and then click OK. Caliber begins the conversion, and the converted book will appear in the top right-hand corner of the interface.
2. Epubor Ultimate EBook Converter
Epubor Ultimate EBook Converter, a professional DRM eBook Converter to convert DRM protected Kindle eBooks, Nook eBooks, Sony eBooks etc. to common eBook formats for Mac and Windows users.
1. When you have purchased Amazon Kindle eBooks, Nook eBooks and Sony eBooks, Kobo eBooks, etc, it can help you remove DRM protection from any eBooks.
2. The eBook Converter for PC supports almost all the formats, including EPUB, PDF, AZW, AZW1, AZW3, AZW4, Mobi, PRC, TPZ, Topaz, TXT and HTML. And it can convert eBooks to PDF, ePub, MOBI and other formats.
3. It not only you can manage your eBook library, but also edit the metadata for your e-book, such as its title, author, and publisher, which can help you organize those eBooks correctly.
4. The library search function will help you find the book you want with relative information like a single word in title, author, publisher, or even introduction instantly.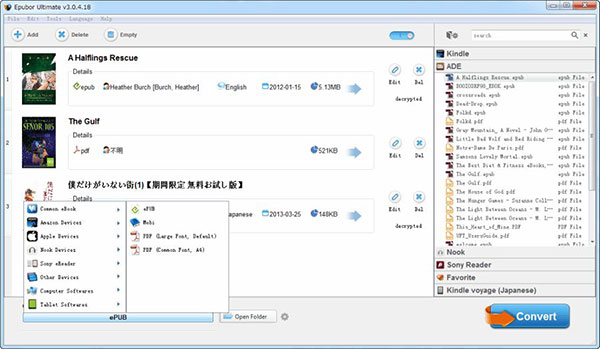 How to transfer eBook to PDF with Epubor
Remember the trial version of ePubor eBook Converter Ultimate can only convert 4 pages for one eBook. So you'd better buy a license code to unlock the limitation in order to convert eBooks to PDF files.
Step 1
Import eBooks to the program
Click Add button to add books into the program. The program supports multiple eBook formats, including PDF, Mobi and more others.
Step 2
Step 2: Select the output format as PDF
Find Output format to choose the PDF as your output format.
Step 3
Convert eBook format to PDF.
And then you can click Convert button to start conversion. In the process of making transformation, it will help you remove the DRM.
3. Online-convert.com
If someone asks me what kind of eBook converters I like to use, my answer must be online converter. Yes, it is online-convert.com. I believe many people are inclined to choose online converter because of its convenience, effective, simple-use. And online-converter is one of the best.
1. This free online file converter offer eBook converter, audio converter, video converter, image converter, and much more.
2. Moreover, it supports more than 20 input formats. That's to say, almost all the conversion about eBooks can be finished in it.
3. When making conversion, you just need to log into the online-converter.com. Then you will find all the types of conversion are clearly listed on the interface.
4. About its features, fast and easy may be the main words to descript it. And let's go straight to the steps on how to convert eBooks to PDF format.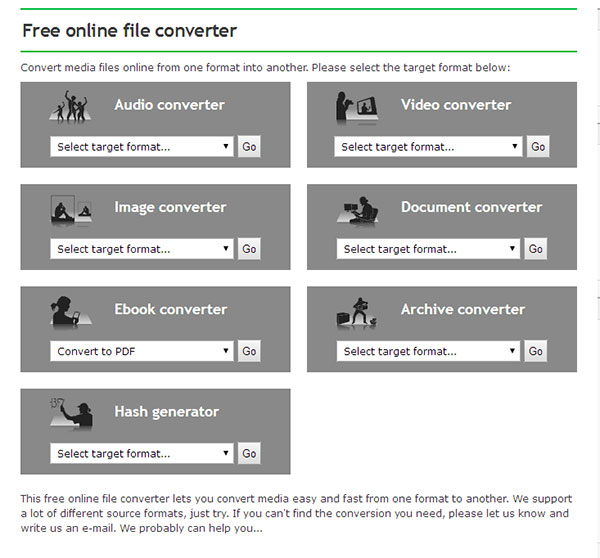 How to convert eBooks to PDF format
In the home page, you will find 7 kinds of file converters. And we choose eBook converter. Then you will find you should choose the target format. And we choose Convert to PDF. Click Go button. It will turn to another page.
Step 1
Select the eBook file
In this page, first of all, you should input the eBook files. Upload your document directly by click Add File icon or enter URL of the file or select a file from your cloud storage for a PDF conversion. It depends on you.
Step 2
Optional settings
Edit the information of eBook such as eBook title, eBook reader, adding border, and so on.
Step 3
Make conversion
Click Convert File to finish transformation from eBook to PDF.
These three outstanding eBook converter apps are the most popular among lot of converters. Their high performance and simple operation make them stand out in those similar products. And I believe after the brief introduction of each product, you will have a deep understanding. At last, I hope they can help you in your eBook reading.