Top 10 YouTube Downloader Apps Show How to Download YouTube Videos to iPhone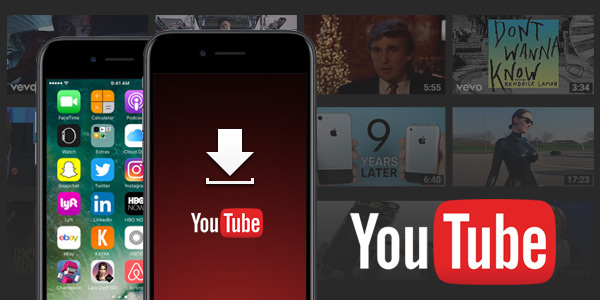 How to download YouTube videos to iPhone? Maybe many iPhone users have the trouble of downloading videos from YouTube to iPhone. There are multiple software tools and website services to help PC/Mac users to download and save YouTube videos, now we just want to have one or several user-friendly Apps of iPhone YouTube Downloader. Why? Sometimes we need to save those favorite videos to iPhone like latest iPhone 7/6s for watching later offline when and wherever we go. Generally, these Apps are effective and easy to use, and anyone can start downloading videos immediately and see positive results. Now here top 15 apps are enlisted to download YouTube videos on your iPhone/iPad.
1. iDownloader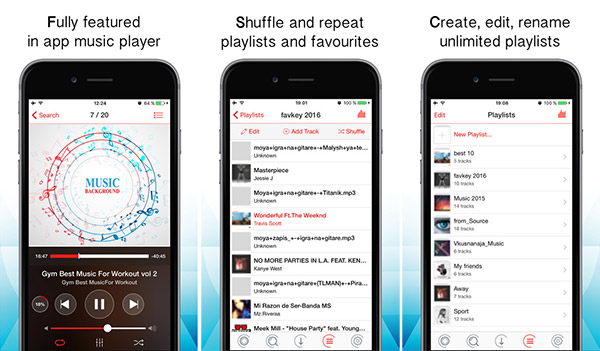 iDownloader is a Free App which can help you download YouTube music videos on iPhone. There is also an in-app media player that supports music and video playlists. It is your ultimate download manager on iPhone, iPad and iPod Touch, with full functional Music Player, Video Player, Photo Viewer, PDF Viewer and Web Browser inside. You can browse, search, and listen unlimited free music on your iPhone/iPad/iPod. View the videos on your iPhone and transfer them to your computer. Besides, it comes with a document viewer and book reader that supports PDF, DOC, PPT, TXT and other files.
2. Video Downloader Pro +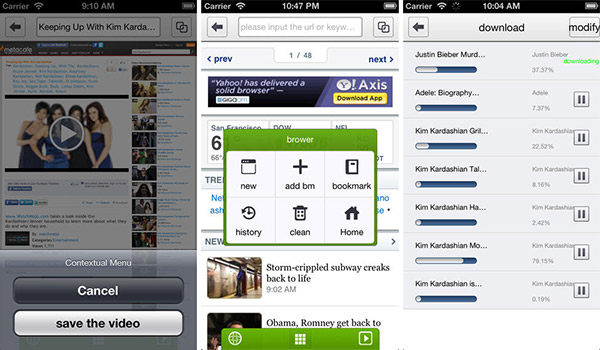 Video Downloader Pro + as a safe Video Downloader App on iPhone/iPad, offers full password protection to avoid anyone accessing your private collection. The popular function is to download your favorite videos from YouTube and convert them to any format. It is more than just an average app for getting the videos that you want. It also offers the convenience and the connectivity that you crave.
3. Better Tube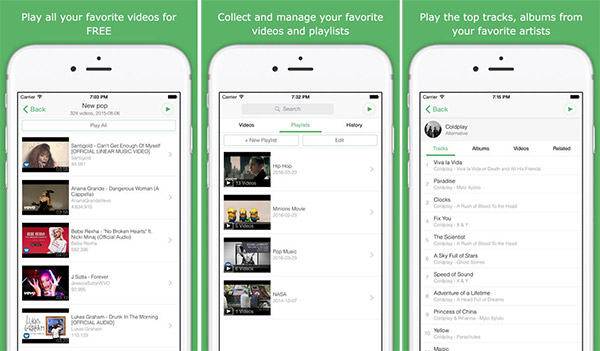 Better Tube, another alternative YouTube App, has the ability to download and save videos to iPhone/iPad for watching later. It can play music in background, feel free to turn the screen off and enjoy the continued playback of the music. You can also add as many videos as you want into the queue and play them one by one and re-arrange the videos while playing. it is totally free for users.
4. Instatube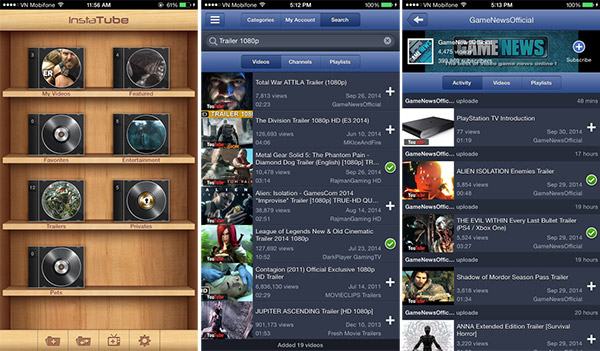 Instatube is the professional Video Player for YouTube, Vimeo and Dailymotion. It is not only an iPhone YouTube Video Player App, but also is an iPhone YouTube Downloader App. As YouTube for iPhone can't play a video in the background and cache videos for watching offline at a later time. Instatube solves the problem which offering the functions of caching YouTube videos for watch offline and letting you play videos in the background. Besides, it can play 720p and 1080p HD video, and support YouTube account synchronization, video search, and more.
5. Ultra Downloader Plus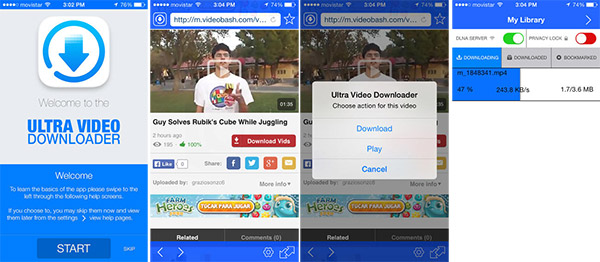 Ultra Downloader Plus is the user-friendly YouTube Video Downloader App for iPhone, which allows you to download and play videos from your favorite video-sharing websites like YouTube, Vimeo, Dailymotion and more. Thus you can watch the videos without an internet connection in full-screen on iPhone/iPad/iPod. It enables you to download multiple 720p and 1080p HD videos simultaneously, and bookmark all your favorite video sites at will.
6. ProTube for YouTube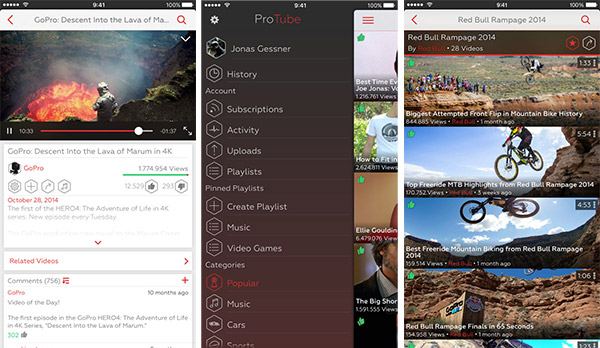 ProTube for YouTube is the full-featured and ultimate YouTube Playback App, which offers the video quality from 144p-1080p, and even 4K resolution. It provides the best YouTube experience for iPhone and iPad, beating the official YouTube App easily. ProTube has the ability to show new uploads from your subscriptions are exclusive feature that no other 3rd party app on the App Store offers. It blocks pop-ups and advertisements and allows you to share your videos, playlists and subscriptions and has a powerful search feature to browse YouTube.
7. MyVid Video Downloader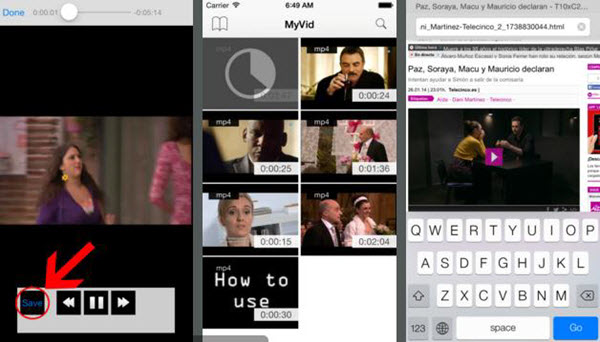 MyVid is one of the popular Free YouTube Video Downloader App for iOS device like iPhone 7/6s/6, iPad and iPod. It makes the steps so easy to download videos from YouTube to any of your Apple devices, just copying the url video and paste it. While the video is being played, press the Save button. Besides, it has more features to improve user experience, such as renaming the videos and supporting for international keyboards. Overall, MyVid has quite a few benefits and features that you want. It is one of the best Apps out there for a good reason.
8. Titan Downloader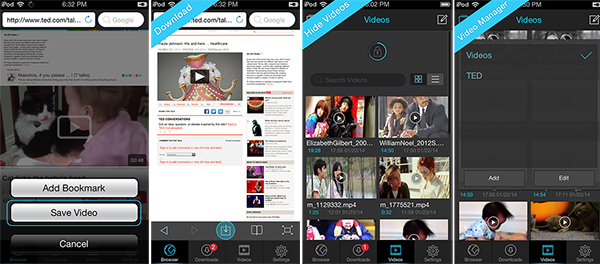 Titan Downloader for iPhone is the Video Manager, Video Downloader and Video Player, which has the ability to access and download video from Websites like YouTube on iPhone. Titan Downloader operates by utilizing an in-app web browser to surf to YouTube, or you can browse videos by utilizing the URLs built into the bookmarks tab. It owns very fast download speed and user-friendly experience.
9. Free Video Downloader Plus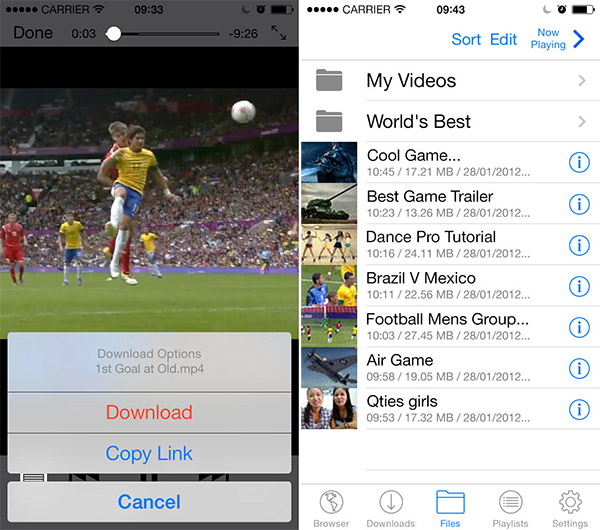 Free Video Download Plus is the easy to use iPhone YouTube Video Downloader App, which enables you to download videos from any popular websites like YouTube, Dailymotion, Facebook, VEVO and more. Besides, it has the features like playing videos on a playlist, searching your videos, bookmarking website, and renaming and deleting files at will.
10. Video Download Browser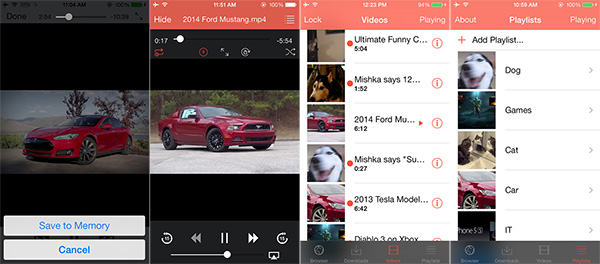 Video Download Browser has the ability to download videos from any website especially YouTube, Facebook, and Dailymotion to watch later without internet connection. It supports standard video formats like MP4, MOV, M4V and even m3u8 video downloading. Besides, this iOS App has the function of background video playing, which is perfect for music videos. The download speed is very fast and you will like it.