Best Websites to Download YouTube Videos for Free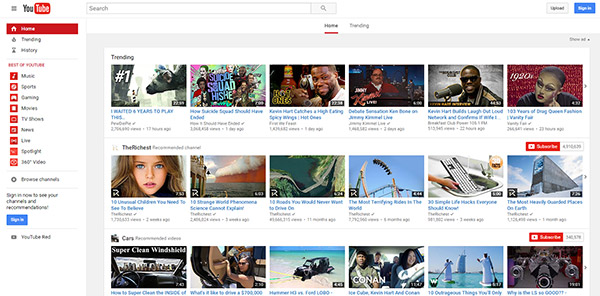 As the most popular video sharing website in the world, YouTube provides users with millions of videos, movies, TV shows, and others. You can upload, share the videos, but has the limited to download videos as many of videos can't be downloaded directly. How can we download YouTube video we preferred in an easy? Now more and more online sites help users to download YouTube videos just simply copying and pasting the video URLs. Which website is the best for you to download videos from YouTube? Here we will show top 10 best free sites to download YouTube videos and you can select the favorite one.
1. Clip Converter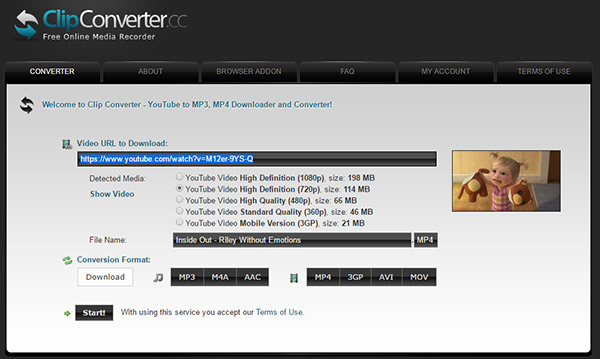 Clip Converter is simple to use online website to provide downloading and converting YouTube videos for free. You can download YouTube videos in HD, MP4, 3GP and even audio formats like MP3, AAC too. The interface of Clip Converter is nice to look at, and offers only the options you need to use at any given moment, a fact which makes it pleasantly uncluttered. After pasting your YouTube URL, choose a download quality, name your file, and choose which format you want to have it in. Clip Converter makes it very clear what the final file size is going to be.
2. KeepVid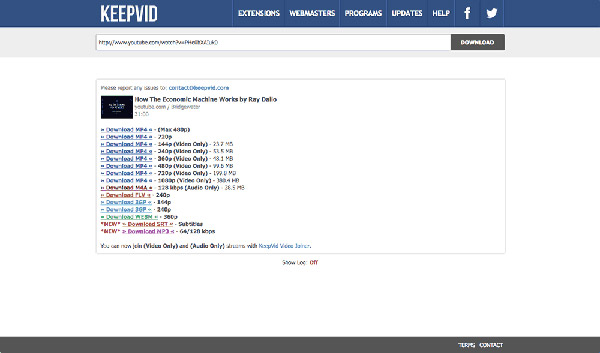 KeepVid is a web service, which allows you to free download videos from video sharing sites like YouTube, DailyMotion, Vimeo, Google Video, Facebook, Metacafe, Twitch.Tv, and others. Enter the YouTube video URL and click the Download button, KeepVid recognizes the video and presents a thumbnail, the video's title, and the video's length. You can't change file name or adjust quality on KeepVid and all you can do is choose the format you want like MP4, WebM, M4A and MP3.
3. YouTubeMP3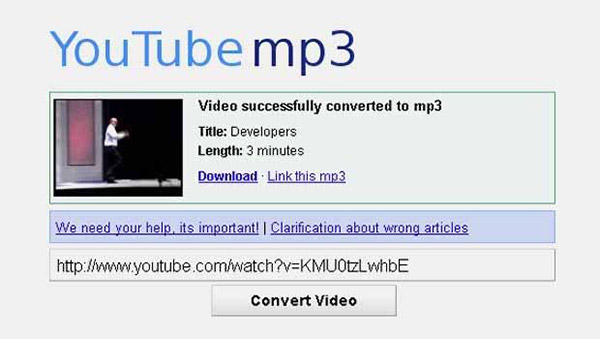 YouTubeMP3 is one of the easiest online site for converting videos to MP3 format. It is totally free to download YouTube videos and convert them to MP3 format. The only thing you need is a YouTube URL. YouTubeMP3 is compatible with any platform including Mac, a Linux PC or even an iPhone. It provides high quality mode with a bitrate of at least 128 kBit/s.
4. VidToMP3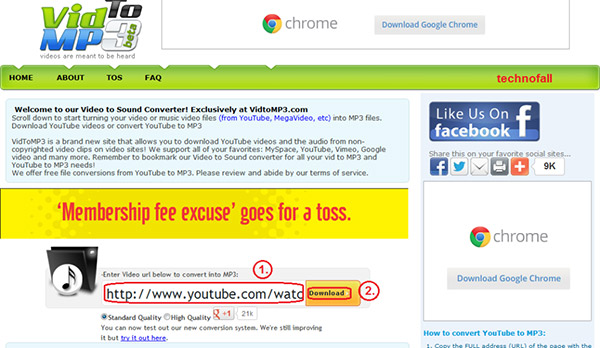 VidToMP3 is a brand new site that allows you to download videos and the audio from non-copyrighted video clips on video sites such as YouTube, Dailymotion, Metacafe, Vimeo, Google, Veoh, Myspace, and more. It enables the fast speed in downloading and converting YouTube videos and music. With the straightforward and easy-to-use interface, all the downloading process would be relaxed.
5. Zamzar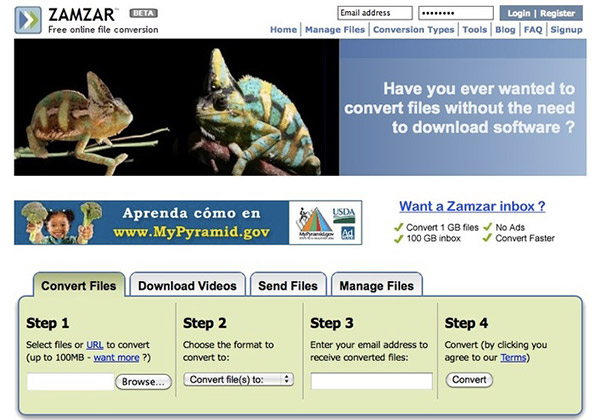 Zamzar is easy to use but powerful, which can download videos from YouTube, Metacafe, Dailymotion and so on as a professional YouTube Downloader service. Besides, it supports a variety of file formats including WPD (Wordperfect Document), RA (RealMedia Streaming Media), FLV (Flash), and DOCX (Microsoft Office Word 2007). Zamzar makes working with these and many other formats as easy as a few mouse clicks. Simply enter the link to your file into the "URL box" in "Step 1" on the URL conversion page, or use the Zamzar web browser button to make converting even easier.
6. SaveFrom.net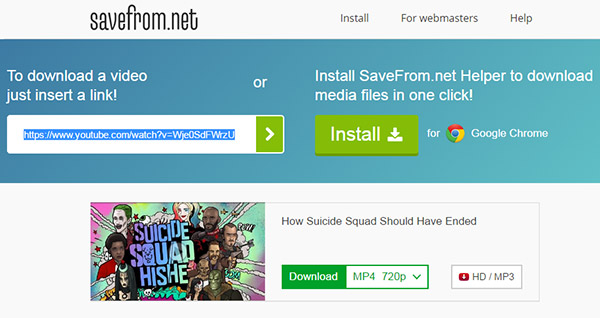 SaveFrom.net, one of those marked online Free YouTube Download Service providers, is best known for its online YouTube Downloader. SaveFrom.net helps to download from more than 40+ websites, including Youtube, Vimeo, and Dailymotion. SaveFrom.net YouTube Downloader can download any YouTube movie music videos in FLV, MP4, 3PG and so on formats in different resolution, 4K, 1080p, 720p or lower one just a few clicks. However, SaveFrom.net cannot be installed in Google Chrome browse unless installing Opera in advance or alter other browses like Firefox.
7. SaveVid

SaveVid, the free YouTube Video Downloader online sites, helps you download videos from YouTube, Metacafe, Dailymotion, Vimeo, eHow, and others. on SaveVid, all you need to do is enter video URL and you will have its download link. It supports FLV, MOV, WMV, MPG and AVI output formats. Also you can choose the quality of the video that you want to download.
8. DownVids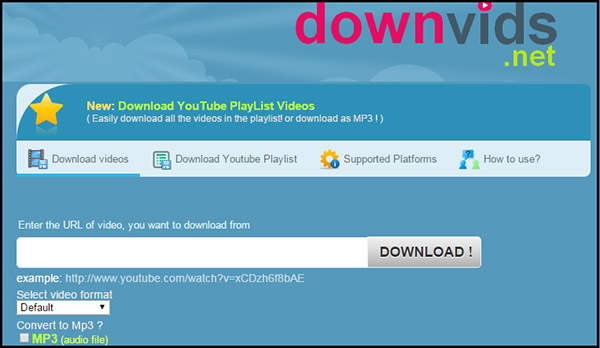 DownVids is one of the popular website, which has the ability to download YouTube videos and Facebook videos for free. Like other common video downloader sites, it enables you to copy and paste the YouTube video URL in order to start downloading. DownVids sites can download and convert YouTube videos to MP3 and MP4 in several qualities. In addition if you download a YouTube playlist url, DownVids gives you a list of all the videos of the playlist and an option to download every one of them.
9. Video Grabber

Video Grabber, the online website service, has the ability to download videos from YouTube, Vimeo, Dailymotion, Tubechop and other online video sites. After a single click, the video is shown, along with all the available formats such as MP4, FLV, 3GP, WMV, WEBM, MP3, etc. Then, all you need to do is to download videos in your preferred format. It lets you effortlessly convert any files into other desired file formats with no limitations and quality loss. With it, you can prepare the videos or audio for the web, DVD player or the editor like QuickTime.
10. SaveMedia

SaveMedia is the free online website service to let users download YouTube videos in an easy way. It supports HD videos and convert YouTube videos to MP3, WebM audio and video file format with a single click. You just need to copy and paste a URL into the form on its website and click Search/Download button to save the videos to computer. Besides, it is compatible with mobile phones like iOS and Android device.