Best Top Free YouTube Downloaders for PC/Mac/Mobile to Download Videos for Free
YouTube, the most popular and great video-sharing website, allows users to upload, view, rate, share, and comment on videos. It's convenient to view any kind of video clips but limited to download videos for offline watch on YouTube. Many users want to download or save their favorite YouTube videos to their computer or mobile device. You might want to watch them offline, or convert the audio to an MP3 for entertainment while driving. Sometimes, you might want to watch a video, only to find yourself thwarted by a lack of Wi-Fi or a restrictive data plan. Have no fear, with the right YouTube Video Downloader you can save YouTube videos for offline viewing.
How to download YouTube videos for Free? We will show the best top Free YouTube Downloaders to download YouTube videos for offline watching on your Windows, Mac, Android phone or tablet, iPhone or iPad.
Part 1: Free YouTube Downloader Software for Windows/Mac
1. YTD Video Downloader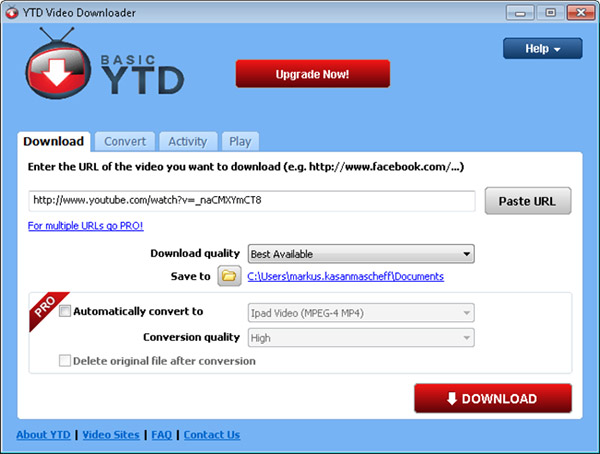 YTD Video Downloader Free version, the easy to use and friendly software, has the ability to free download YouTube videos, Facebook videos, Vimeo videos, and 60+ other popular website videos. You are allowed to select the video resolution for downloading such as 1080p Full HD, 720p HD, 480p standard and others. It will also convert video files to other popular video formats like WMV, AVI, MP3, iPhone MP4, iPad MP4, iPod MOV, and more. additionally, It can manage downloads and conversions on the fly and automatic resume/retry when the internet connection fails.
2. aTube Catcher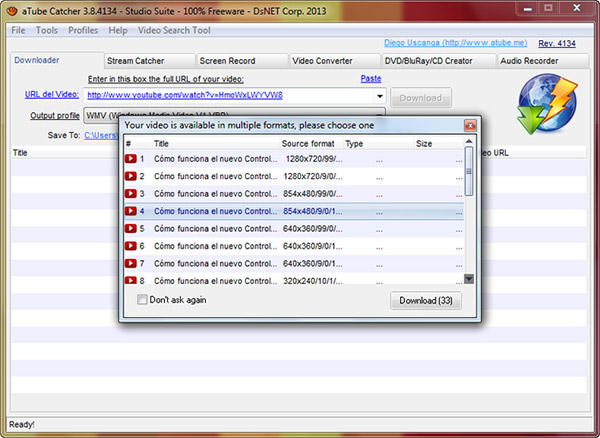 aTube Catcher, the Free YouTube Downloader software, makes downloading videos easy from various video sharing sites, like YouTube, Dailymotion, MySpace, Metcafe, Yahoo, Spike, RTVE, Megarotic, and Glob, etc. And it also allows you to convert downloaded YouTube videos to various popular video formats, including MP4, MOV, AVI, WMV, FLV, XVID, 3GP, MP3, WMA, FLAC and more. aTube Catcher works for the PSP, iPad, iPod, and the iPhone, including most MP4 players, GPS devices, Android devices, mobile phones, DVD and VCD players, and MP3 players.
3. Freemake Video Downloader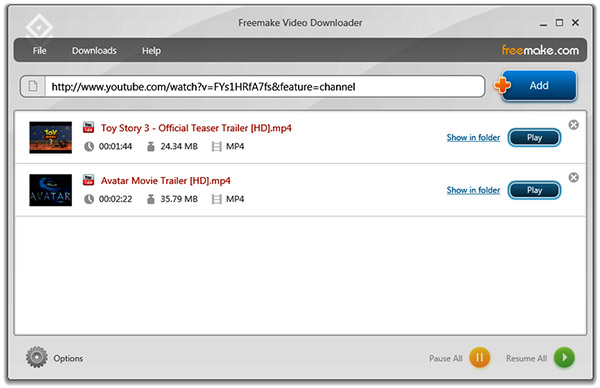 Freemake Video Downloader is a simple tool to help you download online videos free from Youtube, Facebook, Vevo, Hulu, Dailymotion, Vimeo, Vkontakte, LiveLeak, Flickr, Veoh, plus more than 10,000 other websites. It is fast to grab online videos in any format available, extract original audio tracks without quality loss, or convert videos to a certain video/audio format like AVI, WMV, MP3, MKV, or for portable devices, such as iPod, iPhone, iPad, PSP and Android phone. Download heavy 4K, Full HD, HD videos fast & easily. It will show video size before download. Save up to 500 videos at once. Other features include thumbnail previews, pause/resume of downloads and support for site logins.
4. DLNow Video Downloader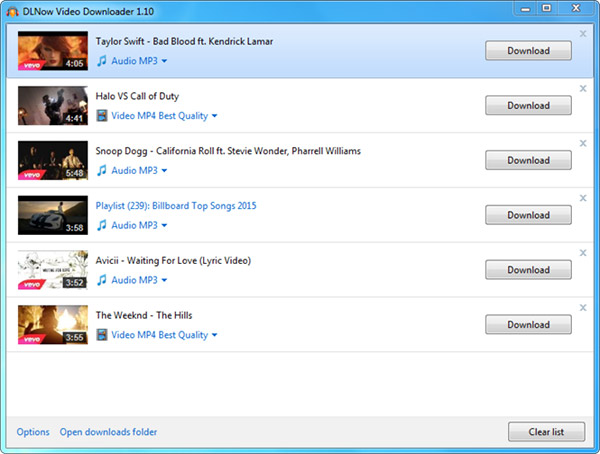 DLNow Video Downloader is a free universal YouTube Downloader software. It is highly intuitive and allows you to simply download Ultra HD 4K videos, mp3, playlists and live streams for free on 600+ sites including the most popular ones: YouTube, Facebook, Dailymotion, Vimeo, Vine, BBC, Yahoo, Twitch, ESPN, Niconico, Mixcloud and more. You can adjust the quality of the output files that range from low settings such as 240p or 360p to 720p and even 1080p HD values. DLNow is totally free, not limited in time and does not have any locked feature. Video output files take on the MP4 format while audios are saved as MP3s.
5. Free YouTube Download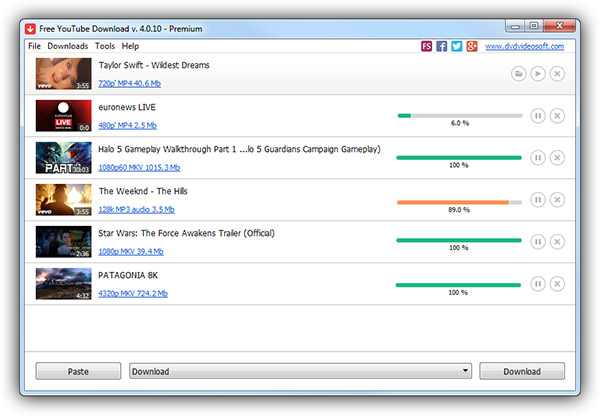 Free YouTube Download is the most popular free software to download YouTube videos such as single videos as well as whole collections such as complete playlists and show lists, user channels, videos from personal playlists (History, Liked, Favourites, and Watch later), and videos from different categories (Movies, Music, YouTube charts). It has the ability to convert downloaded YouTube videos to AVI, MP4, and WMV in original YouTube quality. Thus you can watch them whenever you want.
Part 2: Free YouTube Downloader Online Web Services
1. Clip Converter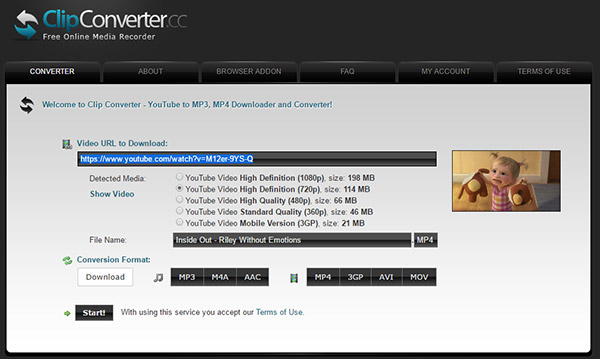 Clip Converter is an free and easy-to-use Web service for downloading and converting YouTube videos by pasting a URL. It enables you to download and convert nearly any videos and audios from YouTube (HQ &HD), My Space, Vimeo, Metacafe, Dailymotion, MyVideo and many more. It lets you convert any multimedia video to MP3, M4V, AAC, MP4, 3GP, AVI and MOV formats, which is absolutely not enough for users to view videos on various kinds of devices. You can play, share them with friends or set as ringtones. It's very easy to download and convert only a section of the video.
2. SaveFromNet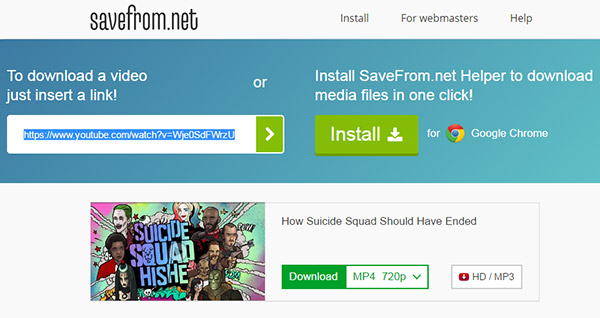 SaveFromNet, one of those marked online Free YouTube Download Service providers, is best known for its online YouTube Downloader. SaveFromNet helps to download from more than 40+ websites, including Youtube, Vimeo, Dailymotion, rapidshare. SaveFromNet YouTube Downloader can download any YouTube movie music videos in FLV, MP4, 3PG and so on formats in different resolution, 4K, 1080p, 720p or lower one just a few clicks. However, SaveFromNet cannot be installed in Google Chrome browse unless installing Opera in advance or alter other browses like Firefox.
3. KeepVid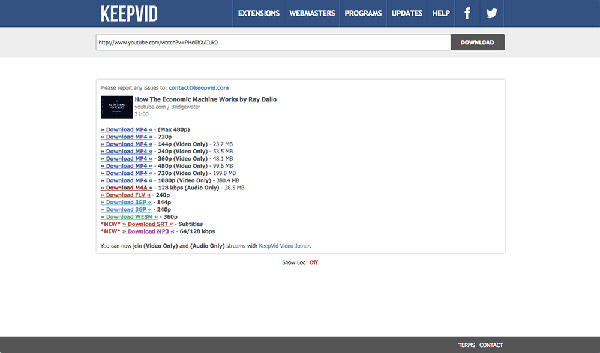 KeepVid is quite simple to use that allows you to download videos from sites like YouTube, DailyMotion, Vimeo, Google Video, Facebook, Metacafe, Twitch.Tv, and many more. Just enter the video URL and click the Download button. You will then be shown the various formats the video can be downloaded in, along with their download links. Click on the appropriate link and the video will get downloaded. It also has a KeepVid program you can download for Windows but you need to buy a license to activate its use.
4. VideoGrabby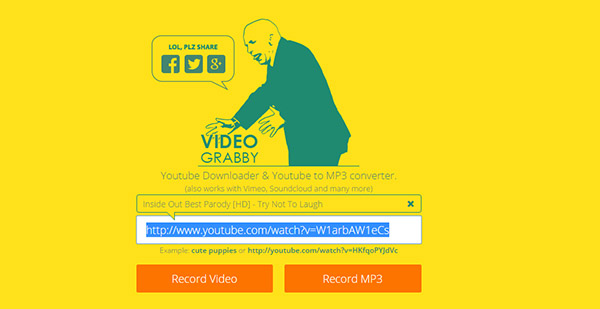 VideoGrabby is a free YouTube Downloader web app for grabbing the videos from the video providing platforms right into your hard drive so that you can watch them later, edit them, transfer them to your mobile device, etc. You are only required to provide the link of the video to the address bar of the VideoGrabber.net and hit enter. It also allows you to convert a youtube video into MP3 format and also supports High Quality mode. VideoGrabby was made with simplicity and usability in mind: You don't need to be a guru to know how to download a video on YouTube. This web app should not be used with copyrighted videos.
5. VDYoutube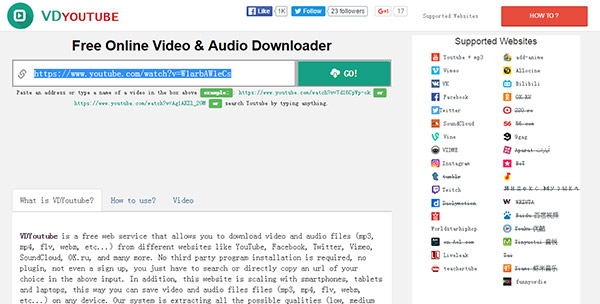 VDYoutube is a free web service, which has the ability to download video and audio files from different websites like YouTube, Facebook, Twitter, Vimeo, Twitch.Tv , SoundCloud, OK.ru, and many more. No third party program installation is required, no plug-in, not even a sign up, all you need is the URL of the page that has the video you want to download. Enter it in the textbox and simply click 'Download'. VDYoutube will then fetch download links in all possible formats that the particular site provides. Besides, this website is scaling with mobile phones, tablets and laptops, this way you can save video and audio files like MP3, MP4, FLV, WebM, and more on any device.
Part 3: Free YouTube Downloader App for Android/iOS Devices
1. TubeMate YouTube Downloader for Android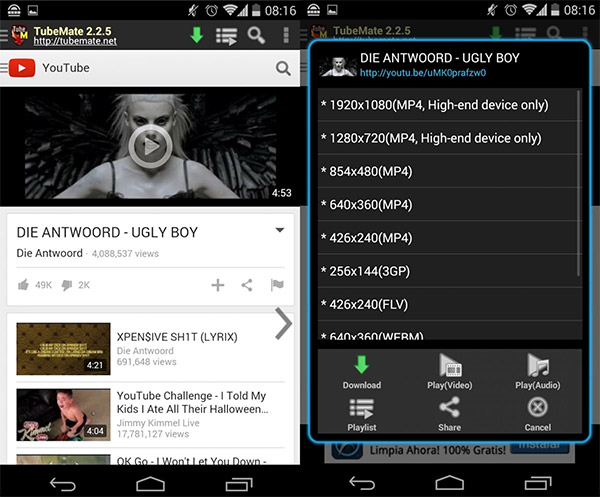 TubeMate YouTube Downloader is an app for downloading YouTube videos directly to your Android phone so you can watch them offline when and where you go. It enables you to quickly access, search, share, and download YouTube videos. TubeMate YouTube Downloader is really easy to use, you just have to look for any video in the search bar of the app and press the green arrow located on the bottom part of the screen. It normally has many different resolution options adapted to the different Android devices compatible with the application.
2. Videoder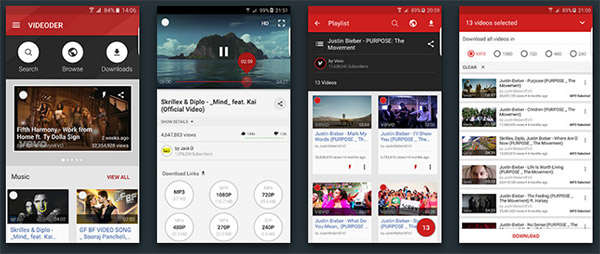 Videoder is an YouTube Music & Video download App designed to support android platform. This app allows you to search for any type of video by using a search engine provided by this app. There are many people who are fond of downloading videos from internet and for this they surf many websites. This App provides you with different formats related to the video you want to download. Many popular and supported formats such as, MP4, 3GP, FLV and even HD are supported by this app. The best part of this downloader is that it lets you download any shared video in just 2 Steps, Just search for the video, and download it from the results list.
3. Tubex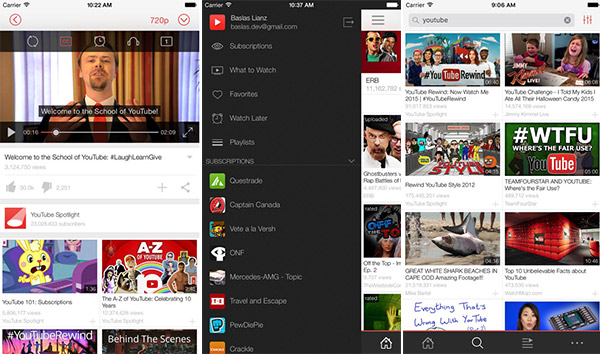 TubeX is a YouTube offline App for iOS and Android device, which allows quick and easy download YouTube video and watch offline on mobile device. It allows you to download music videos from YouTube and convert them to MP3 files, and this app provides very fast downloading speed. TubeX provides download options in multiple formats. There are various available formats like 3GP, MP3, MP4, and FLV. It downloads multiple videos or music at the same time without interruption. Indeed, this YouTube offline app can free download any videos from YouTube even the internet is slow.
4. McTube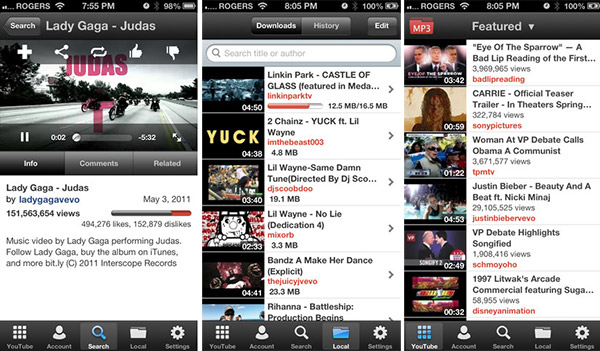 McTube is a trusted and excellent Free App for downloading YouTube videos on iOS device like iPhone and iPad. It offers you different video quality depending on the availability out there. The YouTube app that should have been. It includes almost all the features the Youtube website has. You can also cache videos in local and watch them off line. The quality of the video can change, making it easier to choose something that fits you. On top of this, you have intuitive and intelligent controls on a clean and functional design. It is a straightforward, effective downloading app that anyone can enjoy.
5. Free Video Downloader Plus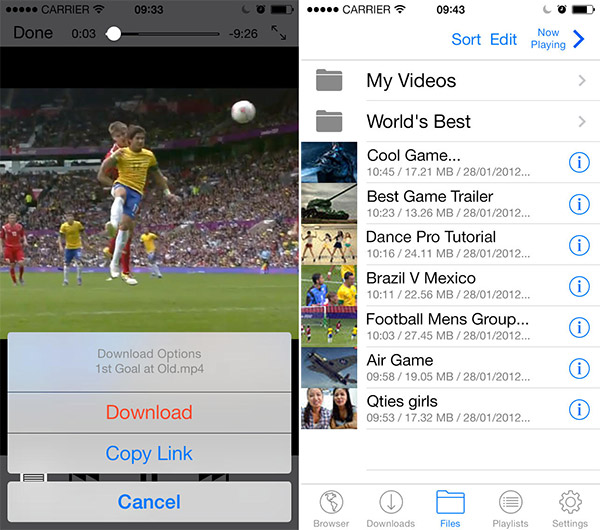 Free Video Downloader Plus is one of the top video downloaders on the market for iPhone and iPad. with a slick fully integrated web browser, this App is an automatic choice for iPhone fans who love watching movies and video clips on their devices. It supports standard formats such as MP4, MOV, M4V, 3GP, MPEG. You can also bookmark the site you prefer and the sort facility is excellent. It has tools and features available to make the process simpler and, as a whole, better. If you want to download a long list of videos to keep, you can do so with this.