How to Watch Apple TV Movies and TV Shows for Free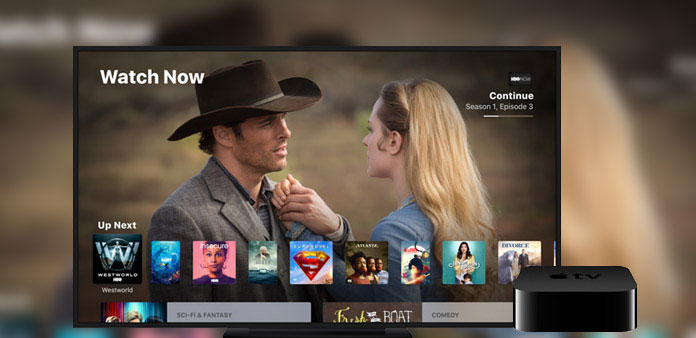 Instead of going out for the latest movies on cinema, you can lie on the sofa to enjoy Apple TV movies with fruits and snacks. What is more important, instead of watch the latest movies, you can find the desired movies on Apple TV with ease by surfing the Internet or iTunes. Here are the 4 different methods to watch movies and TV Shows for free you should know.
Part 1: Stream Apple TV Movies via PC
If you need to upload movies from Mac or iOS device to Apple TV, you only have to upload the file to iTunes library with AirPlay. As for Windows PC and other Android devices, you can also watch Apple TV movies with the following steps.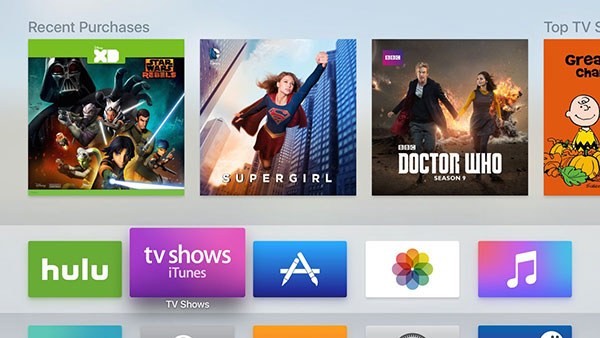 Step 1
Set up Home Sharing
Home Sharing can help you access content from your iTunes library on other devices. Go to iTunes and choose File > Home Sharing > Turn on Home Sharing. Enter your Apple ID and password, and iTunes will be ready to serve up audio and video to other Apple devices.
Step 2
Stream movies with Home Sharing
Select computer on the Apple TV's home screen then choose a library where you can browse the different types of movies in your shared library.
Step 3
Watch movies on Apple TV
Choose the movies you want to play. If you don't have all of these media kinds in your iTunes library, the Apple TV will only display those available.
Part 2: Watch free Apple TV Movies from App
Except for streaming Apple TV, you can also down the Apple TV movies free from some applications. Here are the top 5 applications enable you download the free movies from public domain. Just check the chart below to learn more detail about the different Apple TV movies types.
| Apple Name | Apple TV Movies |
| --- | --- |
| Rewinder | It claims to be the largest library of free films, which includes dated and classic movies and hundreds of short documentaries. You'll find Charlie Chaplin, Buster Keaton, Harold Lloyd, Three Stooges, Frank Sinatra, and many more. |
| Crackle | Compared to the other free movies application, Crackle provides more recent Apple TV movies that are available for a set period only, such as james bond spectre. The movies have many Ads, which is the tradeoff for free content. |
| Viki | Viki has a large collection of International movies and TV shows, such as Korea, China, Japan, India and the United States. The free Apple TV application is famous for the TV shows for the foreign countries. |
| Viewster | As for the Anime movies, many of the movies and TV shows are independent or foreign-language originals that haven't had a theatrical release or haven't been shown on regular TV channels from the Apple TV movies app. |
| Tubi TV | If you need to get the hottest Apple TV movies as the one you got from cinema, you might watch Tubi TV instead. The company behind the app is able to do this by monetizing with commercial interruptions. |
Part 3: Watch Amazon Prime Video on Apple TV
If you are an apple user, the first thing you should do is downloading and installing Amazon's Prime Instant Video app that you can find on the App store. After signing in with your Amazon ID, you can browse, watch and rent the movies you like.
Step 1
If you want to watch those movies on Apple TV, you need to use AirPlay. First of all, ensure your iOS device is on the same Wi-Fi network as the Apple TV. Then launch the Prime Instant Video app and log in. Next you are able to choose the movie you can to watch and press play button.
Step 2
Access Control Center and then tap the AirPlay button (an upward pointing triangle with a rectangle above it looks like a television).
Step 3
Choose the Apple TV you want to stream the movie and tap the name in the dialog box. Then the movie will be played on Apple TV.
Part 4: Remove DRM of Apple TV Movies for Rent
If you have already rented a movie from iTunes, it will be stored in iCloud for all the Apple devices. But you only have 24 hours to finish watching them before the Apple TV movies for rent expired. Learn how to remove DRM and watch converted movie can benefit you a lot. Tipard Video Converter Ultimate should be the right program for you.
Step 1
Load DVD or add video files of your rental movies
After renting movies from iTunes, click the Load Disc button or Add File button to load DVD or movie files.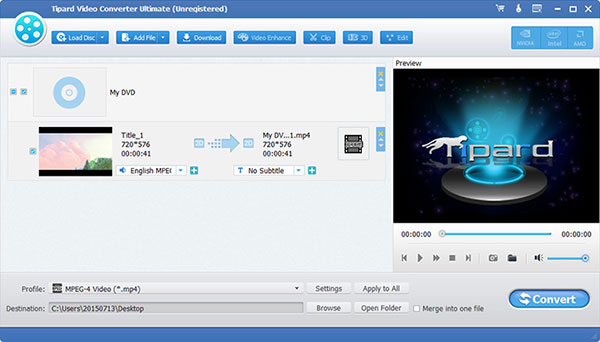 Step 2
Choose the output format
Open it and select the rental movie and click the Profile button. You can select the format you want in the drop-down menu. Use Apply to All button to convert all the imported video files to the same format. Or you can choose different formats.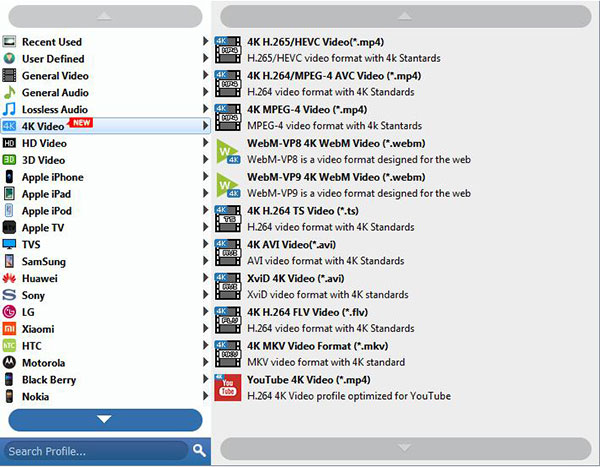 Step 3
Start removing DRM from rented movie
Click the Convert button to start the process. And after finishing, you can stream the converted movie to your mobile phone, TV, etc.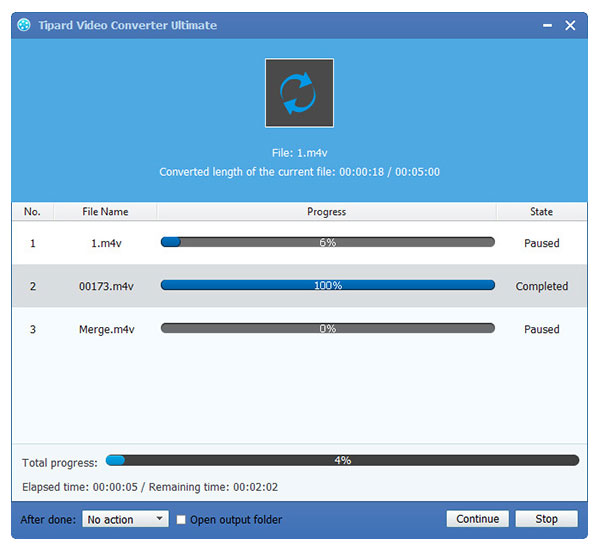 Step 4
Stream movies to Apple TV
The specific steps are the same as "Watch iTunes Movies on Apple TV", and you can follow it.
Tipard Video Converter Ultimate is a versatile program, which is also able to turn other formats into the Apple TV movie compatible formats, such as watching rented movies on your mobile phone, converting any video to MP4, WMV, AVI, MP3 and more. Thus, it will bring you a lot of convenience. And there are some simple introductions.
Conclusion
When you wanna to get more free Apple TV movies, you can learn more detail about the different methods to obtain these movies. The listed programs just provide the dated classic movies from the latest ones as the cinema. If you have already purchased the rented movies, you can also remove the DRM protection and watch the Apple TV movies offline. Just share more detail about your problem if you still have any query about getting the free movies for Apple TV.