How to Use Vimeo Downloaders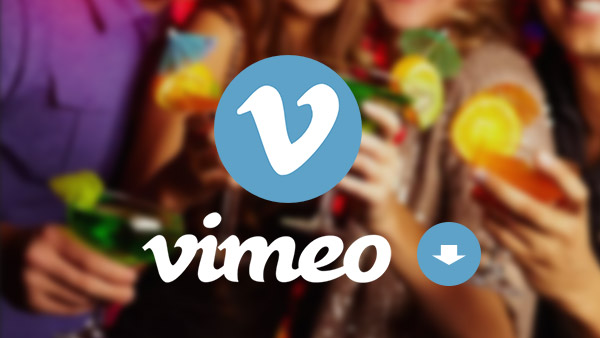 If you are searching for Vimeo downloader, that means you want to save some videos from Vimeo to computer. Vimeo is a popular video streaming websites. Unlike other video sharing websites, Vimeo supports to post HD videos. And users could customize the size to play the videos. Although it only allows every user to upload 500MB content a month for free, there is no size limit on a certain video clip. After uploaded, your videos will not be converted to FLV files, which is a compression video format. Vimeo could read many media formats, including AVI, M4V, MOV, MP4, MPEG, 3GP and so on. Moreover, Vimeo will add watermarks on your videos. That is good news to Vimeo downloaders. Just check more detail about the best solution to download Vimeo videos with ease.
1. Vimeo downloader for Windows
There is lots of video downloading programs available on Windows. But if you want to download high quality videos, you need an excellent tool. Tipard Screen Capture should be your best choice. The biggest advantage of Screen Capture is to download 100% original quality videos and save them as HD videos or 4K videos. So Screen Capture seems to the best Vimeo downloader for Windows users. And it is easy to use.
How to download Vimeo with Screen Capture
1

: Find out the video you'd like to download on Vimeo website.

2

: Launch Screen Capture and customize the record size depending on the video. Screen Capture offers three recording size options, including full screen, custom size and dimensions value. If you play the video in full screen mode, select Full screen in SelectRecording Area. Otherwise, choose Custom and move the control points to fit the video player.

3

: Before recording, you have to set the input sources. Screen Capture supports to capture sound from system and microphone. When recording Vimeo videos, we need to enable System Audio and disable Microph Audio at the same time.

4

: If you need to let this Vimeo downloader to record video automatically, you can set Duration according to the length of the video. When the video over, Screen Capture will stop.

5

: After settings, click on recording button to start downloading. Once video recorded, click on Save to save the recorded video to your computer as video format.
2. Save Vimeo videos on Mac computer
Video recorder is not the only way to download Vimeo videos quickly. Some media players also have the ability to grab videos from websites, like Elmedia Player PRO. You can use it to play and download anything, including Vimeo HD videos. As a player, Elmedia Player PRO could read various media formats, like FLV, SWF, AVI, MOV, MP4, MP3, DAT, M4V, MKV and so on. And all these videos could be downloaded to your computer and watch offline.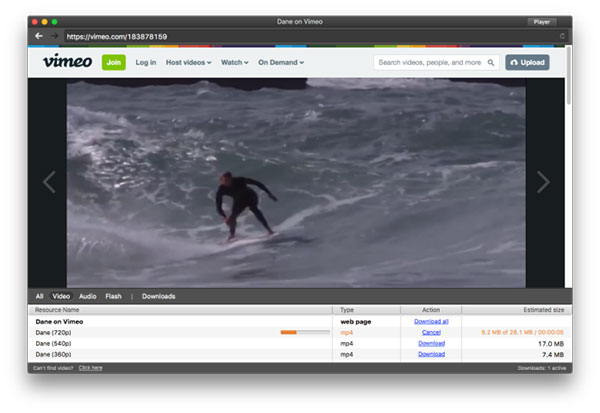 How to save Vimeo videos with Elmedia Player PRO
1

: Open your browser and access Vimeo website.

2

: Search for the video that you want to download.

3

: Launch Elmedia Player PRO on Mac computer. You can find this Vimeo downloader in Applications folder.

4

: Customize a path to save the video in Preferences menu.

5

: Copy the address of the webpage that contains the video and paste it into Elmedia Player PRO's URL bar.

6

: Click on Go button to play the video within Elmedia Player PRO. It will load the video automatically.

7

: Located to Video tab on download list.

8

: Click on Download button next to the video file. There may be several files available; you need to select the biggest one.

9

: Then the video will be saved in local drive. Elmedia Player PRO will keep the video's original format and quality.

10

: If you need to download multiple Vimeo videos, repeat the step 5 to step 8.
3. Grab videos from Vimeo within Firefox
Firefox is a superhero browser with plentiful add-ons. If you search video downloader in Firefox's add-on engine, you will get a long list. Vimeo Downloader attracts my attention. It is a dedicated video downloader for Vimeo. The biggest benefit of it is to guarantees the video quality after downloading. It will not compress the video or convert it to compression video formats. When it comes to the details, you can follow the steps below.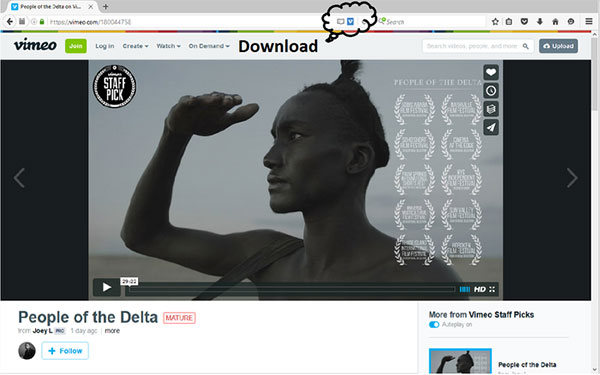 How to grab videos from Vimeo with Vimeo Downloader
1

: Open Firefox on your computer. Search Vimeo Downloader in Add-ons engine and add it to Firefox.

2

: After installed successful, the icon of it will appear on Firefox's ribbon, which is a blue square with a white v character.

3

: Visit Vimeo on Firefox and search for the video you'd like to download.

4

: Once you find out the right video, play for a while and then pause.

5

: Click on the icon, you will find the video is downloadable in the list.

6

: Press the download button to save the video to your computer.

7

: Then you can watch the HD video at anytime and anywhere.
4. Download Vimeo online
Many people do not prefer to install anything on their computer. Don't worry! Developers have launched various online video downloaders. You can download any video without install any program or extensions. Vimeo in MP4 is such an online Vimeo downloader. It does not have gorgeous skin or extensive features. All it can do is to download Vimeo videos to your computer as MP4 file. If you do not care about the video quality, Vimeo in MP4 is a great tool. Furthermore, Vimeo in MP4 is a secure website. There is no virus and other cybersecurity report about it until now.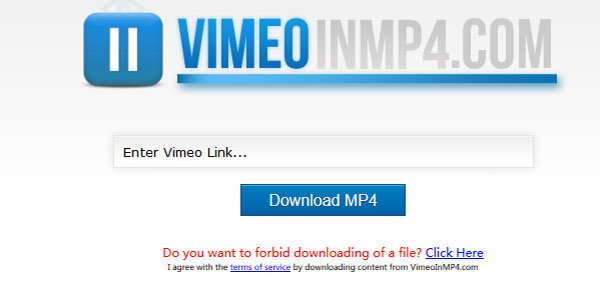 How to download Vimeo videos via Vimeo in MP4
1

: If you find out your favorite video on Vimeo, play it in Vimeo player.

2

: Located to address bar, hold down Ctrl+A to select the link and then press Ctrl+C to copy the link of the webpage.

3

: Open a new tab within your browser, enter vimeoinmp4.com and press Enter.

4

: Move your cursor to URL box and press Ctrl+V to paste the page link into it.

5

: Then click on Download MP4 button to start downloading.

6

: After a few seconds, this Vimeo downloader will show you a list with various video qualities available to save. You can select one and click on Download button to save it to your computer.
Conclusion
Based on the introductions above, there are many Vimeo downloaders available to save videos from Vimeo to your computer quickly. You can download any videos from Vimeo without a Vimeo account. And these software have their benefits. Tipard Screen Capture, for example, could produce high quality videos and save recordings as HD videos. Therefore, if you are sensitive to video quality or preferring to enjoy HD videos offline, Screen Capture is your best choice. Not to mention it is so easy to use that everyone could grasp its usage.