Top 5 Smart Streaming Audio Recorder Apps to Capture High Quality Music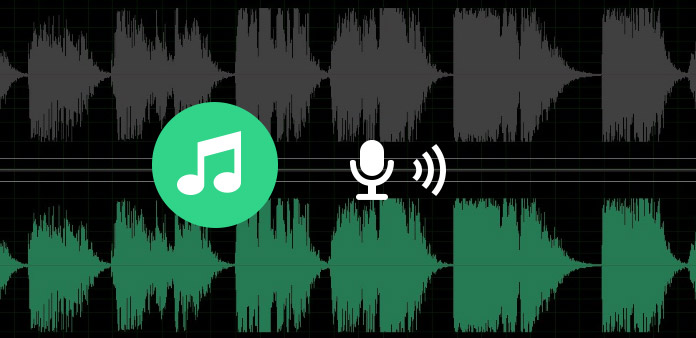 To enjoy music without Internet connection, downloading digital music is the first choice for most people. But when you face audios from YouTube and other media share platform, things became difficult. Because not all media share platforms support users to download MP3 audio streams. Therefore, you need to seek help from streaming audio recorders, to output playbacks in several formats. What's more, you can use some of them to capture streaming video too, with attracting background music. If you are not satisfied with recording pure music only, you can mix several songs by trimming and merging, as well as adding voice effects. As a result, audio recorder in this article of streaming media can both record high quality online music, but offer special sound filters for you to apply.
1. Tipard Screen Capture
Being the representative Windows screen capture program, Tipard Screen Capture can always record media in 100% original quality. If you need to capture video songs, you can customize screen size, add cursor effects, set record timer and choose several output formats. As for recording streaming audio on Windows purely, Tipard Screen Capture will not make you down. There are two audio streams you can record from, which are system audio and microphone voice. Before you recording, you need to set corresponding audio service first. Of course, you can choose both of them, to comment or sing with audio streams together. For long audio streams, Tipard Screen Capture offers recording timer, with which you can set start time and stop time, to record audio streams more accurately. If you are not satisfied with no background images or videos, open webcam to record yourself performing, or capture videos directly.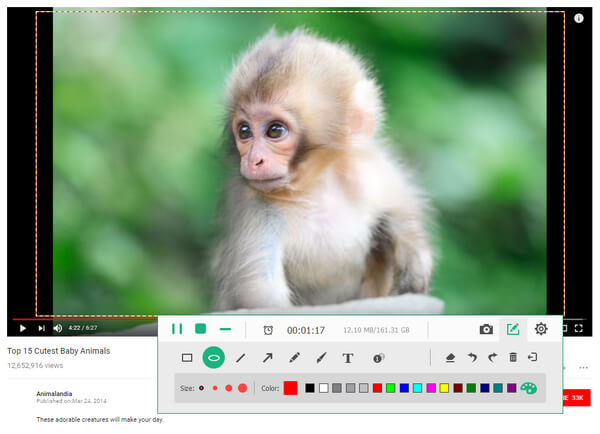 The recorded audios can be outputted as MP3, AAC, M4A and WMA. It can suit most popular media player requirements. To manage music recorded from Windows audio streaming recorder, you can trim and merge them as phone ring, or add it into your playlist as other paid songs. What's more, you do not need to worry about noise influence during using recording streaming audio editor. Because Tipard Screen Capture will decrease or even remove noise of video and audio recording. In a word, Tiaprd Screen Capture offers fun interface and high quality recording service for every Windows user.
2. Audio Hijack
JAudio Hijack provides users wide range to capture streaming sound, including Skype VoIP audios, web streams, physical devices and more. With the help of Audio Hijack OS X screen recorder, you can capture and grab all voices on Mac computer with ease, no matter they are online conversions or audio streams. For instance, to record Skype calls, you need to select Skype from Application options first, and then you can start OS X audio streams recording. If you need to record audio streams on Mac with certain volume, you can adjust by pumping up the volume. Moreover, the re-usable session enable you to configure and record desire video streams more accurately.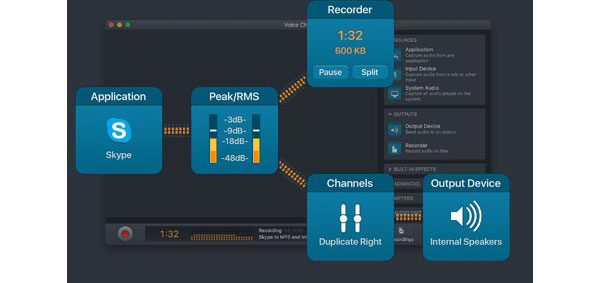 You can set audio record timer and silence monitoring to manage sound files. The first setting enables users to record long time streaming audio without waiting all the time. You can leave and do other things instead of waiting in front of your Mac computer. And the silence monitoring setting can avoid media player jump to another audio files automatically. It is true that you can get easy to use audio effects to enhance online streaming audio recording files. With several output formats, you can handle all major formats of saving as choices.
3. Audacity
Compares with the above two voice recording programs, Audacity is more professional. Users can record multi-track streaming sounds, and editing by the free and open sources. You can run Audacity on Windows, Mac and Linux computers. Therefore, almost all people can run Audacity without OS limitation and purchase items. With normal recording timer and output choices, Audacity offers users multitrack mixing services for free. Well, you can customize popular songs into new style, in totally different expressing way. And the noise reduation technologic support permit users get clear audios.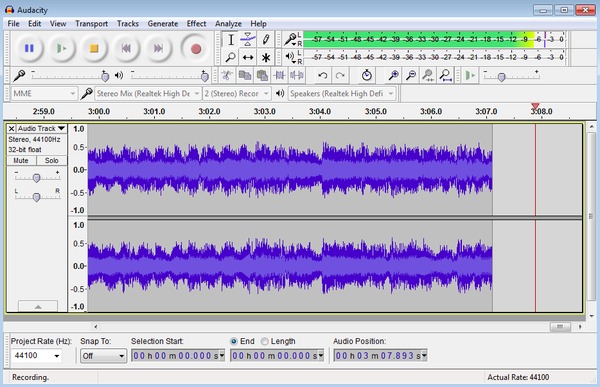 The built-in high tech analysis enables people capture system audios in more good way. You can view all audio details on the left pane. And the send by second audio recording tracks give people more space to edit. Audacity supports people to use multi-channel modes of per sample. If you want to capture beats streaming audio in free way, then it tis time for audio editing filters. Audacity has various sound effects and filters for you to trim, merge, convert and transfer streaming audio recorded files. In addition, you can maximum or minimum certain audio tracks with adjust volume sliders.
4. Radio Player by Audials
When you use mobile phones, it is not convenient to capture audio streams by using online streaming audio recorder or other sound tracks works on computers. To solve this problem, you can use Radio Player by Audials, which is good helper among all streaming audio recorder Android apk. You can get over 80,000 radio stations, including East Coast, Midwest and so on. After you search your favorite artist or music genre, Audials will commend similar music to you automatically. The interesting function of Radio Player by Audials is that you can use it as alarm clock, to wake up you everyday, or use as a sleep timer.
Once you enter a radio station, you can stream music to airplay receivers. You can record stream audio on Android mobile phone of most podcasts. With high quality radios on the Internet, it is very easy to find your target songs. After that, Audials has mass recording and music wishes, with which users can enhance audio recording quality. What' more, after you use app, you can download it and move to SD card. Therefore, you can transfer recorded music to laptop, by USB connection or wireless transfer by Audials.
5. Aktiv MP3 Recorder
Aktiv MP3 Recorder can capture audios from CDs, tapes, DVDs, live performance and other streaming websites. You can choose which format to output, and the recording quality and volume. Being the all-in-one sound recorder, Aktiv MP3 Recorder will protect your screaming recording, and even improve its quality. There is no time limitation of music recording. Thus, it is totally OK to capture streaming TVs and radios. With easy operating interface and low requirements, Aktiv MP3 Recorder offers users large freedom to adjust frequency, bit rate, channels, volume and sample size.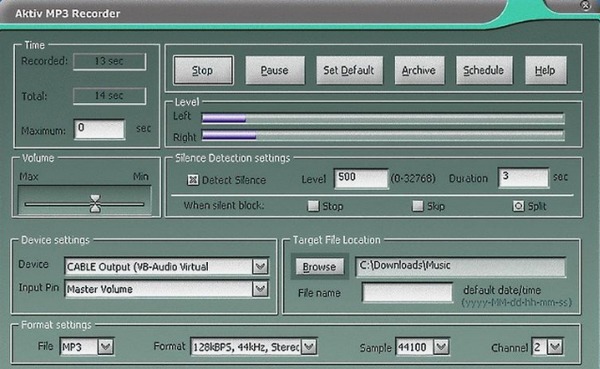 During streaming audio recording on Windows 8 computer, the smart silence detection enables you to skip nonsense silent block automatically. So you can also remove silent part during recording your own voice on streaming system audio capturing. If you need to record streaming music frequently, you can define system hotkeys for fats record, pause, resume and stop. Aktiv MP3 Recorder is a smart Windows 8 audio recorder, to download YouTube audios and other media sharing platforms in easy way.