How to Download and Convert MP3 from SoundCloud With 4 Best Methods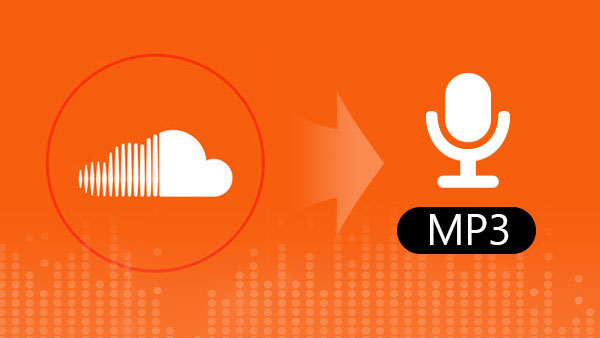 SoundCloud is a popular online audio platform with thousand of music files. Although it allows users to upload and share music, you cannot download MP3 files from this audio distribution platform to your computer. So when you want to download favorite songs from SoundCloud, you might need some tools to convert SoundCloud to MP3. Actually there are many dedicated SoundCloud downloaders available. If you search SoundCloud to MP3 in Google search engine, you will get hundreds of results. It is a waste of time to try every single method and learn how to download music from this famous audio platform. Therefore, this article will introduce the four best ways and the guidance.
1. Record SoundCloud to MP3 with Tipard Screen Capture
If you are looking for an easy method to record SoundCloud to MP3, Tipard Screen Capture is one of the best choices. On the other hand, Screen Capture could guarantee the quality of the downloaded audio, for it integrates a powerful algorithm. Just learn more detail about the other attractive features of Tipard Screen Capture.
1. Screen Capture is not only an audio downloader, but also a video recorder in excellent quality. So it is some kind of almighty downloader.
2. Users could capture the audio files and enjoy 100% original quality.
3. It has the ability to set recording time, so you can let Screen Capture record SoundCloud to MP3 alone.
4. Before download, it will play the recorded SoundCloud audio automatically.
5. It is compatible with Windows 10.
6. Screen Capture supports to download almost all audio formats, including Raw AC3 and AAC. It has the ability to convert the audio to MP3 and other common audio formats before output.
How to download SoundCloud audio in excellent quality
When you download and install Tipard Screen Capture, you can open the program to capture SoundCloud to MP3 as the following process.

Step 1

. Navigate to the audio of SoundCloud. And then play the audio to make sure the file works. You can also choose the audio volume as well.

Step 2

. And then open Screen Capture program, you only need to set the audio options in Record Audio tab.

Step 3

. If you just need to record MP3, you can enable System Audio on and disable Microphone Audio at the same time. The Microphone Audio option will record your voice during recording.

Step 4

. After settings, click on the red button to start to record the SoundCloud to MP3. During recording, you can pause and restart by clicking on the blue button. The sonic section will show you the length of the audio.

Step 5

. When completed, click on the red button again to save the MP3 file on your computer.
2. Save SoundCloud music to MP3 in Safari
Some artists will open the free download option on SoundCloud. But if the free download is not available, you can utilize the developer tool of Safari on Mac or Windows computer to download it online.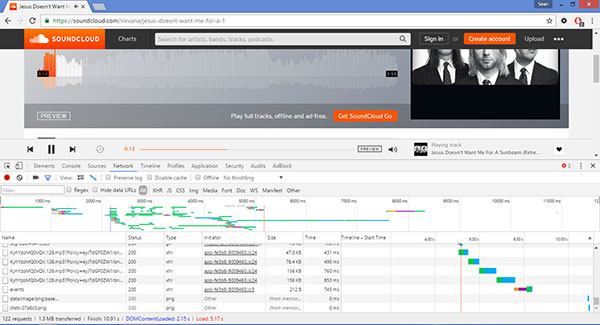 1. Open the page includes the song to download on SoundCloud.
2. Launch Safari. And hold down Command+Option+l at the same time to open developer tool.
3. Select the Network tab on the menu bar on developer tool section.
4. Press F5 to reload the page and play the audio to download.
5. Click on Size column to range the files from largest size to minimum. Then the top one is the audio file to download.
6. Right click on the audio file and choose Open in a new tab.
7. If the audio imports in a new page alone, you can download the MP3 file directly by holding down Command+S on Mac computer.
3. Grab SoundCloud audio via Add-ons
It is a little complex to download SoundCloud to MP3 in developer tool of browser, for you have to face some program languages. Compare to developer tool, add-ons are simpler. There are some audio download add-ons for browsers. The steps to download SoundCloud songs via add-ons are similar. And I will use DownloadHelper of Firefox as the example.

1. Search Downloadhelper in Add-ons page of Firfox and Install the Add-on program within Firefox browser.
2. If Downloadhelper has been installed successfully, its icon shaped as three colorful circles will show up on the ribbon.
3. Play the song to download on SoundCloud page and open Downloadhelper. Located to the cache.
4. Click on Download button and select a destination to save the MP3 files.
5. Then the SoundCloud audio will be downloaded as a MP3 file to your computer.
4. Utilize online download service to get SoundCloud songs
The benefit of online download service is that you do not need to install any programs on your computer. So it is more convenient when you are a multi-device user. There are many online programs to download SoundCloud to MP3, Soundflush should be taken into consideration.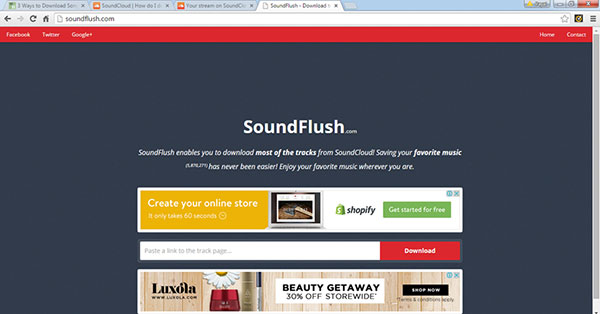 1. Navigate to the page contains the audio to download and copy its URL.
2. Access soundflush.com in a new tab. And then you can paste the link in URL field on home page.
3. Click on Download button to continue.
4. Finally, right click on the link result and choose Save Link As to download the SoundCloud to MP3 file.
Conclusion
This article introduced four methods to get SoundCloud to MP3 with their guidance. You can select anyone depending on your situations. You can use developer tools of a browser as the program, but you have to understand some program language. And it can not download the highest quality audio file. The online SoundCloud downloaders are another easy way to save favorite songs. However, you have to watch some advertisements to exchange free service. There are some add-ons have the ability to download SoundCloud music as well. While the smart choice will be Screen Capture, for you can control the whole process of downloading. And it supports to record a part of the SoundCloud audio.
Besides the above methods, you can also access to other solutions to turn SoundCloud to MP3 files. You need to pay special attention to quality and audio bitrate. Just choose the programs to take full control of output MP3 files. If you have some nice options to download SoundCloud to MP3 in high quality, you can share your favorite SoundCloud downloader in the comments.