Top 5 Similar Websites Like Flvto MP3 And Alternative Software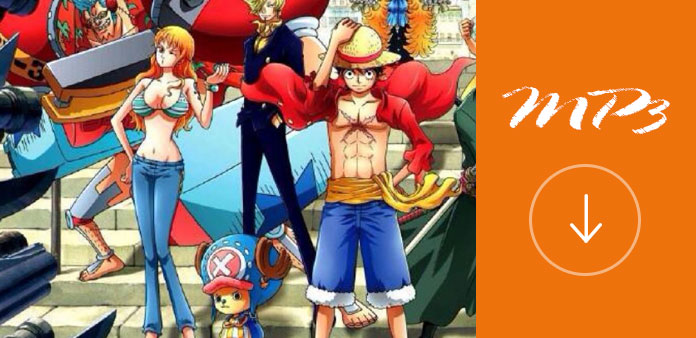 Flvto MP3 Downloader is an easy to use program to convert YouTube files to MP3 songs. It is not only an online music converter, but also available for desktop and laptop. Flvto MP3 website has an estimated 8 million users and more than 200 millions of songs. Once you enter the URL of a FLV file, you can convert it to a MP3 file. When you want to search for a desired song, you might not able to find it from Flvto. The article provides best 5 websites similar to Flvto.biz. You can always get the music from tens of thousands of songs from these websites.
Flvto YouTube Downloader Review
The simple process and nice interface of Flvto YouTube Download helps users download the desired files as MP3. The program is able to download files from YouTube FLV as MP3, MP4, MP4 HD, AVI and AVI HD. Whether you have Linux, MacOS or Windows, you can easily convert your favorite YouTube videos into the popular formats according to your devices. And you can also download chrome plugin for free to convert any video files from YouTube directly. What is more, you can also access to the top 100 most converted videos from Flvto.biz. Just enjoy the MP3 files or other formats offline on the go.
1. Online Video Converter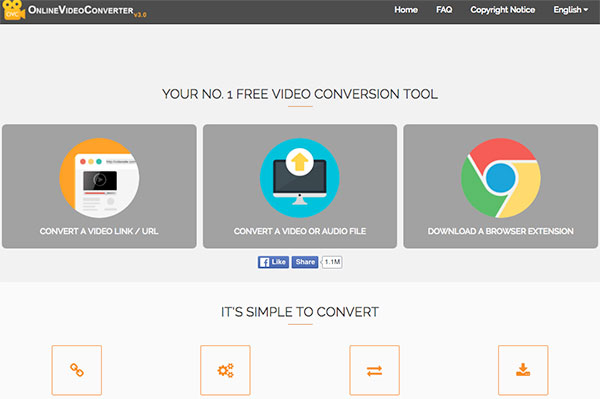 Just as the name of website, OnlineVideoConverter is able to convert a video from YouTube link or directly from your computer. What is more, you can also add the Flvto MP3 alternative to your browser. After that you can download FLV to MP3 in high quality with ease. OVC is fully compatible with all modern browsers and has been touted online as the best online video conversion utility as it offers high quality and super fast conversions to many audio. The software is compatible with Android, Apple or Windows devices. You can convert FLV to MP3 and the compatible formats on your smartphone with ease.
2. Video2MP3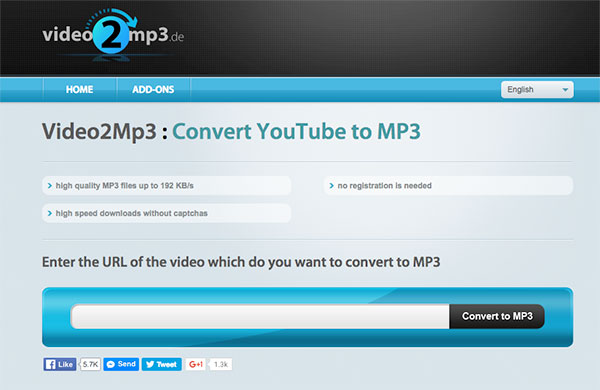 As another Flv2MP3 website to convert online video to MP3, Video2MP3 is a web based app that does not need to be installed. Different from the other sites, the application also has an add-on for Firefox. When you extract the MP3 files from YouTube, you do not have to login the account of the website first. Just choose the URL of a video from YouTube, and then copy the link to Convert FLV to MP3. After that, the video will start to convert. Once the converting process is successfully completed, you can download the file to your computer. The website is able to download MP3 with high speed without captchas.
3. Dirpy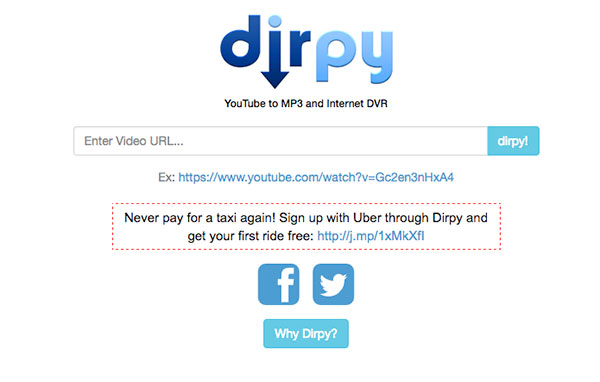 Dirpy is an excellent FLV to MP3 downloader and Internet Digital Video Recorder. The Flvto MP3 alternative supports extract MP3 files from YouTube, Vimeo, Dailymotion and others. And you can also record local versions of TV programming content for later view experience. After the copy and paste the link of the online streaming sites, you can click the dirpy! Button to get the audio file you like in the way. When using Dirpy you will have access to real-time conversions, ID3 metadata tags, offsets and support for high quality formats. The program is an easy and friendly server that allows you to record and convert videos with ease.
4. ListentoYouTube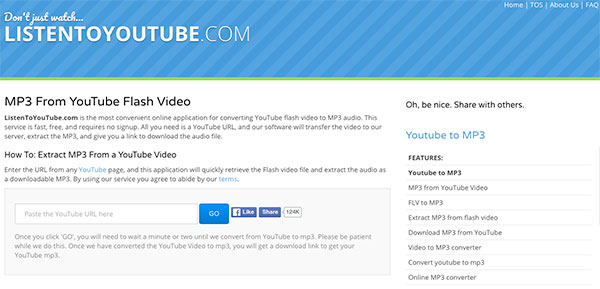 When you want to convert FLV from YouTube to MP3, ListenToYouTube is one of the best online applications to turn flash into MP3. The online server provides fast, free and requires no signup to use the service. All you need to do is entering the URL of the YouTube link, and then the Flvto alternative will transfer the video to the service, and give you a link to download the audio file. Once you click the GO button, you will need to wait a minute or two to convert them from YouTube to MP3. It should be one of the best and most professional free services you should try when you want to convert video from YouTube music to audio file.
5. ZAMZAR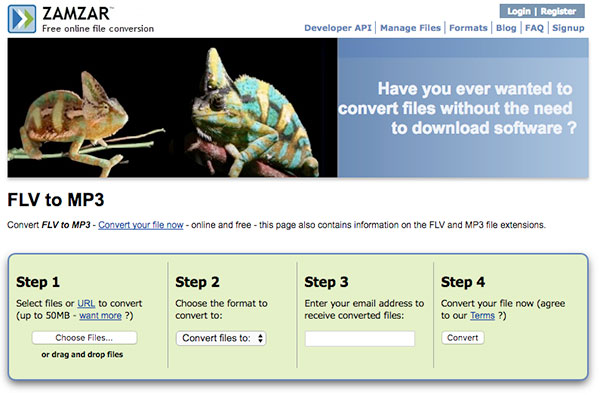 ZAMZAR is one of the most popular Flvto alternatives. It is not only download online video streaming, but also able to convert FLV to MP3 from your computer directly. ZAMZAR is a versatile video converter that transcode video to different formats. When you converting the video formats, you can also learn more detail about the description and the technical details about the video formats as well. Once you load the files or enter the URL of the video, choose the output format according to your requirements. After that you can enter the email address to get the MP3 file for your computer.
Flvto MP3 Alternative Solution on PC
What should you do if the above solutions do not work? You might take everything for granted that the online video converters can change FLV to MP3. But YouTube updates the algorithms in order to prevent the downloading. And then Tipard Screen Capture should be the most efficient method as Flvto MP3. Just learn more detail about the features of the program as below.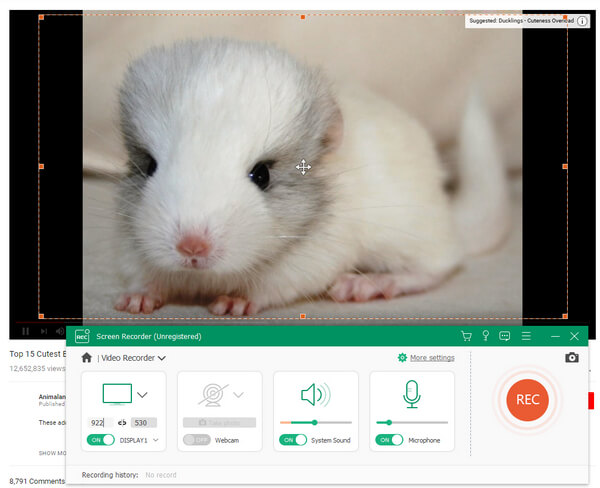 1. Capture screen and record online video and audio files in high quality, which you do not have to worry about the frequently update of YouTube algorithm.
2. Set capturing time and cursor can help you get the desired part from a long video file. It will stop capturing the screen contents automatically as long as you input the ending time when it is up to the limited time.
3. Provide both system audio and microphone voice. You can convert FLV to MP3 as well as add your own voice as audio file from corresponding audio devices.
4. Once you finish recording the audio files, you can also export the files to MP3, AAC, M4A or WMA as you wish. The program just supports all the audio devices you need.
5. What is the most important, Tipard Screen Capture is able to record the audio in the original quality, it should be the same or much better than the files converted by Flvto and alternative web-based applications.
Conclusion
When you want to download YouTube FLV to MP3, you can find lots of methods other than Flvto.biz. In order to use the MP3 files for different types of smartphones, you can use OnlineVideoConverter to convert YouTube to MP3. As for converting FLV to MP3 directly from browsers, both Video2MP3 and Dirpy can be taken into consideration as the Flvto alternative. ListenToYouTube is a simple web-based application to get lyrics from YouTube. Once you cannot use the above applications to turn FLV to MP3 due to the update of YouTube algorithms, you can choose Tipard Screen Capture, which is the ultimate solution for you to capture everything into MP3 and other compatible formats. If you have any query about Flvto MP3 Converter and the alternative solutions, you can feel free to let us know in the comments.