How to Record Streaming Radio Easily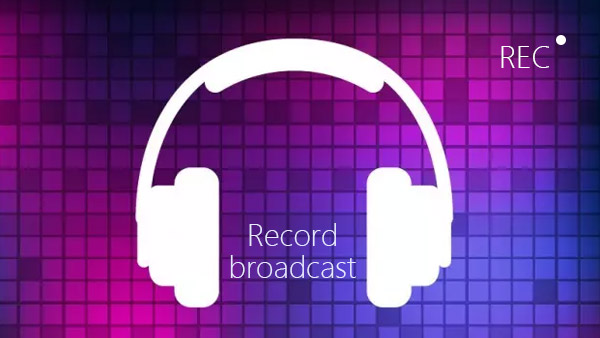 As technology developing, recording radio and other streaming audio from Internet is easier today. Our computers are powerful enough to provide seamless online radio experience. On the other hand, online radio is a popular service that spread radio programs through internet. People are more likely to listen to radio shows online than traditional way, for they spend more time on internet. Some people may listen to serial radio shows online that broadcast an episode in certain time daily. After that, you can listen to it at anytime. Moreover, when you discover some wonderful songs, you may want to save it to your devices and listen to repeatedly. So this post will show you various methods to record radio.
Part 1. Record radio with Tipard Screen Capture
Although there are several audio recorders available to Windows, Tipard Screen Capture is your best choice to record radio. Firstly, unlike online music, most radio shows are streaming. So you need a handy tool to record online radio. Screen Capture has a straightforward interface and is easy to use. Furthermore, Screen Capture will maximize the performance of your hardware So you can enjoy high quality radio shows offline. Another advantage of Screen Capture is available to Windows 7/8 and Windows 10. Users do not need to worry about the compatibility problems.
How to record radio with Screen Capture
Step 1
Launch Screen Capture on your computer and tap on Record Audio tab to set it before record.

Step 2
System Audio will record radio on your computer. And Microph Audio will capture your voice through microphone. Here we need to enable System Audio and disable Microph Audio at the same time.

Step 3
Play the radio show you'd like to record in your browser or online radio player.
Step 4
Once the show begins, click on the red recording button to start do it.

Step 5
If you do not want to record the inserted ads, you can tap on the blue button to pause.
Step 6
The sonic section will show you the length of the audio and the size of the file in real time.
Step 7
When the show finished, press recording button again and save the recording to your computer as a MP3 file.
Part 2. Capture radio via Audio Hijack 3
Audio Hijack is a great radio recorder for Mac computers. It could capture any sound from various inputs, including online radio shows. The biggest benefit of Audio Hijack 3 is to combine with other Mac applications. Safari, for example, has been integrated to Audio Hijack's input options. So you can set Safari as the audio input of Audio Hijack 3 directly. Then it will neglect sounds from other applications. On the other hand, Audio Hijack is a user-friendly audio recorder. Once click on record button, it will work automatically.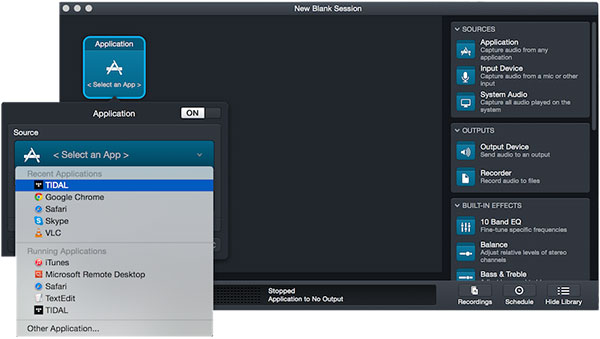 How to capture online radio via Audio Hijack 3
1. After install Audio Hijack on your computer, open it from Applications folder.
2. Press New Session button on the bottom and select New Blank Session in session template box.
3. In the new blank session window, drag Application icon from SOURCES section on the right side menu and drop it to interface.
4. Press the Application icon on interface to open the drop-down list.
5. Then you can select the application that will play the online radio to record, like Safari.
6. Drag Output Device icon from OUTPUTS section on the right ribbon and drop it to interface.
7. Tap on Output Device icon on interface and select Built-in Output: Internal Speaker. This option will allow you to listen to the radio during recording.
8. Then drag Recorder from right ribbon to main window and click on it to set recording parameters, like name, destination to save the recording radio, format and so on.
9. Play radio show in Safari, Audio Hijack will begin recording and then save the audio file to your computer automatically.
Part 3. Grab radio through Screamer Radio
Screamer Radio is a dedicated radio recorder and player. Unlike other audio recorders, users could listen to online radio within Screamer Radio. And when you discover the radio show that you want to save to your computer, it just needs one click to record it. This radio recorder seems a little simple; however its recording feature is excellent. It has the ability to capture the radio with extensive information, like artists. Screamer Radio has integrated hundreds of radio stations. Besides these radio shows, Screamer Radio also supports to load radio shows with URLs. When it comes to the details, you can follow the steps below.

How to download radio through Screamer Radio
1. After install Screamer Radio on your computer, open it. 2. Then you will get the notification said presets successfully updated from server. That means you can start to listen to the built-in online radio stations.
3. Open Presets menu on top ribbon, you can find all the radio stations available. Screamer Radio organizes the radio stations according to genre, language, network and region.
4. When you find your favorite radio to record, located to Favorites menu and select Add to Favorites. This radio will be added to your favorite radio list.
5. Navigate to Settings menu; select Preferences option and then Recording tab. Then you can drop a path to save the recorded radio shows and click on OK to confirm.
6. Once you discover a radio show that you want to record, click on Rec button. Screamer Radio will record the show and save it to your computer. If you record a radio show contains multiple episodes or songs, this radio recorder will separate them and save to individual files automatically.
Conclusion
This article has introduced multiple ways to record radio shows. These methods all have some unique advantages. Audio Hijack, for example, is an excellent audio recorder for Mac computers. It could detect and integrate Mac applications as input sources. Once you set an application as audio input and open this application, Audio Hijack will start to record the sound from this application automatically. Screamer Radio is not only an audio recorder, but also a radio player. You can record the built-in radio stations or the radio show that loads from URL. Tipard Screen Capture is a CPU-light audio recorder. Its stable performance and simple usage attract a lot of radio enthusiasts. If you want to enjoy 100% original quality radio shows offline, Tipard Screen Capture is the best choice. When you want to share more about the audio recorders you used, just feel free to tell the detail in the comments.