5 Professional Music Recording Software of 2017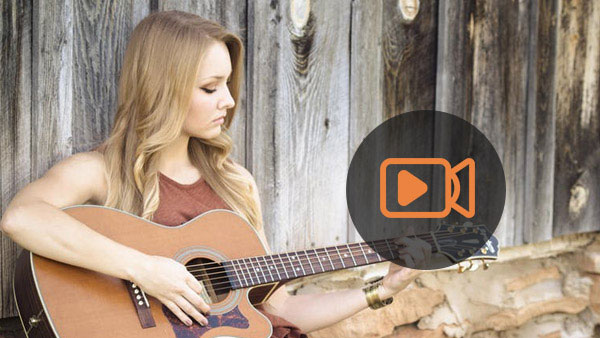 When you have spent a great effort and lots of times to find every piece of musical equipment, it should be much more important to record the lyric from the equipment. In order to find the professional music recording software to record audio and MIDI, make sound forge, Vegas audio and ACID. Some music recorders are also able to mix, edit and master songs. What should be the best and most professional one in 2017? The article explains the 5 programs you should take into consideration for home music recording. Just learn more detail from the article to get the desired program accordingly.
1. Cakewalk SONAR Platinum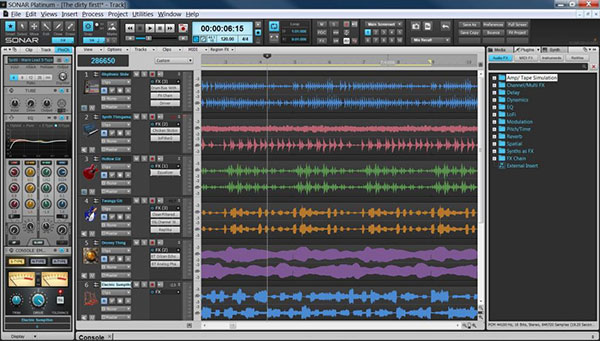 Cakewalk should be one of the most famous music recording software manufacturers. The SONAR series are now boasting a powerful new line up designed to meet the needs of any musician, regardless of skill level or budget. SONAR Music Recorder has the most complete music production package, which includes compose, record, edit, mix, master and share the songs as profession. Of course, you can also access to the advanced technology, effortless workflow, and an interface that amplifies inspiration. All in one word, SONAR Platinum of Cakewalk just bring your song to life.
It is designed to run on both Windows and Macs. And the price for SONAR Platinum is US$499.00 for one time price or Pay for SONAR in monthly installments for 12 months with US$49.99 per month and own SONAR forever.
2. Samplitude Music Studio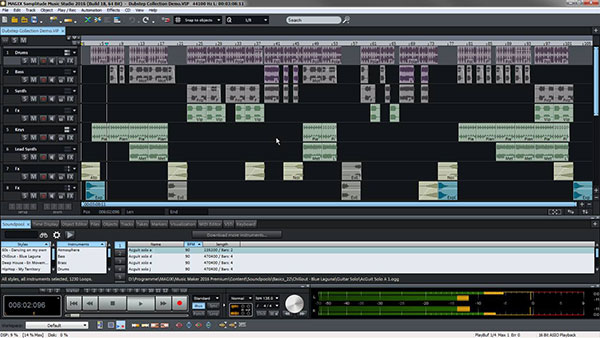 Another professional one for musicians is Samplitude Music Pro X3. There is a range of sophisticated functions with highly flexible solution for complex music and film projects. It also includes both modern and classic software instruments. Produce music with groove boxes, synthesizers and authentic sampler instruments from a variety of countries and eras. If you want to mix lyrics and master songs, you can use the VCA fader, multiple outputs, hardware protocol support and a range of included VST effects. And the music recorder has independence sampler with a 12 GB database.
Samplitude Music Pro X3 supports Microsoft Windows 7/8/10. The professional app starts at US$299.00. If you purchase the Samplitude Music Suite, you can get some extra features to master your idea for musicians with ease.
3. WavePad Audio Editing Software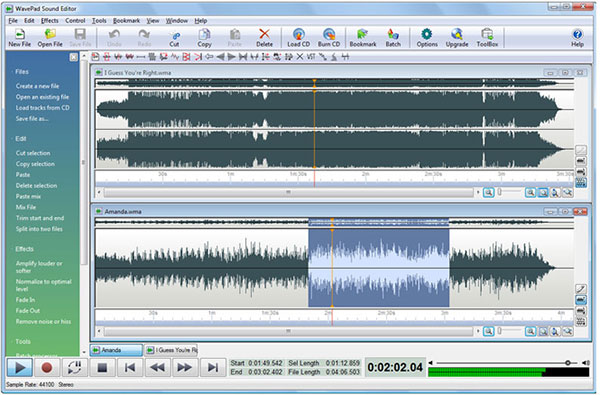 WavePad Audio Editing software is a full-featured professional audio and music editor. It includes audio, voice and music recording and editing features. The sound editing functions are able to cut, copy, paste, delete, insert, silence, auto-trim, compression, pitch shifting and more. There is another batch processing allows you to apply effects and convert thousands of files as a single function. You can access to amplify, normalize, equalizer, envelope, reverb, echo, reverse and many more features. It supports almost all audio and music file formats.
WavePad Audio Editing Software supports all versions of Windows Operation Systems and Mac OSX 10.5 and above. What is more, you can use the music recording program runs on iOS 6.0 or higher and android 2.3.3 or above. The standard version costs US$20.99 while the master version US$34.99.
4. Audacity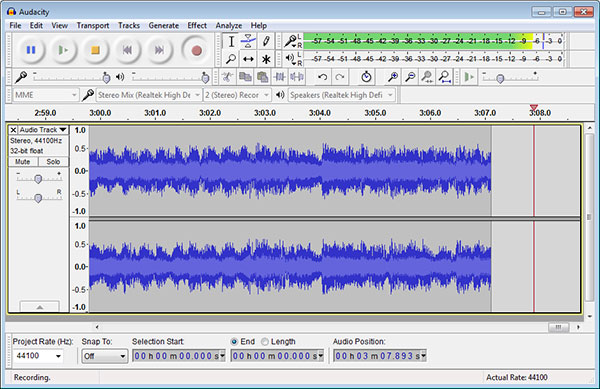 If you are looking for music recording software free, Audacity is an open source, cross-platform audio software for multi-track recording and editing. The program supports recording live audio through a microphone or mixer, or digitize recording from other media as well. You can also access to the timer recorder and sound activated recording features according to your command. And then you can import and export AC3, M4A and WMA with optional FFMpeg library. What is more, Sample rates and formats are converted using high-quality resampling and dithering. The tracks with different sample rates or formats are converted automatically in real time.
Audacity is available for Windows, Mac, GUN/Linux and other operation systems. But the music recorder only partial support for Mac Sierra. It supports tracks and selections can be fully manipulated using the keyboard.
5. Tipard Screen Capture
Tipard Screen Capture is versatile Music Recording software to record system audio and microphone files in original quality. The program is not only an easy to use software, but also supports recording your screen. If you record music files for a long time, it will stop capturing the screen contents automatically as long as you input the ending time when it is up to the limited time. What is more, you can also set capture time and cursor to make your operation more clearly and easier to track. Once you finish recording, you can also preview the final result before export the recorded music files. When you record the audio files, you can export the file as MP3, AAC, M4A or WMA according to your requirements.
It is available on Windows XP and above operation systems. When you want to download music files from online video streaming sites, such as YouTube, Metacafe or others. You can get the desired files within few clicks.
How to Record Music with Tipard from YouTube
When you want to record music from YouTube, you can learn more detail about the easy process to acquire the desired music file with Tipard Screen Capture.
Step 1

. Open the URL of the music from YouTube. And then adjust the volume of the audio files or set the best quality of the video in order to capture the music in the best status.

Step 2

. Set the parameters for the audio source. If you want to capture the video files as well, you can also customize the screen size according to the size of the browser.

Step 3

. After that you can record music files. Once you confirm the detail, you can click the REC button to extract the music files from YouTube or other websites.
If you want to add audio from microphone, you can select the audio source as Microphone audio. And then you can use Microphone to record your own music with ease.
Conclusion
When you want to choose the right program to record music on your computer, you should make sure the usage of the software first. If you are an amateur on the area, Tipard Screen Capture, WavePad Audio Editing software and Audacity can be the option for you. As for the professional users, you can take Cakewalk SONAR Platinum and Samplitude Music Studio into consideration.
Besides the above music production software, you can also use Sony Creative software, HALion Sonic 3, Avid Dialogue Search or other programs from instead. If you have not ideas about the right music recording software for you, you can download the trial version to learn more detail about the programs before you purchase the full version. If you have a desired program that you want to share with us, you can write the detail in the comments.