Top 10 Video Downloader Apps for Android and iPhone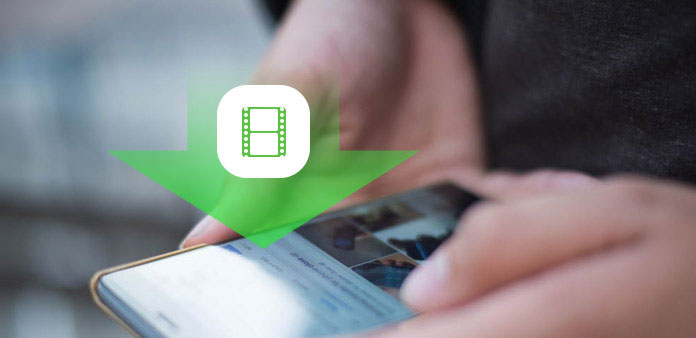 According to a recent survey, people are more likely to watch videos on their mobile phones. The factor that manufacturers improve screen resolution and size drives such trend. However, when we ask respondents what is the biggest challenge to view videos on smartphones, majority of people select poor internet connection. That is the principal reason that people prefer to use video downloader apps on their smartphones. Speaking of video downloaders, there are many apps have such abilities on market. We have tested and identified the best video downloader apps for Android and iPhone. In this article, we are going to share the top 10 video downloading utilities in details.
Part 1. Top 5 Video Downloader Apps on Android
1. YouTube Go
To help people view videos offline, Google released YouTube Go app recently. Unlike the YouTube app, YouTube Go is not only a video player, but also a powerful video downloading app. Moreover, it supports to transfer videos between two mobile devices without internet connection.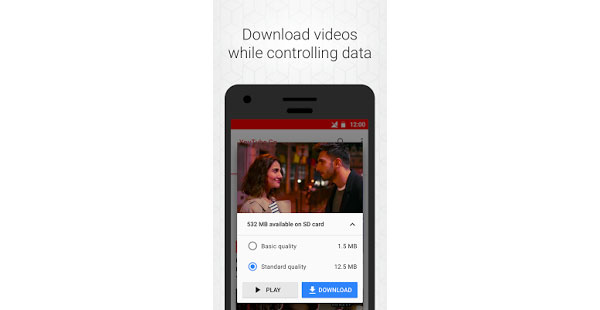 How to download videos on Android
Step 1: Download YouTube Go from Play Store and install it on your Android handset.
Step 2: Sign in your Google account and search the video you want to watch offline in the search bar.
Step 3: Tap on the video thumbnail on the result screen to continue.
Step 4: When the pop-up dialog appears, select a quality, like "Basic quality" or "Standard quality" and then tap on the "Download" button.
Step 5: Then you can view the video in "Download" tab after the process. YouTube Go is now only available in India and UK Play Store. People in other regions have to install the APK file. Moreover, not all videos are allowed to download.
2. Full Video Downloader
Full Video Downloader is a dedicated video downloading tool for Android devices. Its key features:
1. Search for videos in built-in browser.
2. Grab videos in one tap.
3. Support video downloading via Wi-Fi and cellular.
Pros
1. It co-works with third part browsers.
2. UI is easy to use.
Cons
1. Video download speed is slower.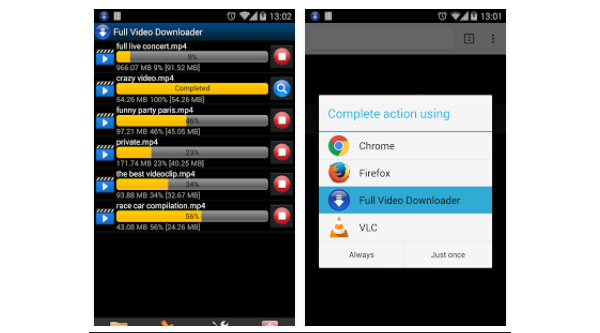 3. Fastest Video Downloader
Fastest Video Downloader is another useful video utility on Android. Its basic features include:
1. Discover videos in browser.
2. Download videos for view offline.
3. Support all Android models.
Pros
1. This video downloader app is totally free.
2. Download speed is fast.
Cons
1. Video quality is poor.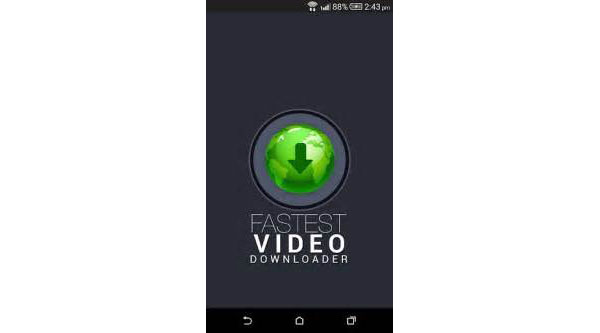 4. Tube Video Download Mate Video
Tube Video Download Mate Video is a simple tool to help you enjoy offline videos on Android. Its main features include:
1. Download videos from Facebook, Vimeo and so on.
2. Support all video formats.
3. Grab multiple videos in batch.
Pros
1. It could detect streaming videos automatically.
2. UI is straightforward.
Cons
1. It does not support YouTube.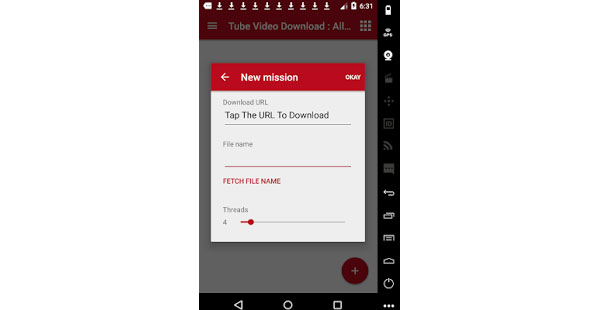 5. HD Video Downloader
HD Video Downloader is both a video collection and a video downloader app. Its principal features include:
1. Search for videos in database.
2. Download videos in one click.
3. Grab several HD videos at once.
Pros
1. Video quality is good.
2. The interface is concise.
Cons
1. Video collection is limited.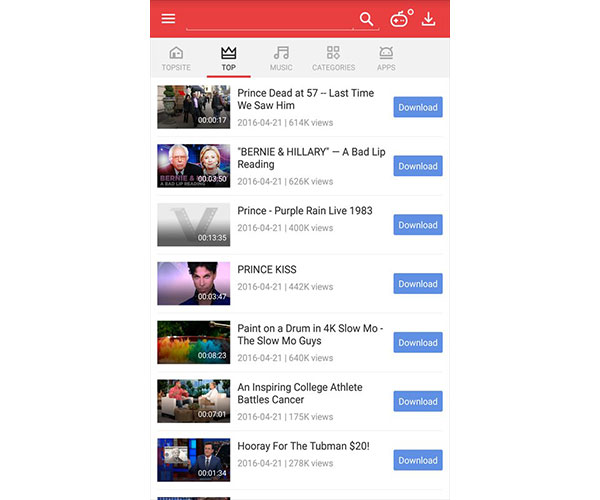 Part 2. 5 Best Video Downloader Apps for iPhone
6. Documents-6
Documents-6 is a file manager for iOS that has the capacity to download online videos. Moreover, you can manage and playback downloaded videos within this all-in-one app. If you want to share the video to your friends, it will become a file transfer tool.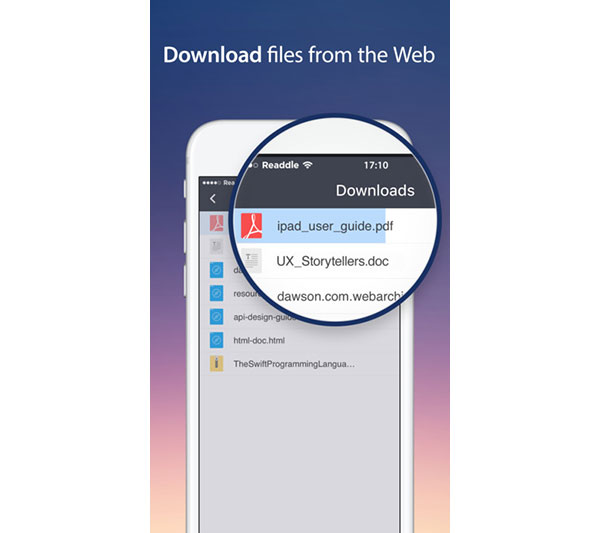 How to grab videos on iPhone
Step 1: Search for Documents 6 in App Store and install it on your iPhone.
Step 2: Launch Documents 6 app from home screen and tap on the rightmost icon on bottom ribbon to open the built-in browser.
Step 3: Discover the online video you'd like to watch on iPhone offline and tap on the download icon on bottom to save it to iPhone memory.
After downloaded, you can go to Documents tab and play the video.
7. Video Downloader
Video Downloader is a versatile video tool for iPhone users. Its key features include:
1. Search for streaming videos in browser.
2. Grab videos in one tap.
3. Play videos at any time.
Pros
1. This video downloading app supports a wide range of video and audio formats.
Cons
1. You have to register with personal data.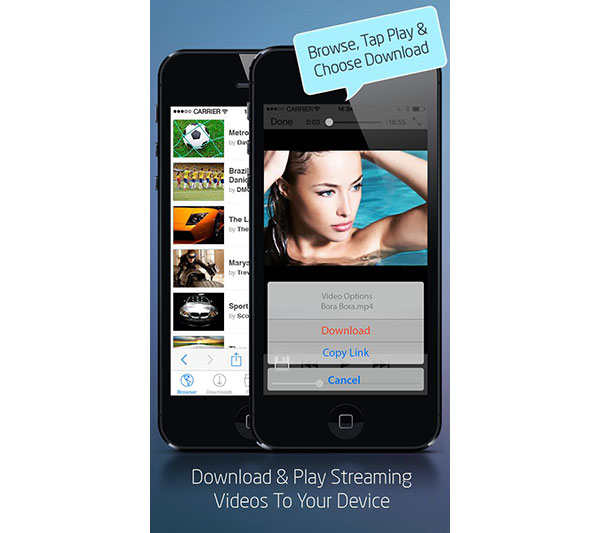 8. Best Video Downloader free
Best Video Downloader is a useful tool to watch video offline on iPhone. Its main features include:
1. Discover videos in built-in browser.
2. Save online videos to Camera Roll.
3. Play videos and create playlist.
Pros
1. This free video downloader app is free of charge without purchase in app.
Cons
1. Video saving speed is slower.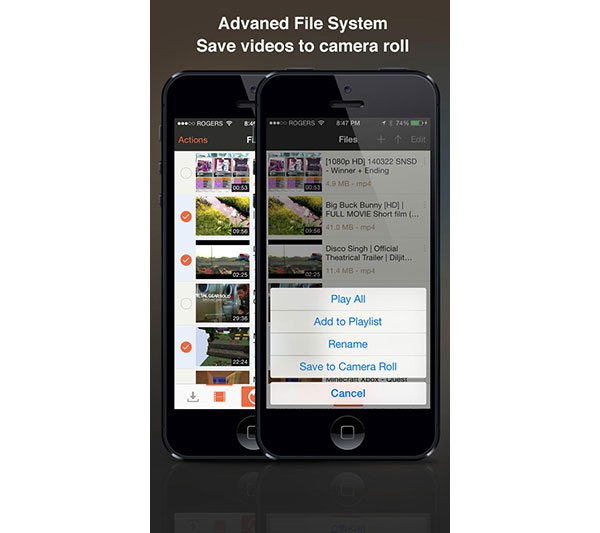 9. Video Downloader Pro
Video Downloader Pro is one of the best paid video downloading tools for iOS. Its principal features include:
1. Save video playback to iPhone or iPad memory.
2. Integrate browser for finding videos.
3. Convert videos to iOS supported formats.
Pros
1. It has a dedicated version for iPad.
Cons
1. It needs to purchase in App Store.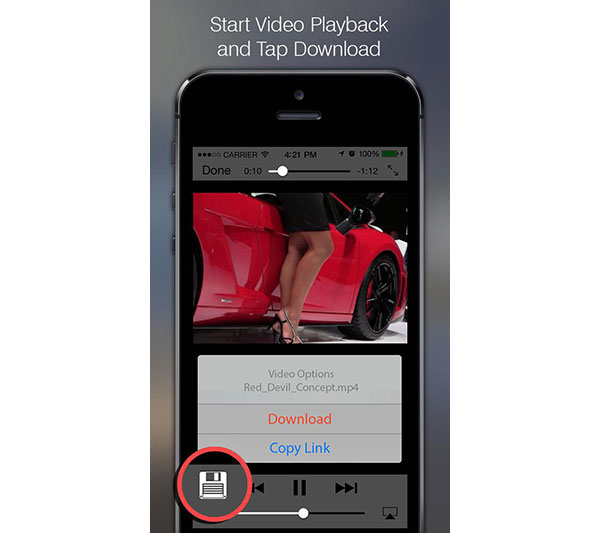 10. McTube
McTube is a YouTube video downloader app on iPhone. Its features include:
1. Cache YouTube videos for watch offline.
2. Create playlist for view offline or online.
3. Play YouTube videos in full resolution.
Pros
1. It is free of charge.
2. The interface is intuitive.
Cons
1. It cannot save videos to camera roll.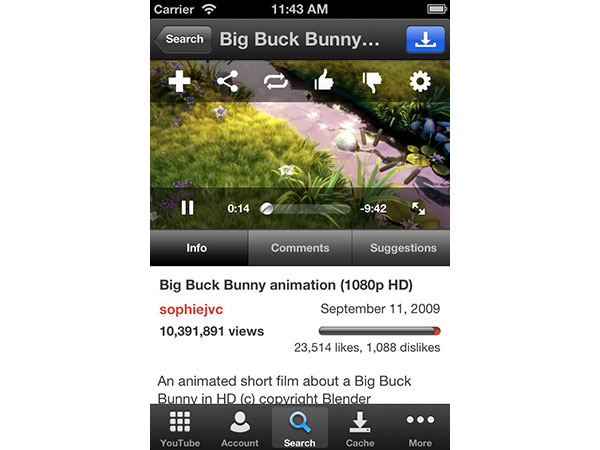 More: Best desktop Video Downloader
No matter you use which video downloader apps on your smartphone; you will need to download through a Wi-Fi network or cellular data, which are much slower than broadband. If you want to enjoy faster speed, we will suggest you use desktop video downloading software, such as Tipard Video Downloader.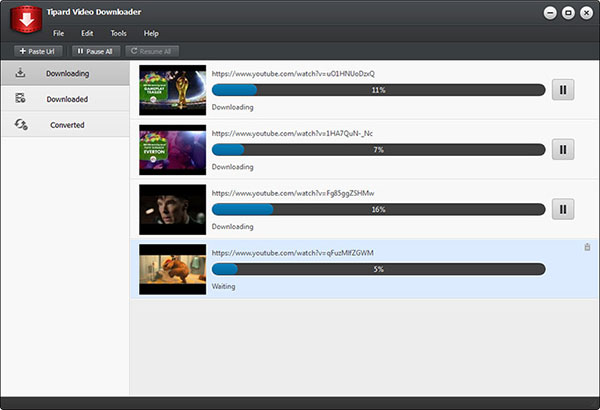 1. It has the ability to grasp videos from YouTube, Facebook, Vimeo, BBC and other websites.
2. This video downloading application could detect and download streaming videos automatically.
3. You can convert and transcode the downloaded videos to any video formats.
4. It supports to transform online videos for iPhone, iPad and Android devices without quality loss.
5. The video downloading speed is higher than other similar tools.
In a word, you can trust Video Downloader absolutely.
Conclusion
Videos are the most popular entertainment for most people. And as smartphones have larger and larger screen, we spend more time to watch videos on mobile phones. To enjoy videos smoothly, many people decide to download streaming videos to internal storage or SD card of their smartphones. The video downloader tools introduced in this article could help you watch videos without buffering or delay. If you want to download large video files quickly, you should try Tipard Video Downloader. It is the best video downloader application that could grab online videos with original quality as fast as possible.