Best Ways to Get Videos on Facebook with/without Video Downloader Apps for Android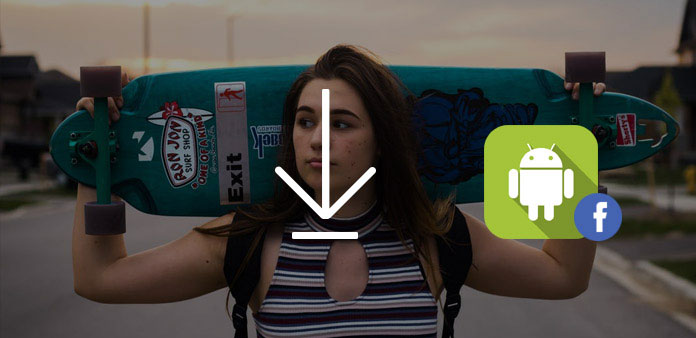 There are many interesting streaming videos on Facebook. But Facebook does not offer download feature to these videos. When you discover something you really want to download to your Android phone and look at in future, it is annoying that you cannot achieve it. To meet such demands, some developers have released Facebook video downloaders for Android. We are going to show you top methods to download Facebook video on Android. All you need to do is to read this tutorial, choose your favorite Facebook video downloader app and follow our guide. Then you will find that it is not as difficult as you thought to download Facebook videos on Android.
Part 1. Top 7 Facebook Video Downloaders for Android to Download videos
Top 1. MyVideoDownloader for Facebook
If you are a streaming video enthusiast, you will need a dedicated free Facebook video downloader for Android, like MyVideoDownloader for Facebook. As its name said, this app has the capacity to turn Facebook videos to mine.
How to get Facebook videos using MyVideoDownloader
Step 1
Download MyVideoDownloader from Play Store and install it to your Android phone. This app is free of charge.
Step 2
Launch this Facebook video downloader app and log in your Facebook account.
Step 3
When you discover the video you'd like to download, tap on it and choose "Download" from the menu list.
Step 4
Then the download settings screen will pop up. Here you can decide a video quality in "Settings" column.
Step 5
If you are ready, tap on the Downloads option to start getting the Facebook video.
Tip: If you want to save the downloaded video to custom destination, like SD card, you can set it in app settings. Otherwise, it will download the Facebook videos to Movie folder.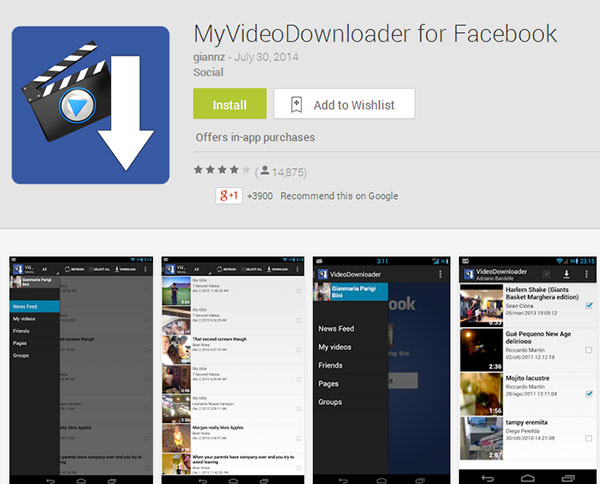 Top 2. Video Downloader for Facebook
Video Downloader for Facebook is a perfect App to download facebook video on your Android device with ease. You can now save videos uploaded by you, friends , page videos and videos you are tagged in.
Download videos and photos from Facebook Directly.
2. Download Uploaded videos by yourself and friends.
3. Save page videos and videos you are tagged in on Facebook.
Pros
1. This app can download various videos on Facebook.
2. The concise interface makes it easy to use.
Cons
1. It needs more updates.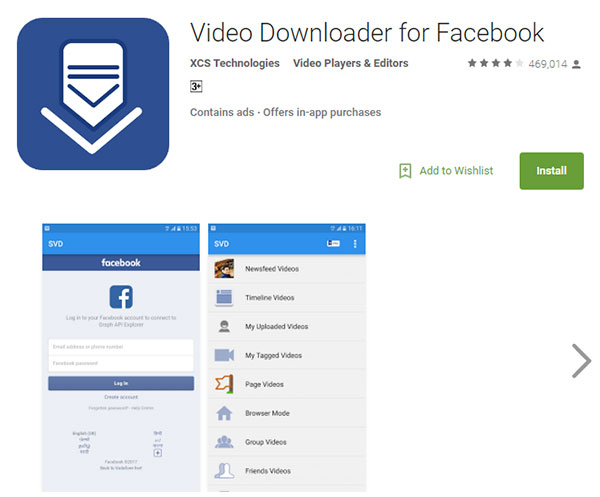 Top 3. Tube Video Downloader
Tube Video Downloader is an all-in-one Facebook video downloader. Its key features include:
1. It has the capacity to download videos via URL.
2. The built-in browser allows you to search Facebook video for download.
3. You can preview the video within Tube Video Downloader.
4. This app is able to add bookmarks on Facebook videos.
Pros
1. It is available in Play Store.
2. All features are free of charge.
3. The interface is straightforward and easy to navigate.
4. This downloader app has integrated a video player.
Cons
1. The search feature needs improvements.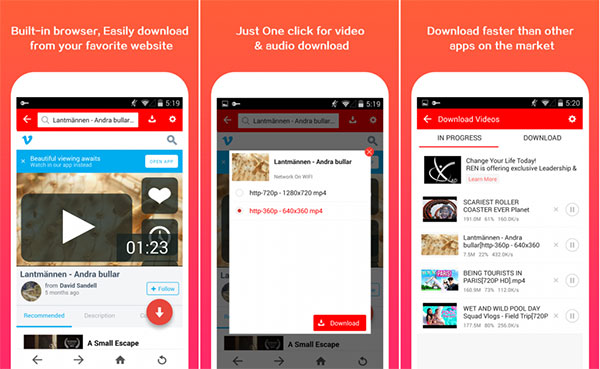 Top 4. Media clip video downloader
Media clip video downloader is a simple tool to grasp Facebook video to Android for looking at offline. Its basic features include:
1. It has the ability to grasp Facebook videos with one click.
2. If you want to get multiple Facebook videos, you can create a video download queue.
3. This app will encode the Facebook videos to Android supported video formats.
4. It also could grasp online images and documents.
Pros
1. This app is free to download in Play Store.
2. It supports to get a wider array of file formats.
3. The concise interface makes it easy to use.
Cons
1. It has little custom options, such as locations to save the videos.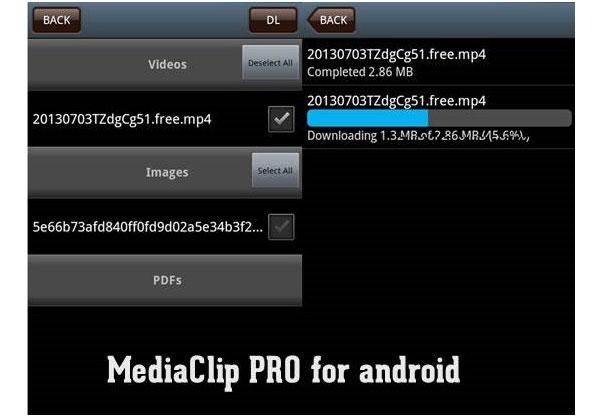 Top 5. HD Video Downloader
HD Video Downloader is a dedicated tool for downloading streaming videos from internet. Its principal features include:
1. It is able to download Facebook streaming videos.
2. You can save the videos in AVI, MP4, 3GP, FLV and other commonly used video formats.
3. This Facebook video downloader app could save the videos in high quality.
Pros
1. It is a lightweight app and able to get online videos faster.
2. The interface is intuitive.
3. It is a freeware.
Cons
1. Sometimes, it does not recognize video URL automatically.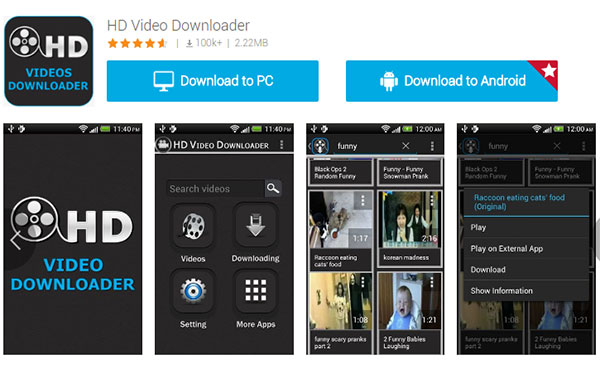 Top 6. Get them all
Get them all is not only a Facebook video downloader app, but also a useful tool to get online files.
1. It could search for any online videos in the built-in browser.
2. And Get them all supports to download files from various sites, including Facebook.
3. You can manage the downloaded videos using this app.
Pros
1. This downloader app has integrates cloud service and file transfer feature.
2. It could get a wider range of file formats, like variety of video formats.
Cons
1. If you want to remove ads, you have to pay for upgrade.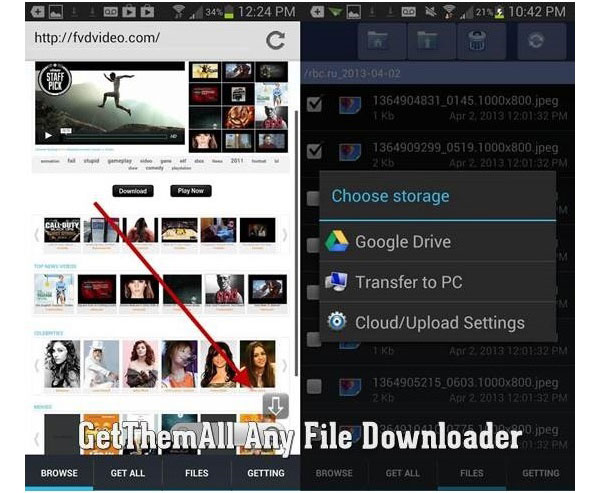 Top 7. Advanced download manager
Advanced download manager is another useful Facebook video download tool. Its key features include:
1. Download streaming videos from Facebook.
2. Support multi-thread technology for get multiple videos at one time.
3. Transcode Facebook videos to playable ones.
Pros
1. The download speed is faster than other downloader tools.
2. It is a freeware.
Cons
1. This app uses more CPU.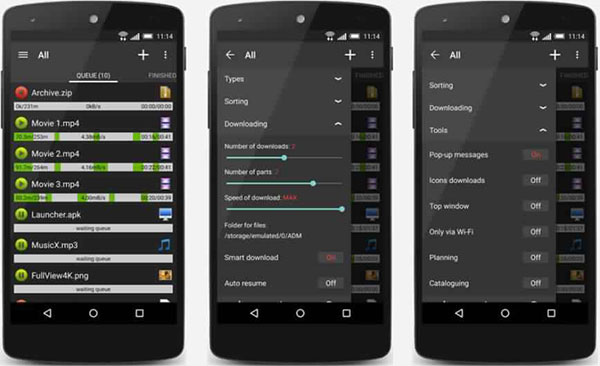 Part 2. Best way to get Facebook videos without Downloader for Android
If you just want to download a single Facebook video occasionally, you do not need to install a dedicated Facebook video downloader for Android at all. Some file managers have the capacity to grasp streaming videos, such as ES File Explorer. It is a popular file manager app for Android. If you have this app installed on your phone, you can download Facebook video using ES File Explorer immediately.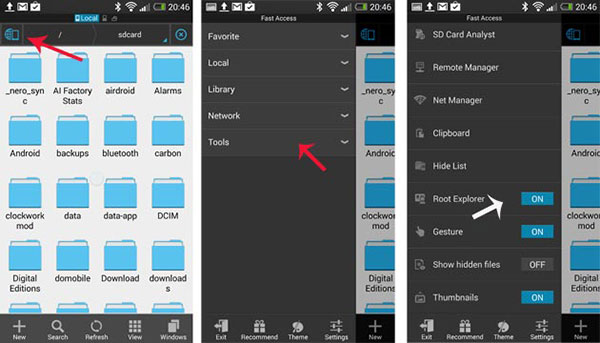 How to grasp Facebook video via ES File Explorer
Step 1: Open Facebook app and search for the video you want to download. Unfold the "downward arrow" icon at upper right corner and choose "Save [video name]" to add this video to your saved videos.

Step 2: Go to your Facebook profile logs and open the "Saved" screen. Then you will find the video.
Step 3: Tap on the video in Saved screen and choose "ES Downloader" under Use a different app.
Step 4: ES Downloader will grasp the video to Android within a few seconds. During the process, you can tap on the "Hide" button to let it run background.
Conclusion
Making videos and sharing them online becomes easier than ever. Facebook is the largest social network around the world. Now, Facebook has integrated streaming video feature. Unfortunately, you cannot download Facebook videos directly. Don't worry. We have showed you multiple ways to download Facebook videos in this tutorial, including without Facebook video downloader and with a dedicated video downloading tool. If you are interested in viewing Facebook videos offline, you can use any Facebook video downloading apps introduced in this post.