What is CUDA?
As a parallel computing architecture released by NVIDIA, CUDA enables dramatic increases in computing performance by harnessing the power of the GPU (graphics processing unit). Therefore, once specially written for CUDA with C language, the application can run in ultra-high performance on the computer with NVIDIA® CUDATM.
The Introduction of CUDA
The CUDA-enabled GPUs' superior performance has drawn the attention of our software developers, and lets them found CUDA's broad-ranging uses. Therefore, in order to improve video encoding & decoding and get better user experience, Tipard's all video converters and DVD converters are specially redesigned and rewritten for CUDA, then they all have gained amazing converting speed and superior video processing performance.
Getting 6X faster converting speed with CUDA

Obviously, the right graphic has clearly shown that, the magic CUDA technology can save you much time when converting almost any video file to MP4, MKV, MOV, M4V, FLV and other formats with H.264 codec on your PC running on CUDA-enabled GPU. Plus, Tipard video converters and DVD converters also support multi-core CPUs, which can take full advantage of your PC power to accelerate the converting speed.
6X faster with a CUDA-enabled graphic card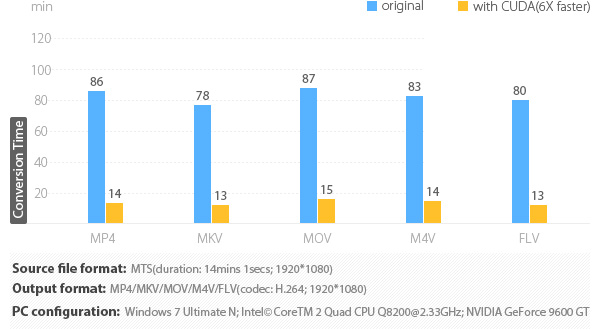 Source file format: MTS(duration: 14mins 1secs; 1920*1080)
Output format: MP4/MKV/MOV/M4V/FLV(codec: H.264; 1920*1080)
PC configuration: Windows 7 Ultimate N; Intel® Core™2 Quad CPU Q8200 @2.33GHz ; NVIDIA GeForce 9600 GT